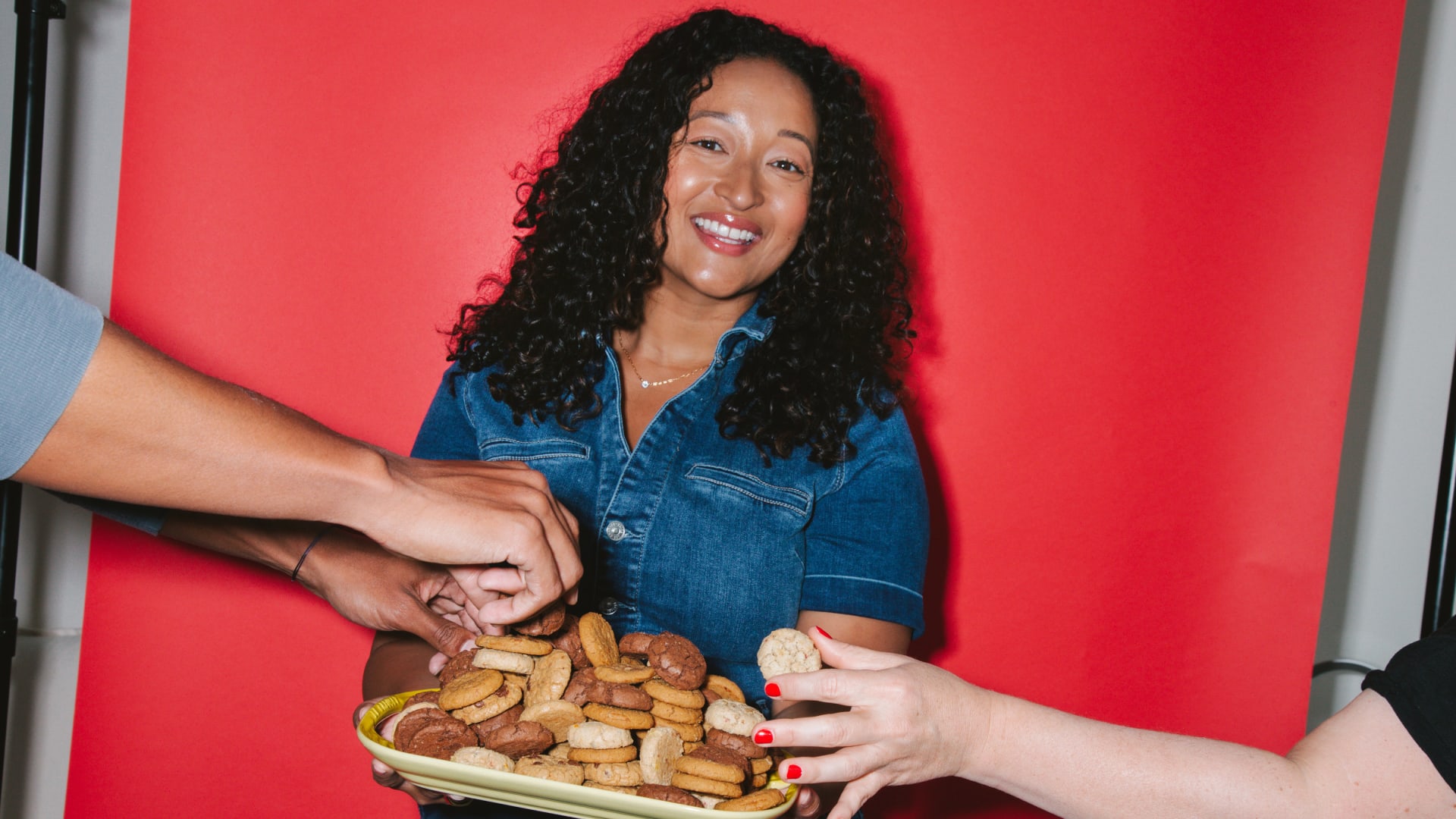 Denise Woodard's parents didn't go to college. Their advice for their daughter? Find job security. Woodard, 39, listened. She went to school and worked a series of corporate jobs at Philip Morris, FedEx, and Coca-Cola. Then, in 2015, she gave birth to her daughter, Vivienne, and on subsequent multiple trips to the emergency room, learned that her child was severely allergic to ingredients found in many foods. Stability be damned: In 2016, Woodard wrote her corporate exit plan and founded Partake Foods, a New York City-based maker of cookies, brownies, and baking mixes that are free from the nine ingredients responsible for more than 90 percent of food allergies.
Woodard settled on baked goods because she wanted Vivienne to be able to join her friends when they enjoyed sweet treats at birthday parties and sleepovers. She also wanted to make life easier for allergy-affected people than it had been for her. "I'd try to bake things and I had to get all these ingredients I'd never heard of to substitute for eggs and wheat," she says. "It was so expensive, and a chore for a working parent."
To bootstrap the business, Woodard maxed out her credit cards, cashed in her 401(k), and sold her engagement ring. Eighty-six investors turned her down before she heard her first yes--from Jay-Z's Marcy Venture Partners, which invested $1 million in 2019. The following year, Partake saw its revenue increase 10-fold, and it expanded its distribution to around 5,000 stores nation­wide. Today, it employs 19 people.
Although Partake was inspired by Vivienne, Woodard now views her brand as a tool to create radical inclusivity in the food ­industry. Her team is 90 percent women and 60 percent people of color, and she draws on a diverse roster of retailers and suppliers. Partake also founded the Black Futures in Food & Beverage fellowship for students at Historically Black Colleges and Universities, which Woodard thinks will broaden Partake's appeal beyond people looking for allergen-free treats. "There are customers who just want to support conscious companies," she says, "and understand that their dollar is ­having a positive social impact." --Kayla Solino
EXPLORE MORE Inc. 5000 COMPANIES
From the September 2022 issue of Inc. Magazine