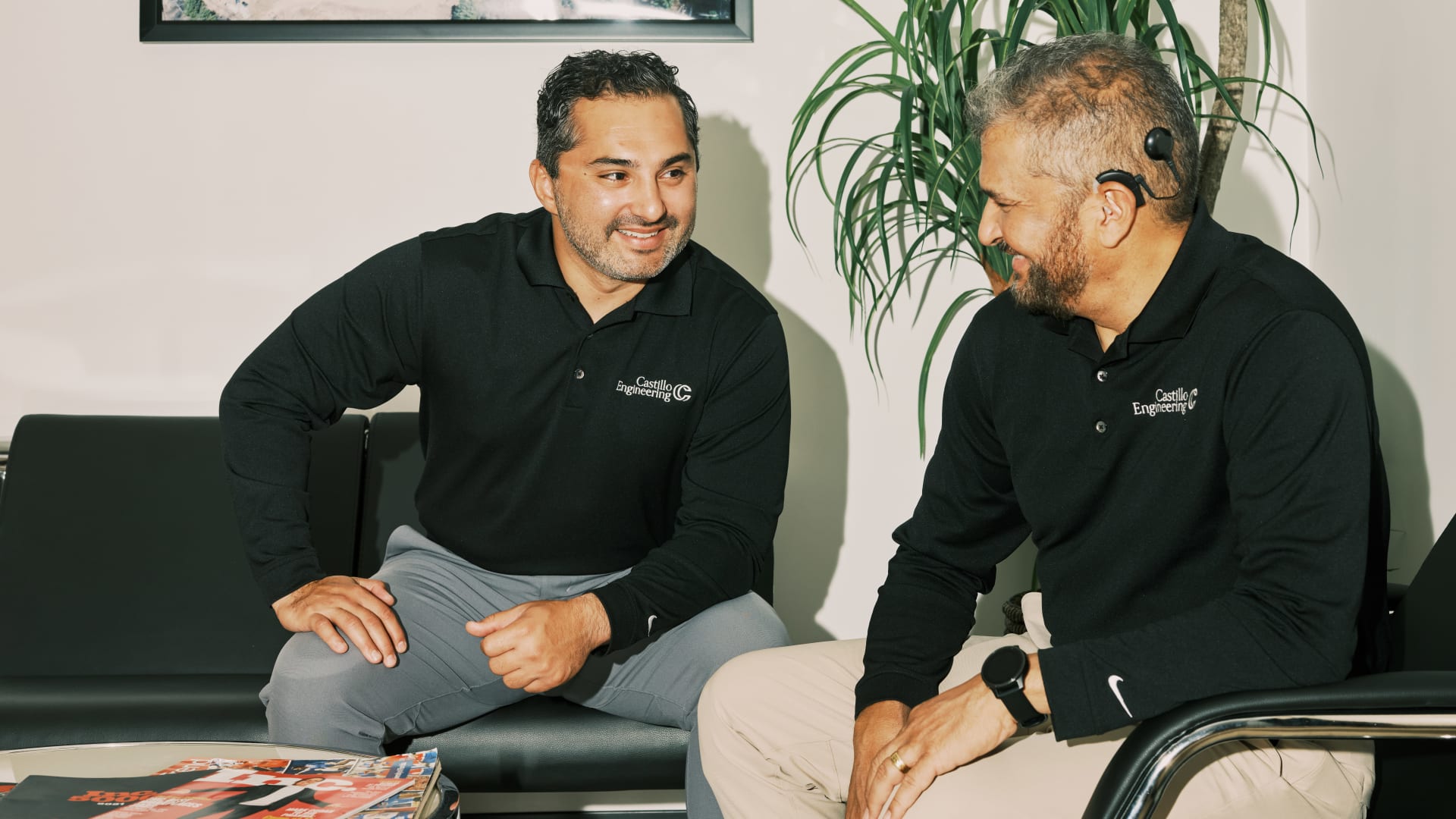 Christopher Castillo, 36, was driving home to Orlando one June day in 2017, after a round of sales calls up in Gainesville, when he rang his father. Rick, 59, sounded frustrated. He told his son he was having trouble hearing, and they cut the call short. The next morning, Christopher received a text from his father saying he couldn't hear at all. Christopher called--no answer. His father texted again: "Christopher, you don't understand. I can't talk on the phone. I can't hear anything." Rick had experienced "sudden hearing loss"--that's the term the doctors would use--and the health crisis upended the Castillos' life. Little did Christopher know that he would play a pivotal role in his father's comeback--in both his health and his business, a decades-old solar engineering firm, Castillo Engineering, idling in a $12 billion industry. --As told to Nick Hawkins
I drove straight to my parents' house, and I had never witnessed my father afraid and ashamed. At that moment, as a family, we felt hopeless and defeated. I decided to move in with them to get through this.
My father had pretty much been a one-man show, running his solar engineering firm from his home since he founded it in 1998. He worked long hours to try to build his company into something beautiful. He never got there because of the constraints of going it alone.
At first, we were waiting for a miracle. If you have sudden hearing loss, maybe there's a sudden return. Every day for a week, even two, I'd wake up first thing and rush downstairs like a little kid to greet my ­father. He would just shake his head: "No, it's not back." I kept telling myself there had to be a solution--there's always a solution. In July, we had a family meeting and my ­father told us, "I'm gonna come back even better and stronger."
I had his cellphone calls forwarded to mine and began hearing from his customers. Throughout the day, I was jotting down what the customers needed, and then texting the messages to my father. Sometimes I'd have to drive back to the house to be his ears for a phone conference. I would type "Say hello" onto the screen so he knew when to talk to his customer. In the evenings, my mother would be cooking dinner while I did paperwork for my job as a sales rep at Philips Healthcare and sent out invoices for my father. After dinner, my father and I would research cures, therapies, experimental drugs--anything to get his hearing back. Long days, man.
His speech was becoming increasingly difficult to understand because of his ina­bil­i­ty to hear his own voice. But we don't give up just like that. I mean, the Castillos--we're fighters and we're competitors. Pretty quickly, we found out what a coch­lear implant was. Luckily for us, we had a world-renowned cochlear implant surgeon, Loren Bartels, at Tampa General, about two hours away. When we met, I'll never forget, he looked at us and said, "I can help your father hear again." My ­father had his surgery on August 29, 2017, and by September, he could hear.
I had been so busy helping him with the operations of the business, I didn't have the opportunity to really take a look at it. I always knew he had a bit of clout, and I started realizing he had some pretty good customers. Looking at the books, I began to understand, "Wow, you actually have a good margin here. If we grow our business this much--holy shit!--we can make millions."
My father had a tremendous portfolio, but it was stuck in Dropbox and nobody could see it. All I had to do was showcase his projects to the marketplace and say, "Hey, did you know that this guy, and now our company, has this capability?" The solar industry is growing rapidly, and when you have an industry in its infancy, and someone already has experience in it, all you really have to do is tell the market what you've done.
Having a sales background, my philosophy was: Let's get sales, and then we can figure everything else out. What we needed were customers. So I met the players in the marketplace--everybody I could--and let them know we were available. Basically, I started overloading Rick with work, and the business began to grow.
Back in the day, when a customer would place an order, they would just email my father. Fast-forward to 2022, we're in the beta phase of testing a complete online portal for our customers. Over time, we've become more efficient, and we've become more organized.
Today, for me to be the CEO of a company and help drive it and grow it--that's living my dream. To come back home as an adult, and help my father live his dream--that is priceless. Now I get to work with one of my best friends every single day.
EXPLORE MORE Inc. 5000 COMPANIES
From the September 2022 issue of Inc. Magazine