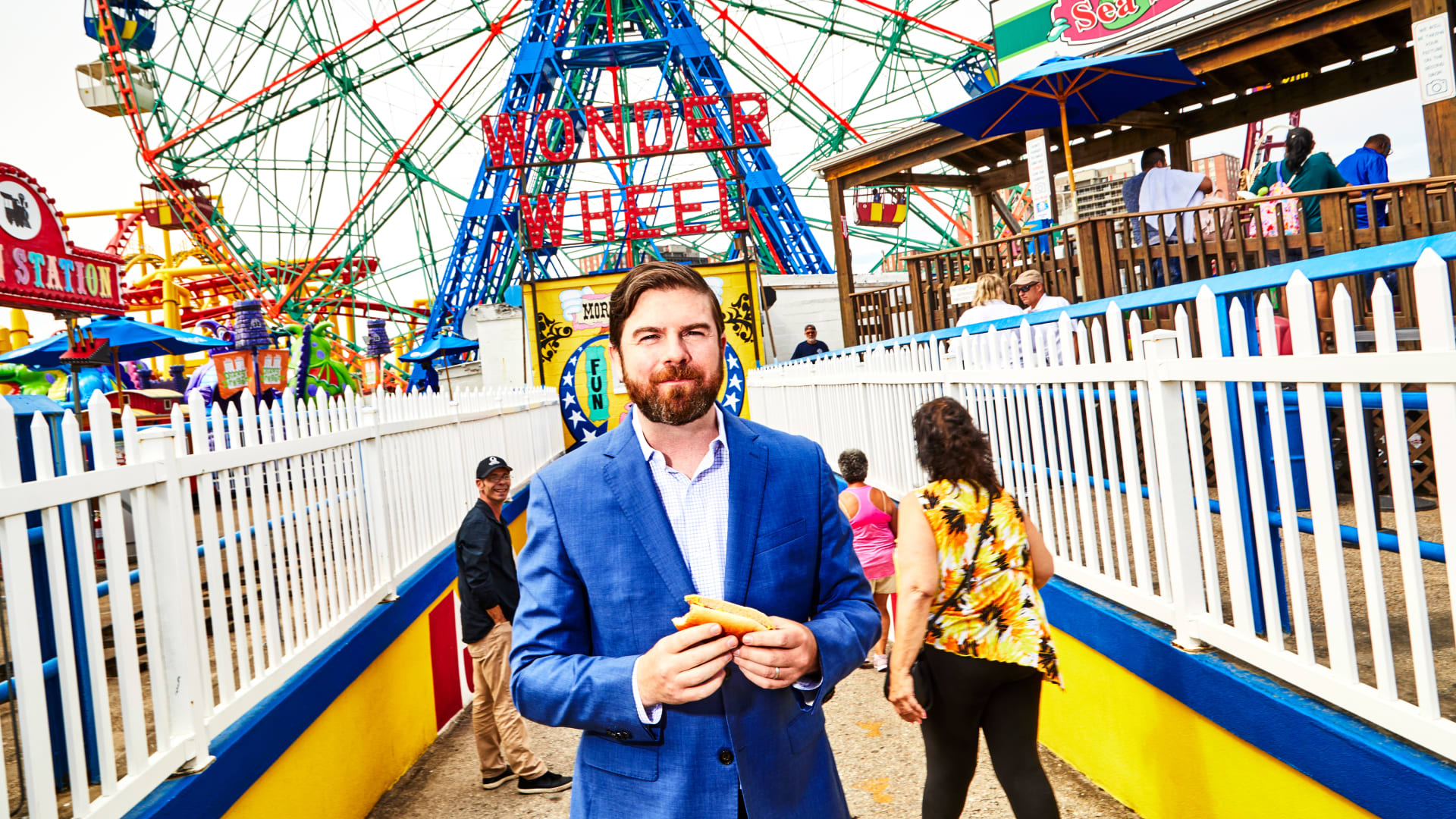 Mike, Jimmy, and Joe Quinn spent their childhood summers on the boardwalk of Coney Island in Brooklyn, where their grandfather, then in his 80s, would start to eat a hot dog and then spit it out and complain, "This isn't how Feltman used to make it." Charles Feltman, a German immi­grant who started with a pie cart on Coney ­Island, had invented the hot dog back in 1867, and the brothers longed to revive the brand to honor that legacy--and their grandfather. Decades later, the result­ing company, Feltman's of Coney ­Island, would go head-to-head with one of the giants of the $19 billion U.S. hot dog and sausage market. But with Joe, 42, at the helm and $3.1 million in 2021 revenue, Feltman's has more than held its own--on the streets of New York City and well beyond. --As told to Tom Foster
My brothers and I grew up hearing about Charles Feltman, who'd put a frankfurter into an elongated bun and invented the hot dog. And how it changed everything. Back then, people wore fancy bathing suits and ate with silverware and plates on the beach. But the hot dog, you could hold it in your hand; it became the quintessential New York City food.
Over the next few decades, Feltman had turned his pie cart into the world's largest restaurant, at 1000 Surf Avenue, right on the beach--with 18 grilling stations. It was the place to be. But then, in 1916, a bun slicer who'd worked at Feltman's named Nathan Handwerker started a competing stand across the street, selling his hot dogs for 5¢, undercutting Feltman, who sold his for a dime. His place would go on to become Nathan's Famous, while Feltman's eventually faded away. It closed in 1954.
That story resonated with my older brother, Michael, and my middle brother, Jimmy, and they came up with a plan to start a business when we grew up and bring Feltman's back to glory. Jimmy wanted to make a couple of bucks first, so he went to Wall Street right out of college. He was a year and a half into the job when he was killed in the World Trade Center on 9/11--he was 23 years old.
Jimmy was the businessman in the family. I was more of the athlete. Mike was more of the creative type. So the Feltman's dream kind of died that day. I was a senior at West Point, and I went on to do two tours in Iraq and a tour in Afghanistan.
One day in 2015, Mike and I were sitting at McSorley's Old Ale House, a classic New York dive, and it might have been the beer talking, but I said, "Why don't we revive the Feltman's idea?" And suddenly we couldn't stop talking about it. The bartender, Scott, looked us in the eyes and said, "You know how many drunken Irish guys come to this bar and tell us their hopes and dreams and never follow through?" That angered me so much that I stayed up all night and made a website. My brother was like, "Oh! Jojo is kind of serious about this!"
Nobody owned the brand--it had just been lost to the sands of time. We dug into the archives at the Brooklyn Public Library and at Columbia University, to read all these articles about how Feltman's had done it back in the day.
We use a natural lamb casing, which gives our hot dogs that perfect snap that they used to have. We also actually smoke our hot dogs instead of using liquid smoke to get that flavor. And we have more of an old-world, delicate spice blend compared with most dogs, which just get pounded in garlic. We're able to compete with Nathan's because our product is all natural.
We started in 2015 with a kitchen window in the East Village in Manhattan, feeding people who'd been out drinking and whatnot. Someone from Gothamist visited and published a story that called us New York City's best hot dog. At that point, we weren't even buying our buns wholesale--it was costing us more to make a hot dog than we got selling one. And suddenly there was a line around the block.
Most people think a hot dog's a hot dog. But I love watching people bite into ours for the first time: "Oh, my goodness!"
People started asking us if they could buy packs of our hot dogs, so we pivoted to a retail strategy. Today we're in 1,200 Publix stores, 330 Whole Foods stores, and a bunch of others. And we're on the menu at McSor­ley's; it was the first menu change the bar had made in 63 years.
When I tell people I sell hot dogs, 99.9 percent of the time they laugh. Then I get into the details of cold storage and cold distribution and a 60-day shelf life and the logistical complexity.
Feltman's is an incredible entrepreneurial story--an immigrant with a single pie cart who transformed the restaurant business and then lost to the commodity hustle. We want to bring it full circle.
EXPLORE MORE Inc. 5000 COMPANIES
From the September 2022 issue of Inc. Magazine