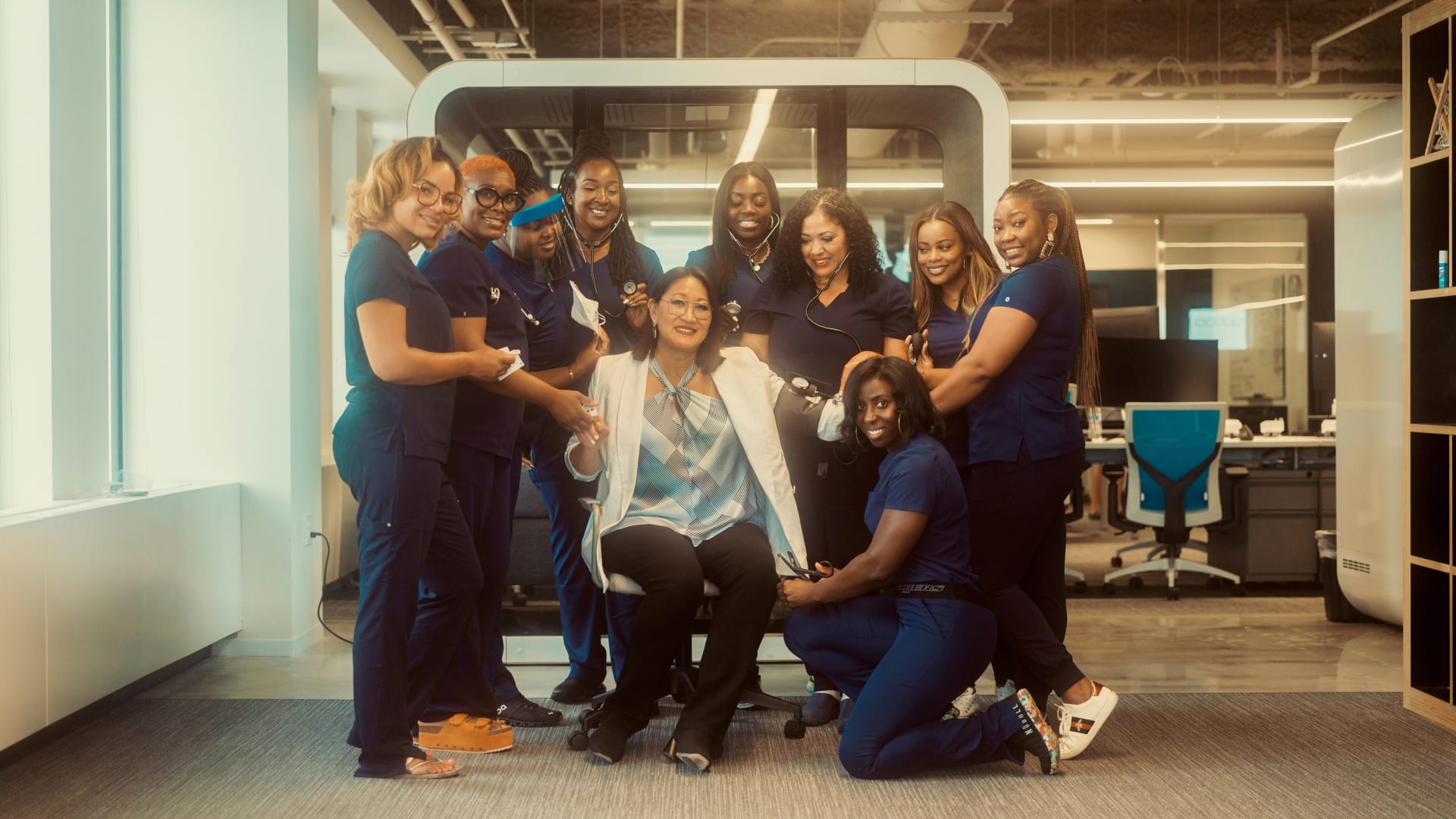 When she was 15 years old--decades before she would go on to revolutionize health care staffing--SnapNurse founder Cherie Kloss was emancipated from her family. Her mother was suffering from acute mental illness and had to leave the home to get care. Her parents divorced. Then her father, a Korean immigrant, decided he needed to return to Seoul to pursue a job opportunity. Cherie, who was on the Venice High School swim team and content being a 1980s Southern California kid, declined to go with him.
"If you don't leave with me, you're on your own," her father told her.
"OK," she said. "I'll be alone."
Even though her family had been "super poor" before it broke apart ("inner city, government cheese, the whole thing," she says now), Kloss grew up hearing from her father that if she worked hard and studied hard, she could make it here in this country--especially if she pursued a career in engineering or medicine. She'd have to fend for herself, but her father had armed her with an immigrant's faith in the American dream.
Thus emerged Kloss's skill for winging it. She moved in with a friend, got a full-time job at a bakery, finished school, and landed a scholarship to a small Christian liberal arts college called Westmont, outside of Santa Barbara. College "felt like summer camp" after her childhood, she says. After college came nursing school at Atlanta's Emory University, then a master's in anesthesiology, and then 10 years as a working anesthetist.
But next emerged another consequence of her formative years: a restless instinct to not get too comfortable. Anesthesia, she says, "is a little like flying a plane--hours and hours of boredom but potentially some excitement when you take off and land." It was 2006, the height of the reality-TV craze, and when Kloss met a producer for A&E Networks, she decided that sounded like more fun. "How do I get started?" she asked.
"Do you have any experience?"
"No," she said, "but I'll do whatever it takes." The conversation led to the producer's agreeing to be her showbiz mentor, and Kloss began scouring the American South for colorful characters. Over the next 10 years, through a media company she created and ran out of her house, MLC Media (short for "midlife crisis"), she sold no fewer than 38 shows about everything from Kentucky backyard oil prospectors to Alabama gold miners in the Amazon--and watched eight of them make it to the air.
Through it all, she kept her anesthesia work as a kind of side hustle, filling shifts whenever someone needed her--which begat yet another great career leap. "I was working at 11 different locations, and they'd call me to see if I was available, and I would have to bring my paper credentials in a manila folder," she ­recalls. "It was all missed voice mails and bananas, and I said to myself it really needed to be on an app so I could easily find jobs and they could easily book me."
The streaming era by then was upending the golden age of reality TV, so Kloss made her move. "In the TV business, I'd single-handedly outsold huge departments in New York City and L.A., so I figured there wasn't any reason not to try a tech business." She was by then an expert at making things work, with a MacGyver-like talent for improvising, so she began taking online courses to under­stand the business she was getting into. She was 49 years old, a single mother with two kids and two careers behind her. "What's the worst that could happen?" she figured. "I go back to anesthesia?"
But when her new company officially launched in 2017 as a digital marketplace for connecting contract nurses and health care institutions--think: the Uber of nursing--she never could have guessed what was about to come.
Here's the thing about a global pandemic that no one in 2017 had quite anticipated: With vast chaos comes not only vast opportunity, but also occasions to fundamentally rewire whole systems. As Covid hot spots emerged in 2020, they created pockets of demand for nurses that needed to be filled on a moment's notice. But whereas many companies saw wild pandemic revenue surges only to watch them fade soon thereafter (cloth masks, anyone?), SnapNurse responded to the moment by establishing itself as a new fixture in the health care world.
For one thing, as Covid hospitalizations waned, a backlog of patients awaiting deferred elective procedures rose. What's more, pandemic burnout led to a wave of resignations among exhausted health care workers--a phenomenon that continues to this day. More than 30 percent of current nurses plan to resign this year, according to a survey by staffing firm Incredible Health. Another survey, by Morning Consult, found that nearly one in five health care workers quit during the height of the pandemic.
Nursing shortages are nothing new in the U.S. Over the past decade, a variety of factors (an aging population, an aging nurse workforce, a bottleneck in nursing education, to name a few) has resulted in a persistent undersupply of nurses, especially in rural regions. Hence the rise of per diem nurses who take short-term contracts to fill gaps--and the rise of agencies to place them.
The result: From 2018 to 2021, SnapNurse grew nearly 150,000 percent. That's not a typo. And most of that growth occurred in just two of those years. In 2020, annual revenue jumped from $3 million to $88 million. By 2021, it had hit an astonishing $1.1 billion.
Dion DeLoof, the company's first institutional investor, whose venture capital fund Alpha Impact 8 has contributed more than $3 million to SnapNurse over several rounds, struggles to put those growth figures in perspective. "There aren't many companies overall that do it, and you certainly don't see what I'd call a tech-enabled professional services company grow like this," he says. "I can't think of a comparison."
Let's back up to understand how that happened. In 2016, as she was eyeing the end of her TV career, Kloss had no idea of what was to come--but she did have 10 years of experience on the staff-nurse side and another 10 on the temp side. It was then that she reached out to an old classmate from Emory, Jeff Richards, who'd spent 19 years at Atlanta's Grady Hospital, had risen to director of anesthesia, and had grown frustrated with the hassles of staffing his department. "There was no way for me to quickly and easily review, rank, and select qualified people," Richards remembers. "Instead, I had multiple staffing agencies calling me with résumés that were completely mismatched with a level-one trauma center."
Richards had recently earned an MBA and was thinking about his next move when Kloss reached out, offering him a look at her prototype staffing system. As part of his coursework, he'd written a paper outlining a hypothetical health care staffing app. It had been a purely academic exercise, but once Kloss began talking about an actual proof of concept, he couldn't help thinking he needed to join her. Together, they knew the sys­temic issues from both nurses' and administrators' perspectives. Richards was a proven operator, Kloss an idea machine. Richards sank $100,000 of his personal savings into the company, and they hit the road looking for more money.
Which proved difficult. By the time DeLoof met with the SnapNurse co-founders, they'd been turned down by every other institutional investor they'd approached, who all worried that, though Kloss and Richards clearly knew the field, they weren't experienced entrepreneurs. DeLoof had previously founded a company in the recruiting and HR tech space, and understood how fragmented and manual the staffing-agency world was. He also understood that traditional tech founders wouldn't be attracted to the space. "I hate to say it, but it's sexier to build another fintech platform than to tech-enable a professional services process," he says. "That just sounds like a heavy lift."
Perhaps the biggest break came when SnapNurse hired Edwin Marcial as interim CTO. A former client and friend of DeLoof's, Marcial had built the technology behind Intercontinental Exchange (ICE), the powerful Atlanta company that acquired and operates the New York Stock Exchange. Hiring the guy who built one of the world's fastest trading systems proved to be critical; the infrastructure Marcial and a team of ex-ICE engineers created for SnapNurse was highly flexible and scalable.
Modeling the software on that of gig- economy companies such as Uber and Airbnb, they made it simple for nurses to validate their credentials and find jobs, and simple for managers to find and select nurses. Attendance-tracking connected directly to payment. Complicated logistical details got sorted out automatically. Just as it was once a revelation for people to click a button on their phones to summon a car, track its whereabouts, and pay for a ride to anywhere, it was transformational for both health care workers and administrators to move their constant hiring dance to SnapNurse. Once it had taken weeks and headaches to line up a gig; now, nurses could be on the job within a day or two. Hospitals began adopting the system, mostly in the Atlanta area, and the company started growing. In 2018, revenue was $775,000. It grew fourfold in the next year.
Then came Covid. While the platform had been built originally for on-demand next-day bookings, suddenly hospitals didn't want different nurses flitting in and out daily--that seemed unsafe in a pandemic. But they did need extra help. SnapNurse started pursuing larger contracts, providing groups of nurses for longer periods, sometimes months at a time. A handful of other platforms had begun to emerge by then, but because Marcial's system was so flexible, the company soon found itself the go-to staffing tech solution for hospitals everywhere. "Our ability to handle scale took us past all of [the competition] by 10-fold in a two-year period," says Richards.
With hypergrowth comes complications. It's a challenge as old as entrepreneurship itself. But it's all the more vexing when the complication is a byproduct of what elevated a company to begin with. Indeed, one of the keys to SnapNurse's growth was a decision Kloss made early in the company's history to enable nurses to get paid on the same day as their shifts. "Snap means speed," she says, "and that is the reputation we wanted to build--that we deliver faster than any agency."
To Kloss, instant payment was vital to entice nurses to sign up on the platform. "There was no data on it, just a gut feeling from her and Jeff's experience in the industry," DeLoof remembers, "that this was going to be a massive competitive advantage."
The reason it's not a standard offering, of course, is that it's a major squeeze on a company's cash flow. You don't have to be a mathematician to realize that, if health care institutions are paying SnapNurse on a standard 30- or 60-day billing cycle but SnapNurse is paying its nurses daily, the company will find itself coming up short. The SnapNurse team knew this early on, but decided the risk was worth it, and that they could simply carry a large line of credit with a financial institution to cover the difference--a common practice among staffing firms.
What SnapNurse didn't count on was its off-the-charts growth, which quickly meant its credit line was insufficient; it was suddenly on the hook for more and more payouts while waiting for its billing cycles to catch up. Over and over, the company found itself at a crossroads: Should it tell nurses it couldn't meet payroll? Should the founders scramble for more credit?
And, over and over, it chose the latter. Same-day payment had become a core part of the company's promise. Reneging on that promise, even if it was from being too successful, would risk collapsing everything. "We just tore through lenders, who were screaming at us," Richards recalls. "There were a lot of painful moments of switching lenders and waiting for that next lender to come online, which we did three times in 18 months." The founders started with a local Atlanta firm, then moved on to a specialist in funding staffing firms, and finally landed with Wells Fargo, where SnapNurse now holds a $400 million line of credit.
DeLoof recalls bankers calling him to figure out if this level of growth could be real; it was unprecedented in the staffing industry, and banks like precedent. "We just doubled your line three months ago," the banker would say, "and now you want us to double it again?" SnapNurse found itself repeatedly calling its payments-technology provider, Stripe, as late as midnight, begging for an emergency increase in its instant-payout limit to meet obligations the very next day.
Meanwhile, SnapNurse itself was struggling to grow its team quickly enough to handle all the incoming business. "You can't scale without the right team," Kloss declares, making an analogy to her time in the TV business. "To make a show right, you have all these different pieces. You can have the best cameraman, the best director, the best editor--but if the sound is off, that one department can take you down."
As SnapNurse started landing large contracts from health systems in 2020, though, Kloss ran up against the limits of her hiring philosophy. The company would find itself on the hook for, say, 500 nurses by Monday, and if the right people weren't available on the platform, Kloss would need to hire more recruiters to find them and get them ready. "I would just grab anyone to be a recruiter and we would train them," Kloss remembers. "As a result, our first 150 people were such a hodgepodge group. We had a bartender. We had a sous-chef. Four of my college dormmates from Westmont."
Once again, though, what could have been a disaster was largely saved by the underlying technology. The truth was, Kloss says, that recruiters had to do "very little work besides basically being a call center to handle problems." Plus, SnapNurse started paying top dollar for those roles. "Most recruiters make like $75,000 a year. But, in the heyday, ours were making $200,000, sometimes $300,000."
And yet the growing pains showed. In 2020 alone, the company went from 20 to 150 employees and deployed 10,000 health care workers around the country. A year later, there were 350 employees. But "we probably hired three times as many people as stayed," says Richards. "It was hard." And online reviews started appearing that betrayed a difficult work culture. "Great compensation!!!" went one. "Terribly managed!"
Don't get Kloss started on disgruntled anonymous reviewers. "It's the same people over and over again," she says curtly. "We treated them so well, we pay so much money, that when they get fired, there's a lot of passion."
It's obviously a sensitive spot for her, a founder who started a business to improve on the status quo--and then found herself, as a result of her own success, in the impossible position of having to supersize the team, the platform, the revenue, and the financing all at once, and without the time to build the architecture to match. "We had turnover only when we had to add in a lot of infrastructure," she says. "Sometimes when you get rules in place, people are held to a different standard. Some of the people who were great in that earlier period of time start to drop off."
"I was never told 'You can't do that.' As long as you don't need a license, you can do just about anything."
Khristina Charley was a registered nurse taking per diem shifts and pursuing a master's degree when she first started using SnapNurse. "I liked having control over when I worked, and I liked getting paid quickly," she says, "and it was a way I could work around schedule changes from semester to semester." For many of her fellow nurses, other life commitments required similar flexibility. "For a lot of nurses," she says, "it's child care, or maybe an older parent who needs care."
Even before Charley went back to school, when she had a staff-nurse position, she worked per diem shifts on the side for extra money. She was able to obtain health insurance through her full-time job and then later through her school, while many of her per diem colleagues relied on spouses whose jobs had benefits. (You read that right: Many of the nurses who provide our nation's health care do not receive medical benefits themselves.) SnapNurse offers its nurses benefits, to be sure--as do legacy staffing agencies--but qualifying for them has typically required working enough hours that it becomes harder to maintain a flexible schedule. (Kloss says SnapNurse has recently begun to offer a cheap fee-for-service plan to all nurses to make up some of the difference.)
Eventually, Charley landed a full-time position as director of operations for an outpatient surgery center that employed SnapNurse nurses, and rode out much of the pandemic there, watching part-time nurses' rates climb. Finally, last fall she decided she wanted a piece of the action and signed on for a six-month stint in Alaska, working 60 hours a week or more and making what she calls "once-in-a-lifetime money for nursing. It changed my financial life." She was one of hundreds of nurses who showed up to help a hospital work through a backlog of surgeries that had been canceled when Covid patients filled all the available beds, making $10,000 to $13,000 per week throughout the winter.
While her Alaskan adventure had been hugely rewarding for her financially, Charley also experienced some of the downsides of the boom in per diem nursing. For one, the hospital staff nurses in Alaska weren't exactly welcoming. "There was a lot of tension," she recalls. "It's like, 'You get the brunt of all the work because we brought you in, and we know how much money you make, and you cannot refuse anything because we can cancel your contract.' "
And it makes sense. When any pay gap between co-workers becomes extreme, naturally the group on the short end begins to resent it. According to the American Hospital Association, pay rates for travel nurses have doubled and even tripled since the pandemic--which has led to calls for federal investigations of possible price gouging by staffing companies. Several states are looking at legislation to cap travel-nurse pay during crises.
Kloss bristles at the notion that SnapNurse has gouged anyone. She saw a desperate need for nurses in the market, and devised a system to meet that need. "Here's the scenario: You have 100 nurses and 1,000 openings, and all of the hospitals are competing for the 100 nurses." she says. "And it's nationwide. They're not competing just against other local hospitals; they're competing against the entire nation. It's all supply and demand."
Which is true--but also problematic. On the one hand, a national market for short-term nurses means that even the most barren health care deserts can bring in professionals in times of need. On the other hand, if budget-strapped small markets have to compete against larger, more affluent markets to pay surging wages, they're hardly better off.
Meanwhile, SnapNurse has focused on leveling out a different aspect of the nurse market, developing a program to upskill its members to work in specialties where hospitals have particularly severe shortages. SnapNurse pays for the training up front, and then the nurses owe the hospital a commitment to work for a year. "It's not the total solution," says Richards, "but it is the solution that's immediately available to us."
Today, after two-plus years of breakneck growth, SnapNurse is scaling more reasonably. The company expects to finish the year with about $1.6 billion in revenue, roughly 50 percent more than last year, and strongly profitable. Because Kloss and Richards struggled to raise money early on, SnapNurse had no choice but to find profitability and maintain it. "The Ebitda margins are around 15 percent, which is high for staffing," Kloss says.
SnapNurse has 450 employees and 350,000 nurses currently on its platform, but Kloss says the company is vigilant to "stay rightsized. I'm always looking at the numbers. I want everyone to make a lot of money. We stay super lean that way." In late July, SnapNurse announced that Kloss herself will be stepping down as CEO and remaining on the board.
"We've managed to hold onto this hustle culture," Richards adds, seeming almost mystified that one aspect of those 24/7, chaotic pandemic days has been imprinted on the company in a positive way. The flip side of the heavy turnover during the pandemic was a process of self-selection. "Some people came in and learned the system and just thrived in it," he says.
That's part of the story, at least. Richards might also look to the influence of his partner, Kloss, whose entire life has been a series of gritty reinventions. No wonder she's attracted the resilient types.
"I think it's because I was never told, 'You can't do that,' " she says. "As long as you don't need a license, you can do just about anything."
EXPLORE MORE Inc. 5000 COMPANIES
From the September 2022 issue of Inc. Magazine