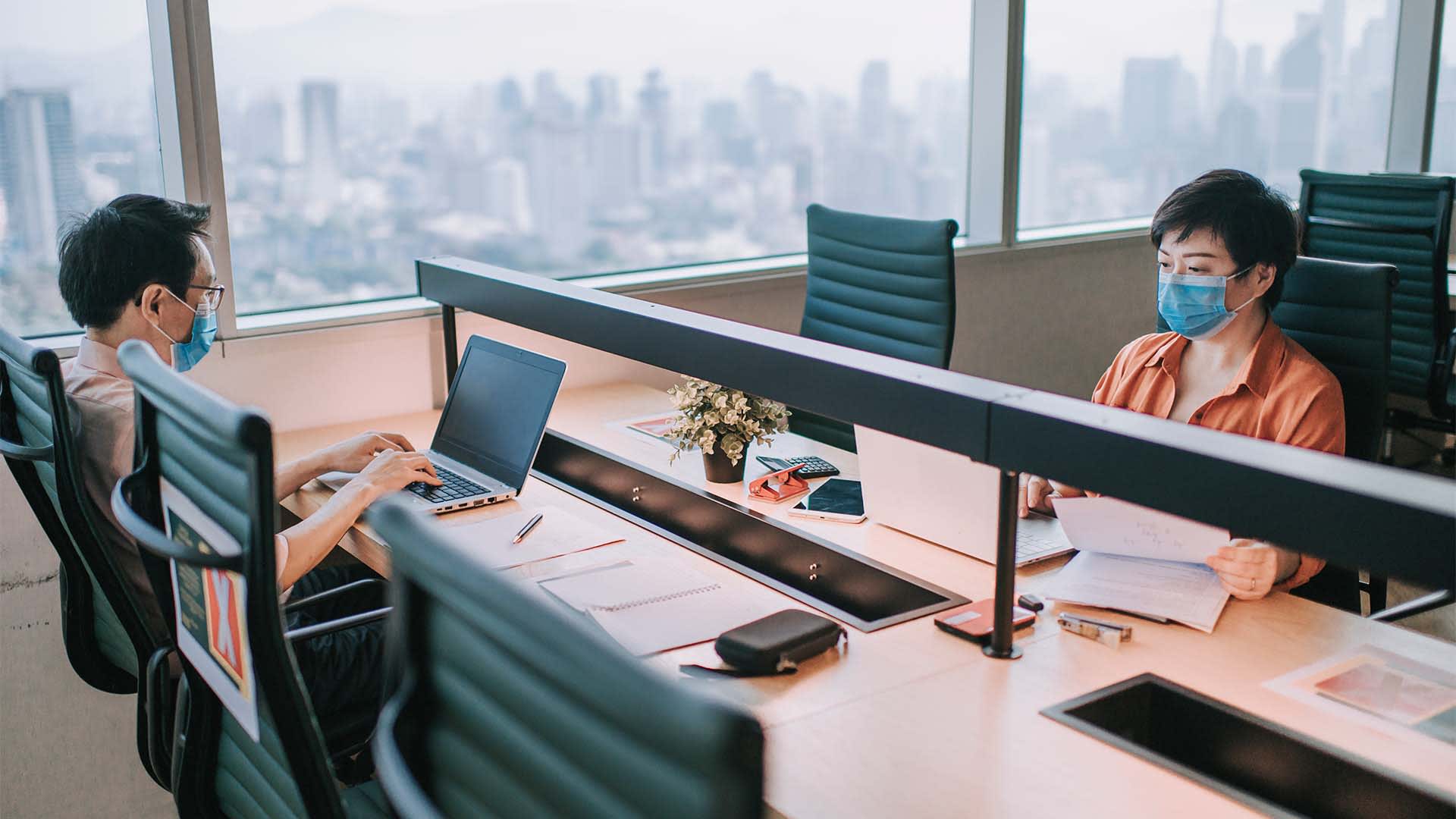 As we enter year three of the pandemic, companies are facing some serious challenges caused by a lack of connection within the workplace.
Many employees are feeling a never-ending sense of lethargy gathered from walking a mere five feet between their bed and their desk, while others are riddled with anxiety each day they have to go into the office with unclear mandates around masks and social distancing.
Platforms such as Zoom and Slack have done their best to help us find ways to connect in a digital space, yet is it enough?
Up until recently, there hasn't really been a robust definition of what it means to feel connection in the workplace. Blueboard, an experiential rewards and recognition company, recently took this challenge into its own hands and came up with a four-part definition of a connected workplace, which is one where employees feel:
Connected to the company's mission, values, and leadership vision
Connected to their co-workers and managers through authentic relationships
Connected to their work, feeling that they have a positive impact on the company's goals
Connected to their personal aspirations: that they're growing and developing in the ways that mean something to them
Connection: A critical driver for organizational success
Research continues to explore and validate the critical link between employee connectedness and employee engagement. Furthermore, human resources leaders now are faced with addressing connection gaps in the workplace because it is core to their employees' happiness as human beings.
The Connection Gap study conducted by Blueboard found that nearly three in five employees would consider leaving their job if they didn't feel connected at work. In addition, while 85 percent of HR leaders agree or strongly agree connection is critical for their organization's success, only 4 percent of HR respondents strongly agree that they've adequately addressed the challenges with employee connection at work. Leaders recognize the importance of connection in the workplace, but admit they have not taken adequate action to foster it. This connection gap is plaguing companies around the U.S. and may be one of the silent culprits behind the Great Resignation.
The research also found that 95 percent of HR pros agree that investing in employee connection helps drive employee retention. The desire to close the gap is there, but action is not. The good news? Businesses can follow a three-step process to address this connection gap in their own workplaces.
Step 1: Gather authentic feedback, and do it often
"Connection is key to our happiness as human beings, our sense of belonging, and our resiliency, which means that your ability to nurture workplace connection will be a determining factor in your ability to attract, grow, and retain great people," says Allyson Tom, VP of people and culture at Blueboard.
The first step leaders must take in fostering connection at work is to perfect the art of listening to their employees, which is the base of connection. Ask for feedback outside of yearly reviews and exit interviews. This is best done consistently and directly, through various, thoughtful channels to suit the different communication styles of your employees.
Creating connection and becoming a thoughtful leader can come in the form of post-meeting surveys, one-on-one check-ins with executives, anonymous feedback portals, or group employee brainstorms. Requesting feedback inherently makes employees feel more connected and builds an essential level of trust between employee and employer.
Step 2: Diagnose top issues and rank solutions
Once you have feedback from your employees, take a deeper dive into common themes and high-priority issues, but don't forget to keep in mind that connection feels different to different people. A new mom could feel more connected after receiving a child care stipend or being treated to a day at the spa, whereas a Gen-Z team member might prefer a happy hour or team workout class.
Employers should help employees feel connected to their work and co-workers as well as to their community and to themselves. Could you sponsor a life coaching program for your employees or offer volunteer time off?
Examine employee feedback and discuss solutions that are reasonable and realistic for your organization. Solutions should always be specific and tailored to what your team needs. There isn't a one-size-fits-all response.
Step 3: Deploy timely solutions based on feedback touchpoints
Depending on your employees' feedback, your solutions will look a little different. Some companies increase connectedness by planning mini-retreats once a quarter or providing a joy stipend. Blueboard's Connection Gap research found that organizations that use employee recognition to intentionally drive connection are twice less likely to report the pandemic had a negative impact on connection.
Meaningful recognition is key to creating an authentically connected workplace. What are ways that you can truly show your employees that you care? A company that creates lasting impressions and memories, like going to the zoo with family or even skydiving, will not only increase workplace satisfaction but also life fulfillment for employees.
Leaders should view employees as people integrated into society, not as employees on an org chart. Remember to request ongoing feedback on the programs you implement. The research found that, going forward, 73 percent of HR leaders agree or strongly agree that employee recognition will be an important tool they'll use for facilitating employee connection at work.
A major takeaway from the Connection Gap study is that a lack of connection in the workplace has a clear correlation to employee retention. If you want to avoid further downfalls of the Great Resignation, the Great Rethink, or any other term that we're seeing pop up, you must make your employees feel an authentic connection to their work. With so many people working from home today, it's paramount for executives to implement ways for employees to feel more connected to their work, their colleagues, and to themselves.
Apr 5, 2022