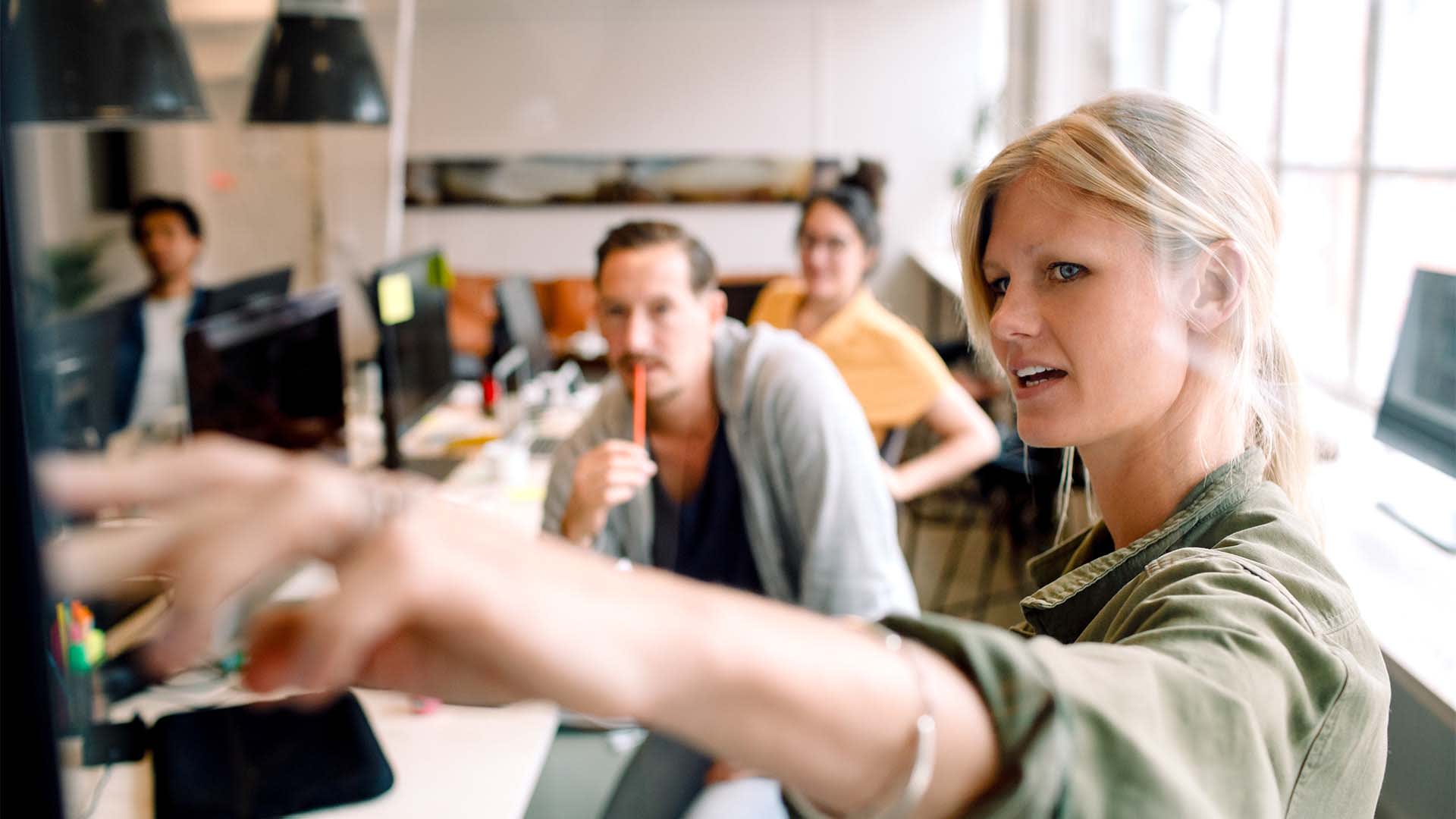 The tech industry, despite being a leader in the world of work, is lagging behind on gender equality, with women still underrepresented and underpaid compared with their male counterparts. The Covid-19 pandemic has further stalled women's progression, with millions leaving the workforce since the beginning of 2020, whether because of layoffs or taking on responsibilities like household and caregiving. As women's place in tech became cloudier, many considered downshifting their careers or leaving the workforce entirely.
Today, women make up approximately 47 percent of the U.S. workforce, but hold less than one-third of leadership positions in tech, a low level of representation that predates the pandemic. Although it's not yet clear how the past two years will affect women in corporate America -- and more specifically the tech industry -- moving forward, it's clear the crisis is far from over. While there are no quick fixes, there are steps women can take to expand the roster of female leaders in tech.
To understand this, I connected with Christy Wyatt, president and CEO of Absolute Software, on her experience climbing the tech ladder to reach the C-suite. She shares valuable advice for how women can regain lost ground and shrink the gender gap that has plagued the industry for years.
1. Being aware of inequities imposed by a hybrid economy
Companies are increasingly incorporating flexible work arrangements, and women are embracing this freedom. A FlexJobs survey found 68 percent of women prefer to work remotely post-pandemic, and 80 percent ranked it as a top job perk. "Historically, women have been forced to choose between advancing careers or caring for their families -- and this was accentuated during the pandemic," said Wyatt.
Women are uncovering the benefits of remote work, but Wyatt cautions, "Being amenable to flexible schedules merely scratches the surface for what is required to make this successful." If not implemented properly, it can exacerbate inequities. In-person employees may get more visibility from management, which could result in more opportunities for sponsorship. Leaders must be cognizant about enriching company culture for all. "This means actively adjusting workplace cultures to ensure women, and remote workers more generally, do not face negative consequences in terms of pay, upward mobility, or job security," stated Wyatt.
2. Sharpening the saw for professional advancement
The tech landscape is rapidly changing, with new innovations, techniques, and concepts continually introduced. But in an ever-changing sector, how can women break through the noise? Become a "hybrid work ninja," Wyatt shared. "Be inclusive and connect with colleagues and team members wherever they are," and, more important, "create" -- don't "wait" -- for opportunities.
Professional development, in particular, is lacking for women tech professionals. According to a Skillsoft survey, 32 percent of women in tech cited a lack of development opportunities as a key challenge in pursuing their careers. "In today's remote-first world, online learning and certifications are a great way for women to upskill and reskill and accelerate a career change to enter higher-level, higher-paying jobs," said Wyatt.
3. Bridging the confidence gap
In a male-dominated industry like tech, women are likely to experience imposter syndrome. "Gender biases and stereotypes in the tech world are real," said Wyatt, so "it is important to be confident in your skills and experience, and unique perspective." According to the National Bureau of Economic Research, women often underestimate their abilities and performance, and are more likely to disqualify themselves for positions if they do not meet the full criteria. To break this cycle, Wyatt suggests women "focus on learning capacity as a strength."
4. Pursuing the benefits of mentorship
A professional network is crucial for female tech workers, and for the next generation of innovators who follow in their footsteps. Through mentorship, women gain tangible opportunities, social connection, and visibility. However, "mentorship is not a monthly lunch or formal contract," says Wyatt. "It is having someone inspirational in close proximity, and who is willing to invest in and work with you."
The benefits of diverse leadership are well established, but the tech world has yet to fully embrace it. The gender gap remains, and women are still underrepresented at all levels of the corporate pipeline. To drive lasting change, companies need to renew their pledge to advancing gender equality. As Wyatt preaches, "We all rise by lifting others up." Committed action will benefit all industry stakeholders, spanning from companies and their employees to the customers they serve.
May 11, 2022