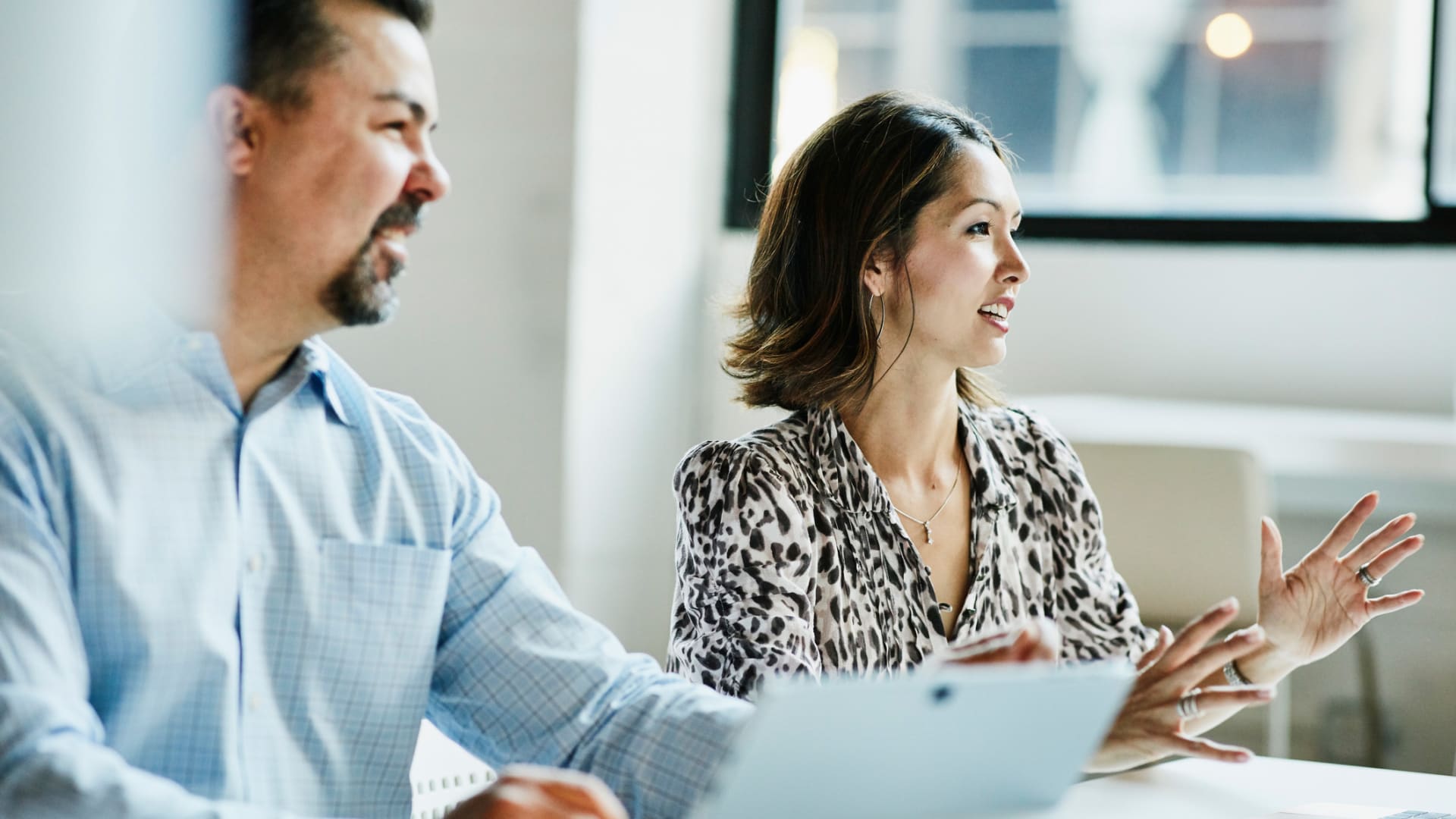 In March, we quickly shifted from office buildings to our homes and have been adjusting ever since. As employees and leaders navigate this new normal where work is home and home is work, flexibility becomes of utmost importance.
Ninety percent of employees believe flexible work arrangements will increase morale, and 67 percent would consider leaving their jobs if their work arrangements became less flexible, according to Staples' 2019 Workplace Survey.
So how can leaders create workplace flexibility that makes sense?
I got insight from five successful executives about how they're supporting their employees during the pandemic. Here are their top tips:
1. Invest in your employees
Employees are more than just employees -- they're people who have entire lives outside of the walls of work. The pandemic has touched us in many different ways, and there's often not a one-size-fits-all solution to helping employees navigate this new normal.
"Build and provide a support network for your employees. People can't bring their best selves to work if they're not supported in taking care of their personal lives, so help them do that," advises Kate Ryder, founder and CEO of women's and family digital health company Maven.
Maven has prioritized creating opportunities for team members to develop relationships with one another through events, like weekly virtual coffee meetings, and implemented thoughtful leave policies, as well as mental health and child care benefits.
2. Create opportunities for give and take
"Divert resources to meet your team's needs," says Peter Fluor, president and co-founder of boutique residential rehabilitation center Driftwood Recovery. "We're all trying to get through a challenging time while keeping things as intact as possible. It's up to leaders to understand that people can't always find the perfect balance between work and home -- and that's OK."
In Driftwood's case, many employees needed a child care solution. Fluor and the leadership team created a daycare program for the kids of their employees. They reallocated resources, enlisted a support member to run the program, and allowed employees to be at work when they were needed.
3. Support your entire workforce
"Provide resources that your employees need," says Victor Cho, CEO of online invitation company Evite. "Many employees, especially parents, are facing burnout as a result of these unprecedented times. As leaders, it's our job to work and do what we can to ensure our entire workforce is supported."
In recent months, Evite has designed inclusive policies and created documents outlining simple but effective tips to support its employees during this extended work-from-home period -- including one specifically for navigating working from home as a parent. The company also encourages sharing experiences so the document of tips is continually updated with best practices.
4. Show up in the moments that matter
Successful businesses are built on their ability to be nimble and resilient in times of change -- something made possible by adopting a supportive and compassionate approach to leadership.
"As a leader, it's easy to talk about your values -- but there are times when your actions speak louder than words. We look at these difficult and unprecedented times as the moments that truly matter," says Jim Lyski, CMO of used car retailer CarMax.
CarMax is supporting employees and their families through the Caregivers Program. The program offers optional part-time status or leaves of absence (while maintaining full benefit eligibility) and flexible work arrangements -- including alternative hours, schedule swapping, and compressed workweeks.
"During stress, crisis, or uncertainty, the spotlight is intensified on your actions -- not what you say but what you actually do. How you show up and demonstrate that you have your employees' backs will always outweigh anything you've said," continues Lyski.
5. Don't forget about having fun
We may be starting to get a little tired of Zoom happy hours, but that time with your team is valuable.
"The fun side of leadership couldn't be more obvious during times like these," says Peter Navin, chief human resources officer of health care quality and clinical navigation company Grand Rounds. "Recreating 'fun' virtually can be tough but not impossible. Take the time. Get to know your teammates. Share and be a bit more vulnerable, as it can generate lasting friendships."
The past six-plus months have forced leaders to think on their toes and expand their minds on what work looks like. Adjusting to allow for more flexibility for your employees is the cornerstone to long-term success in a remote working world.
Oct 9, 2020