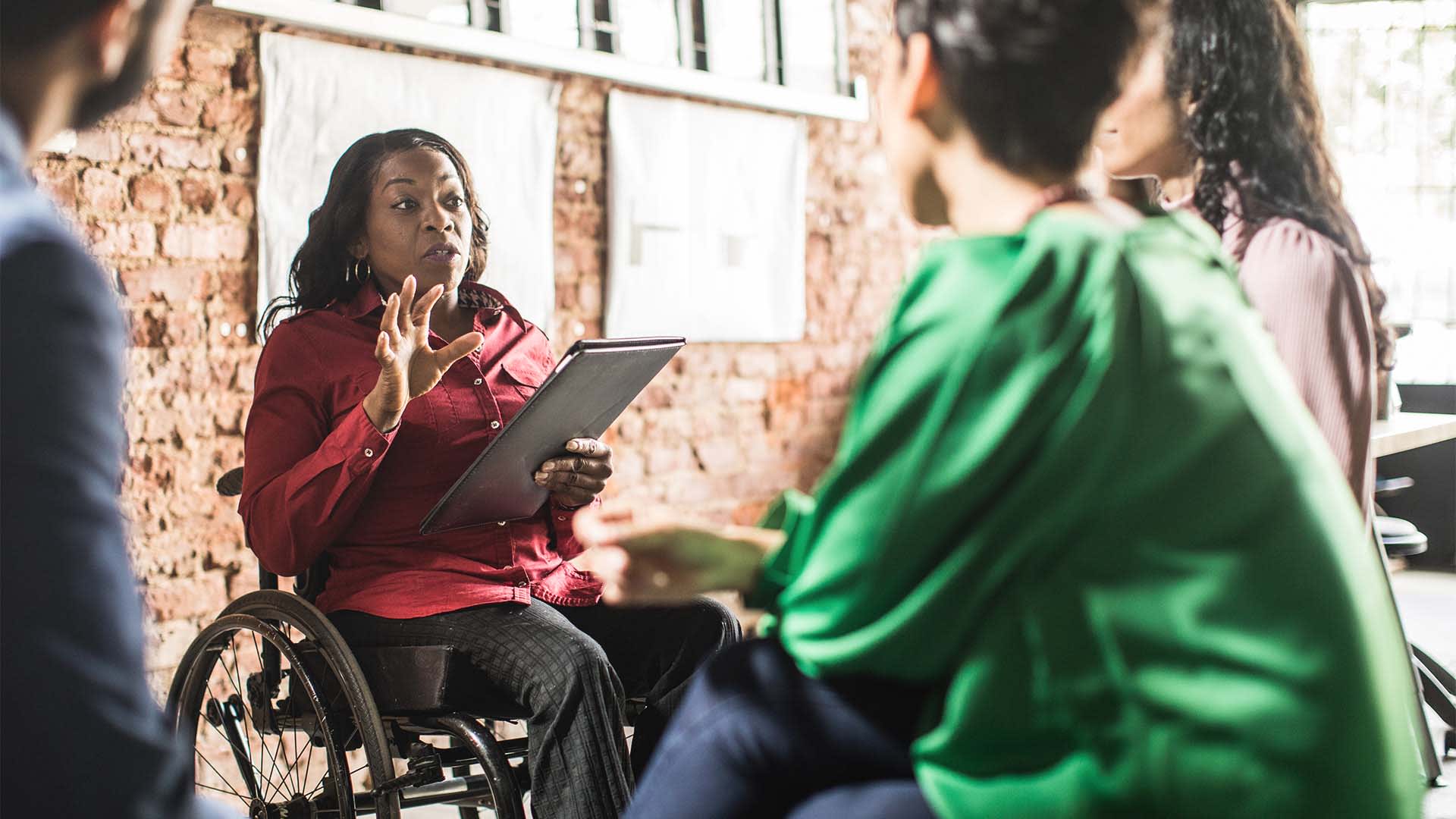 An estimated one in four Americans has a disability -- making people with disabilities the largest minority population in the U.S. Despite the size of this community and decades of advocacy, many people with disabilities face obstacles in the workplace. Now, as offices reopen, the disability community is again urging employers to consider how access can fit into culture -- saying a "return to normal" office plan is likely an outdated, even harmful approach.
According to the U.S. Department of Labor, people with disabilities face unemployment rates that are more than double the national average. There are barriers -- from workplace accommodations to overcoming unconscious bias -- keeping employers from hiring and retaining people with disabilities. It's something Northwest Center, a national nonprofit that supports people with disabilities, has been fighting for decades.
Jenn Ramirez Robson, vice president of employment services for Northwest Center, says in this time of rebuilding office policies, employers have a real opportunity to prioritize access. Ramirez Robson and her team provide disability employment support to companies of all sizes, from large employers like Amazon to small mom-and-pop businesses. I connected with Ramirez Robson to get her advice on building accessibility into office policies, protocols, and practices.
1. Have a plan to incorporate disability into your DEI efforts
While many companies are embracing Diversity, Equity, and Inclusion (DEI) initiatives, disability is often overlooked. Ramirez Robson points to research from the Return on Disability Group, which finds that while 90% of companies claim to prioritize diversity, only 4% consider disability in their diversity initiatives.
"Make sure you have representation of people with disabilities on your DEI committee," said Ramirez Robson. "Also recognize the vast diversity that exists within the disability community. That means involving individuals with physical, cognitive, sensory and mental health disabilities, and people with disabilities who identify as Black, Indigenous, or people of color."
2. Understand the process of Universal Design
Are your deck fonts accessible to people with visual impairments? Do your staff meeting videos have open captions? Universal Design (UD) strives to improve the original design of an environment by making it more inclusive and accessible for all people, regardless of their age, size, ability or disability. There are seven principles to the process.
"Companies will often design around what's the most aesthetic or on-trend, but that's rarely the most accessible approach," said Ramirez Robson. "Universal Design is centered around simplicity, flexibility, and efficiency, so when you're leading with these considerations, you're actually improving the experience for everybody."
3. Offer remote and hybrid work models
Years before the pandemic, people with disabilities were fighting for flexible work models.
"People with disabilities often feel pressure to minimize or hide their disability in traditional office settings," said Ramirez Robson. "At home, where you don't have to adjust, there's added comfort."
Ramirez Robson explains that remote workplaces also ease many of the barriers that exist in traditional office settings (better assistive technology setups, no need to navigate often complex transportation options, etc.).
4. Be intentional and clear on the functions of each job
"We tend to use a lot of buzzwords like 'fast paced' and 'high energy' in job descriptions," Ramirez Robson said. "These types of phrases can actually be ableist and may deter qualified prospective employees from applying for an open position."
Once on the job, Ramirez Robson encourages managers to stay mindful of how they're guiding employees. "Instead of dictating how people do things, explain what success looks like, and then work with employees to get to those outcomes."
5. Consider working with a job coach
There are many organizations that offer services ranging from job placement to on-the-job support for workers with disabilities, including Northwest Center. These firms consult with employers on how to remove barriers to hiring and retaining employees with disabilities.
Ramirez Robson says taking the steps to build an inclusive workplace -- and regularly getting feedback from employees on your efforts -- is not just "the right thing to do," it's good business sense. She points to data from Accenture, which finds that companies actively seeking to hire people with disabilities report 28% higher revenue, higher net incomes, and higher shareholder returns. "A truly inclusive workplace drives innovation, productivity, and morale among all employees," she said. "Use this time of rebuilding to also build a culture of accessibility."
Apr 14, 2022