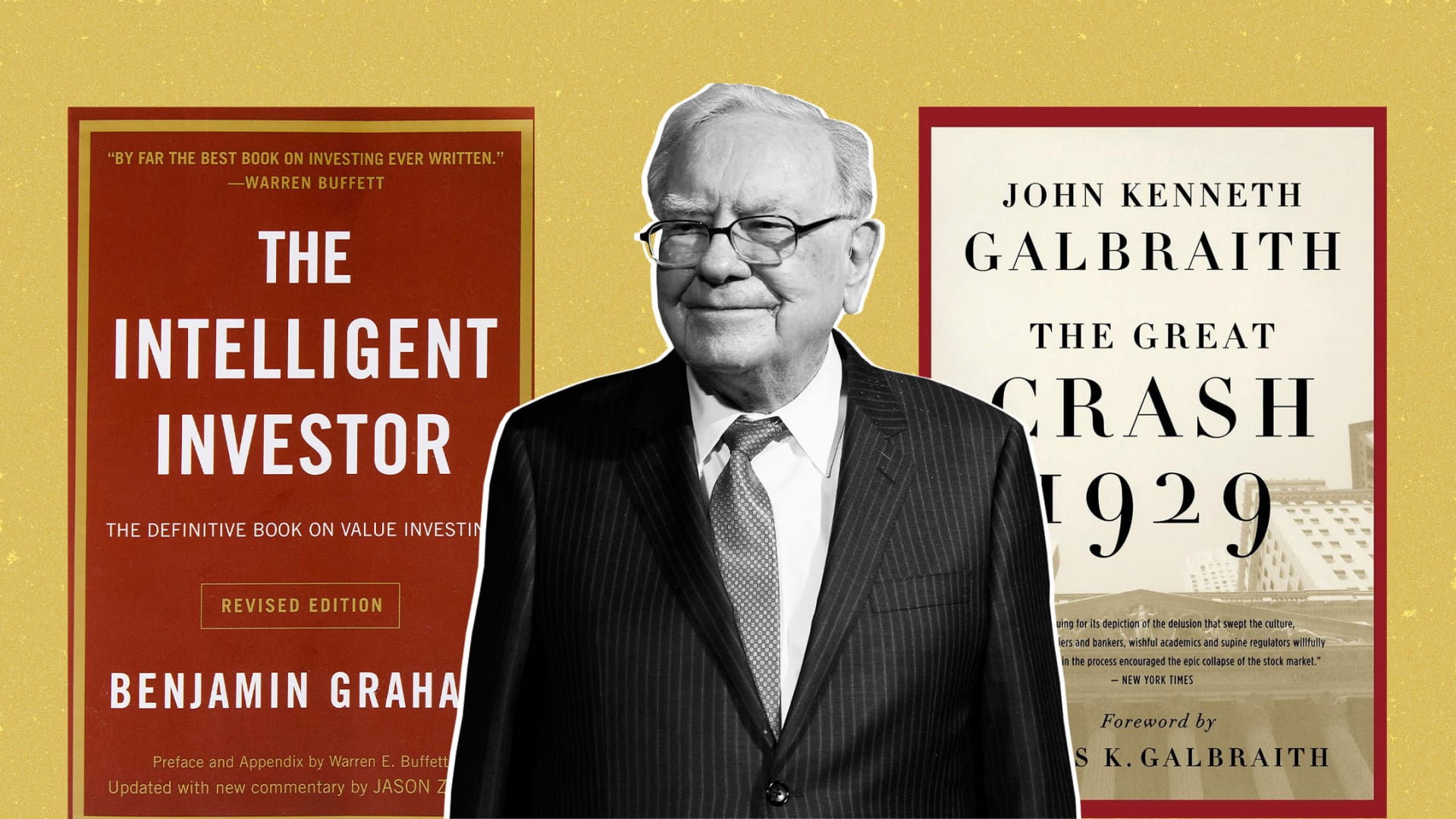 Warren Buffett has a reputation for being a voracious reader. He reportedly spends as much as six hours of his day soaking up knowledge by reading books.
If you want to be smarter and increase your chances of success, do what Buffett does. It's worked for him. Here's his advice to a group of grad students at Columbia Business School:
Read 500 pages like this every day. That's how knowledge works. It builds up, like compound interest. All of you can do it, but I guarantee not very many of you will do it.
After a tumultuous year in 2020, we can look ahead to 2021 with nine notable books that Warren Buffett personally recommends from his own list.
1. The Great Crash of 1929
During the 2020 Berkshire Hathaway annual meeting, Buffett gave shareholders a history lesson about uncertain times, which led to his recommendation of the 1955 book, The Great Crash of 1929, by John Kenneth Galbraith. The book inspects the 1929 financial collapse, including what led to it, how it led to the Great Depression, and what we can learn from it as we navigate the financial challenges posed by the pandemic.
2. Keeping at It: The Quest for Sound Money and Good Government
At the same shareholders meeting last year, Buffett also spoke highly about the late Paul Volcker's 2018 book, Keeping at It: The Quest for Sound Money and Good Government. Volcker served as the chairman of the Federal Reserve under presidents Jimmy Carter and Ronald Reagan. "I've always had Paul Volcker up on a special place, special pedestal in terms of Federal Reserve chairmen over the years. We've had a lot of very good Fed chairmen, but Paul Volcker, I had him at the top of the list," Buffett said.
3. The Intelligent Investor
Only Buffett's words will do The Intelligent Investor justice. In the preface to the fourth edition, Buffett writes, "I read the first edition of this book early in 1950, when I was nineteen. I thought then that it was by far the best book about investing ever written. I still think it is." He points out that sound investment requires no more than the proper intellectual framework for decision-making, and he concludes that The Intelligent Investor "precisely and clearly prescribes the proper framework."
4. Tap Dancing to Work: Warren Buffett on Practically Everything
In his 2012 annual letter, Buffett recommended Tap Dancing to Work by Carol Loomis, a former editor-at-large at Fortune magazine. Loomis put together a body of work based on insights into Buffett's investment strategies. Bonus: The book includes a 1996 essay from Buffett's bestie Bill Gates, where Gates shares how he and Buffett struck up their legendary friendship.
5. The Outsiders: Eight Unconventional CEOs and Their Radically Rational Blueprint for Success
In The Outsiders, author William Thorndike documents the remarkable success of eight CEOs -- including one of Buffett's own execs at Berkshire Hathaway -- who all had a counterintuitive approach to corporate strategy. In his 2012 annual letter, Buffett praised The Outsiders by calling it "an outstanding book about CEOs who excelled at capital allocation. It has an insightful chapter on our director, Tom Murphy, overall the best business manager I've ever met."
6. The Most Important Thing Illuminated: Uncommon Sense for the Thoughtful Investor
7. Dream Big
Jorge Paulo Lemann, Marcel Telles, and Beto Sicupira built the biggest empire in the history of Brazilian capitalism and launched themselves onto the world stage in an unprecedented way. Their compelling story is captured in Dream Big, by Cristiane Correa. Lemann, a partner of Buffett's, is hailed by Buffett as "among the best businessmen in the world. He is a fantastic person and his story should be an inspiration to everybody, as it is for me."
8. The Little Book of Common Sense Investing: The Only Way to Guarantee Your Fair Share of Stock Market Returns
9. Warren Buffett's Ground Rules: Words of Wisdom From the Partnership Letters of the World's Greatest Investor
Author and financial adviser Jeremy C. Miller does an outstanding job researching and extracting the best of Buffett's investing "ground rules" from letters Buffett wrote to his partners between 1956 and 1970. Buffett praised Warren Buffett's Ground Rules in his 2015 annual letter, stating, "If you are fascinated by investment theory and practice, you will enjoy this book."
Jan 5, 2021