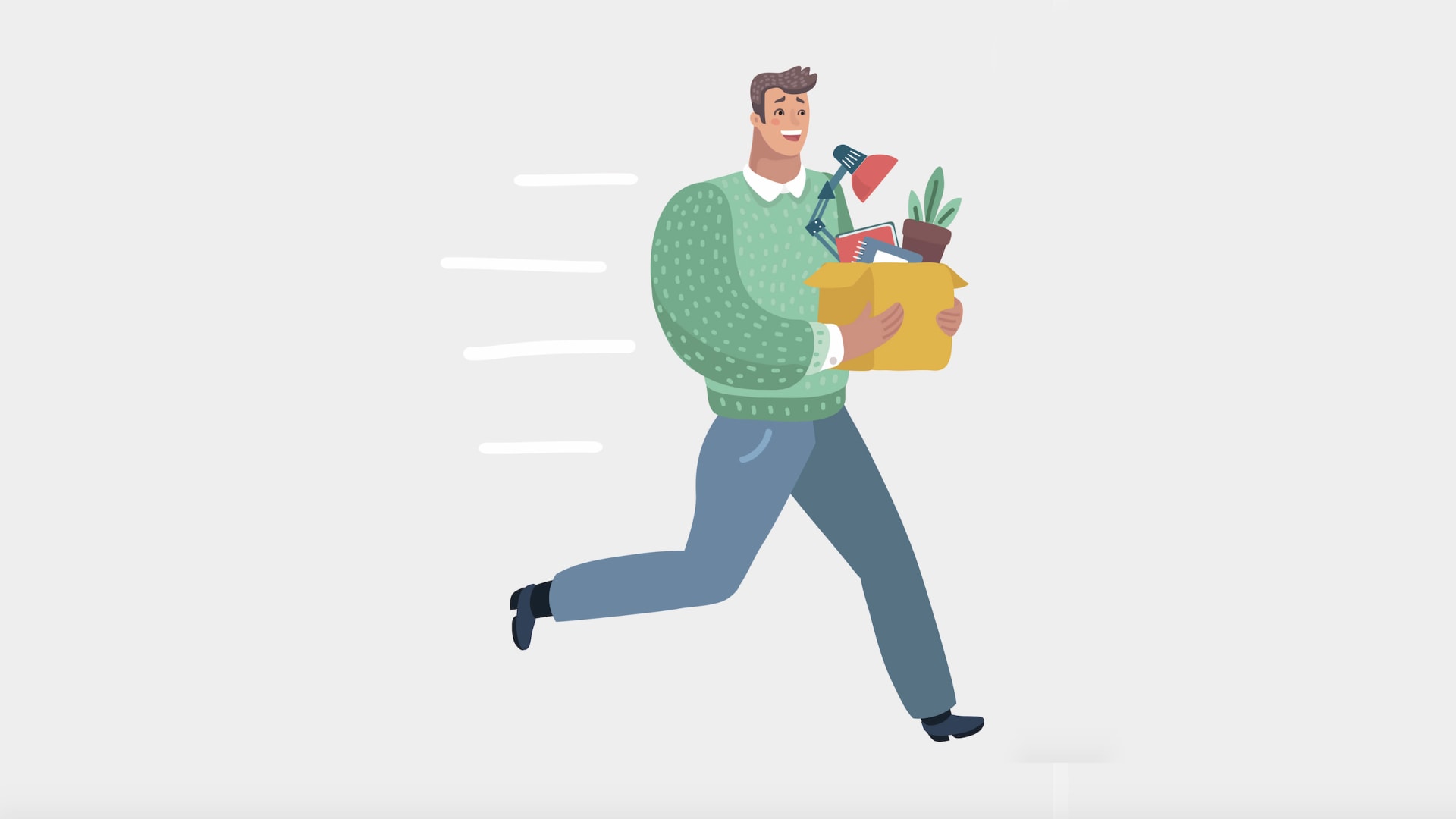 The latest jobs data from the Bureau of Labor Statistics shows continued upward momentum in the jobs market, which should be great news to hiring managers and job seekers alike.
However, lurking beneath the surface of a recovering economy is a looming shift in employment that has earned the moniker of the "Great Resignation." According to Monster Worldwide's latest polling data, a shocking 95 percent of workers are considering quitting their job to find a new one.
Monster's poll of 649 employed workers revealed that most of those considering a new job are driven by burnout (32 percent) or the lack of job growth opportunities at their current employer (29 percent).
As the pandemic recedes in most parts of the country, workers forced to work from home for the past 15 months are reassessing their careers, work-life blend, and future plans. For many, continuing to clock in at their current job isn't part of the plan. In fact, this trend has been building for several months--4 million people quit their jobs in April--and it's reaching a crescendo, according to Monster's research.
A closer look at recent research shows two surprising factors influencing workers' desire to make a change even while the country still recovers from one of the greatest economic declines in history: optimism and flexibility.
Optimism in a strong recovery.
The notion that workers are optimistic yet waiting on the sidelines as jobs continue to grow seems a bit counterintuitive. Yet the past eight months have shown a steady drumbeat of good news that is helping fuel a confident workforce waiting for the right moment. Consider the following:
58 percent of workers felt optimistic that the jobs market would make a turnaround by the end of the year. This is despite the pandemic still raging in parts of the country in September 2020.
82 percent of recruiters planned to hire in 2021. This is according to Monster's "Future of Work" report in January.
800,000 jobs were filled in March alone. For the first three months of 2021, BLS reports showed continued job growth.
66 percent of workers recognize that there are available job opportunities. This is what Monster's polling indicated by June 2021.
By spring 2021, the headlines were shouting that it was the worst worker shortage ever, and employers were offering incentives to get workers off the sidelines.
Scott Blumsack, SVP research and insights at Monster Worldwide, told Yahoo! Finance, "We've seen a fundamental shift in terms of the environment between where we were and where we are now, which reflects a lot more optimism and positivity around employees and the opportunities now available to them."
Couple that with record-setting highs in the stock market, even in sectors hit hard by the pandemic, and you can't help but feel a bit giddy about the nation's prospects. We're hitting new heights across the board. Heck, we've even got billionaires flying into space!
According to Blumsack, "As we have seen employers add record numbers of jobs, they [employees] see there are opportunities out there, and they may as well start dipping their toe in the water." Essentially, after 15 months of either working on the frontlines or endless hours of Zoom calls, workers see this as their chance to get what they want out of work and are willing to wait until the right opportunity arises.
And what they want most is flexibility.
Providing flexible work schedules.
The pandemic ushered in the most significant shifts in the way people work in over a century. Many people find that flexibility in when, how, and where they work is a top priority. And so are employers.
As the move to remote work continues, employers have embraced the notion of a hybrid work model. Research from earlier this year showed recruiters ranked flexible work schedules and remote flexibility as the top two policy changes they made due to the current market--outranking health and safety protocols during a global pandemic. Nearly half of recruiters suggested those changes would become permanent.
Similarly, workers ranked flexible work schedules as the top policy they want employers to offer, and "remote" and "work from home jobs" have remained some of the top-searched jobs on Monster for 18 months straight.
For white-collar workers, the ability to choose a work location and the days that they'll work from a particular place has become part of the next normal. Yet for blue-collar and hourly workers, the notion of flexibility is gaining steam.
Consider that McDonald's has just agreed to offer more flexible schedules in response to demand and as a way to attract hourly workers. The American workplace and workforce are looking more like what Mike Smith, global CEO of Randstad Sourceright, refers to as an agile workforce.
Smith recently summed up this shift: "There is a clear move toward a more flexible approach to talent, while still maintaining key expertise and skills within the permanent workforce. Striking such a balance is the key to a more agile workforce."
From resignation to rehiring.
Smart employers are listening to workers and are carefully adapting. In a market experiencing the great resignation, it doesn't take much coaxing to get workers to quit, but listening and responding can go a long way towards attracting and retaining strong talent.
As many of the factors that kept workers from looking for work--health risks, child care issues, and enhanced unemployment payments--recede, the great resignation will morph into something more akin to the "Great Rehiring." And employers who are listening to worker demands will be the great beneficiaries.
Jul 15, 2021