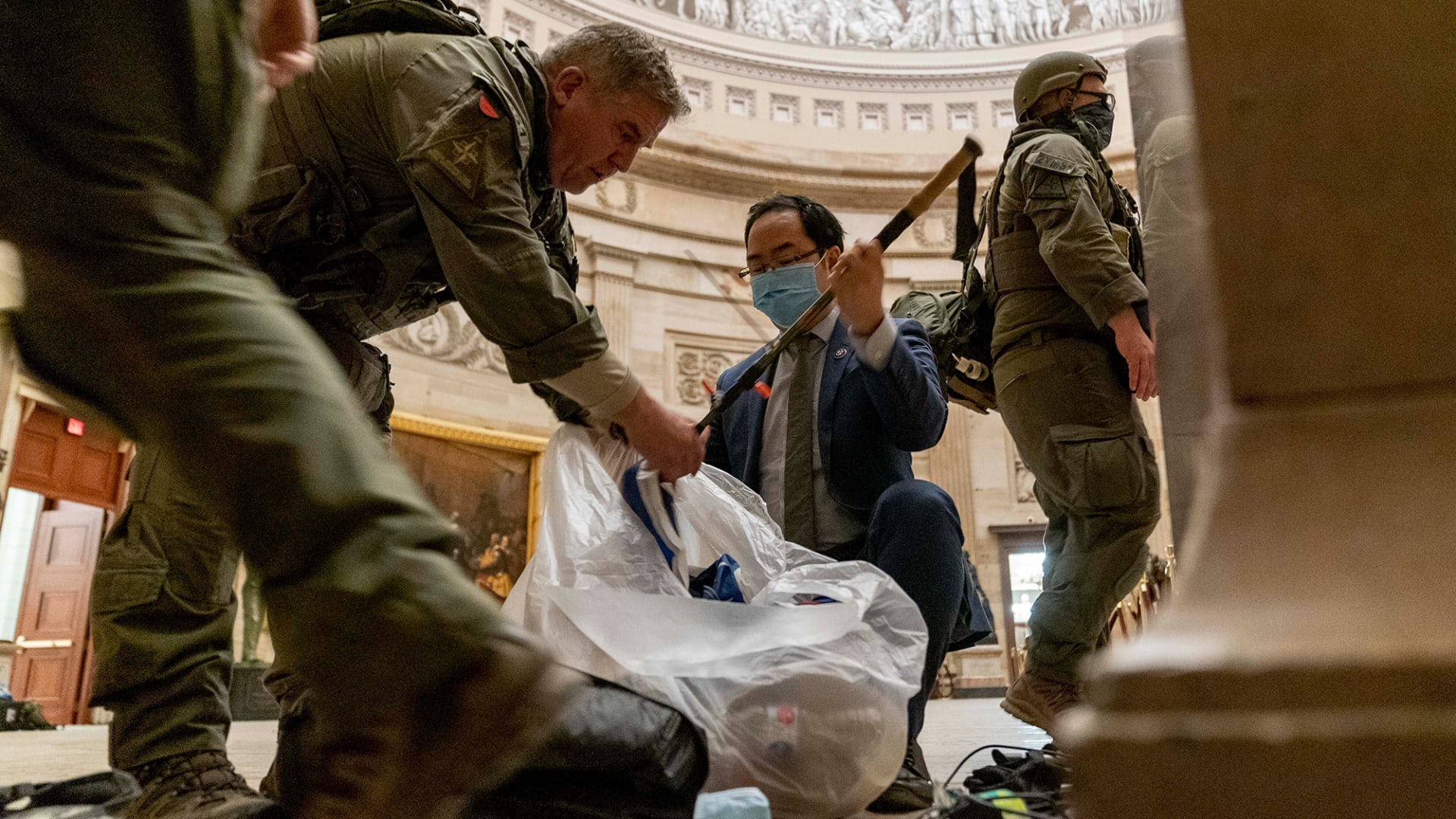 "I was just overwhelmed with emotion. It's a room that I love so much -- it's the heart of the Capitol, literally the heart of this country. It pained me so much to see it in this kind of condition."
You may have heard those words spoken by Democratic congressman Andy Kim, the first Asian American to represent New Jersey in Congress. Kim was referring to the condition of the Capitol Rotunda and the National Statuary Hall, inside the Capitol, when he laid his eyes on it after it was ransacked by Trump supporters.
"Litter and trash and garbage and debris everywhere -- all over the statues, the benches were all askew, and it just broke my heart," Kim told CBS Philly.
As a former national security aide under Presidents George W. Bush and Barack Obama, what did Kim do next? The most natural thing any good servant leader would do. He grabbed a trash bag, got down on his hands and knees, and started cleaning up the place. And he was just getting started. Kim filled a half dozen trash bags with debris, and then returned to the House floor to debate Pennsylvania's vote count, a session that lasted until 3 a.m.
The pictures of Kim picking up trash went viral but Kim wasn't doing it for show. It was instinct. New Jersey governor Phil Murphy commented on Kim's actions, calling him a "true public servant who makes us proud every single day."
The servant leader in a business context
It's not hard to make the link between Kim's intrinsic act of service to how great leaders operate as servant leaders in today's business and the workplace. The evidence asserts that these leaders lead by serving first; everything else follows to exceptional business results.
In the words of Robert K. Greenleaf, the chief servant who kicked the servant leadership movement into high gear several decades ago, "The servant-leader is servant first ... It begins with the natural feeling that one wants to serve, to serve first. Then conscious choice brings one to aspire to lead."
Servant leaders symbolically "pick up trash" by selflessly putting others -- their employees -- ahead of themselves. Here are six ways they demonstrate true servant leadership to gain a competitive advantage.
1. Invest in people development
Servant leaders consistently invest in their employees because employees who feel valued are more likely to be concerned about a company's business. One way they do it is by offering learning opportunities outside of the typical job role. With these newfound skills, employees will feel confident in their ability to do their jobs effectively.
2. Stay engaged
Servant leaders remain engaged with employees to ensure everyone understands how their role and work fits into the company's overall success. They talk with them, listen to concerns, and always save room for positive feedback.
3. Be encouraging
A servant leader says to a fellow team member, "You can do this and I got your back," instead of merely giving the command of "go do it." When employees feel they are responsible for their own actions, they also feel more empowered. In turn, they are more likely to take bold initiative.
4. Let people share their ideas
Servant leaders eliminate tension and fear by being transparent and allowing for ideas to freely flow in the (Zoom) room. Even what may sound like a dumb idea could inspire someone else to pursue something great.
5. Share the decision-making process
The nature of work and its workforce has changed. Success in management today requires collaboration, not command. As servant leaders, asking people to take part in deciding the goals that they will be a part of is an essential component to engaging employees' heads and hearts.
6. Impact the life of others.
Servant leaders measure the success of their work and role by asking one overarching question: Did I have an impact on someone today? This question has to be a constant reminder that will help a servant leader take ownership of being the very best leader he or she can be for others. By holding up the mirror and asking the question, it forces the servant leader to measure up against the high standards of leadership.
Jan 14, 2021