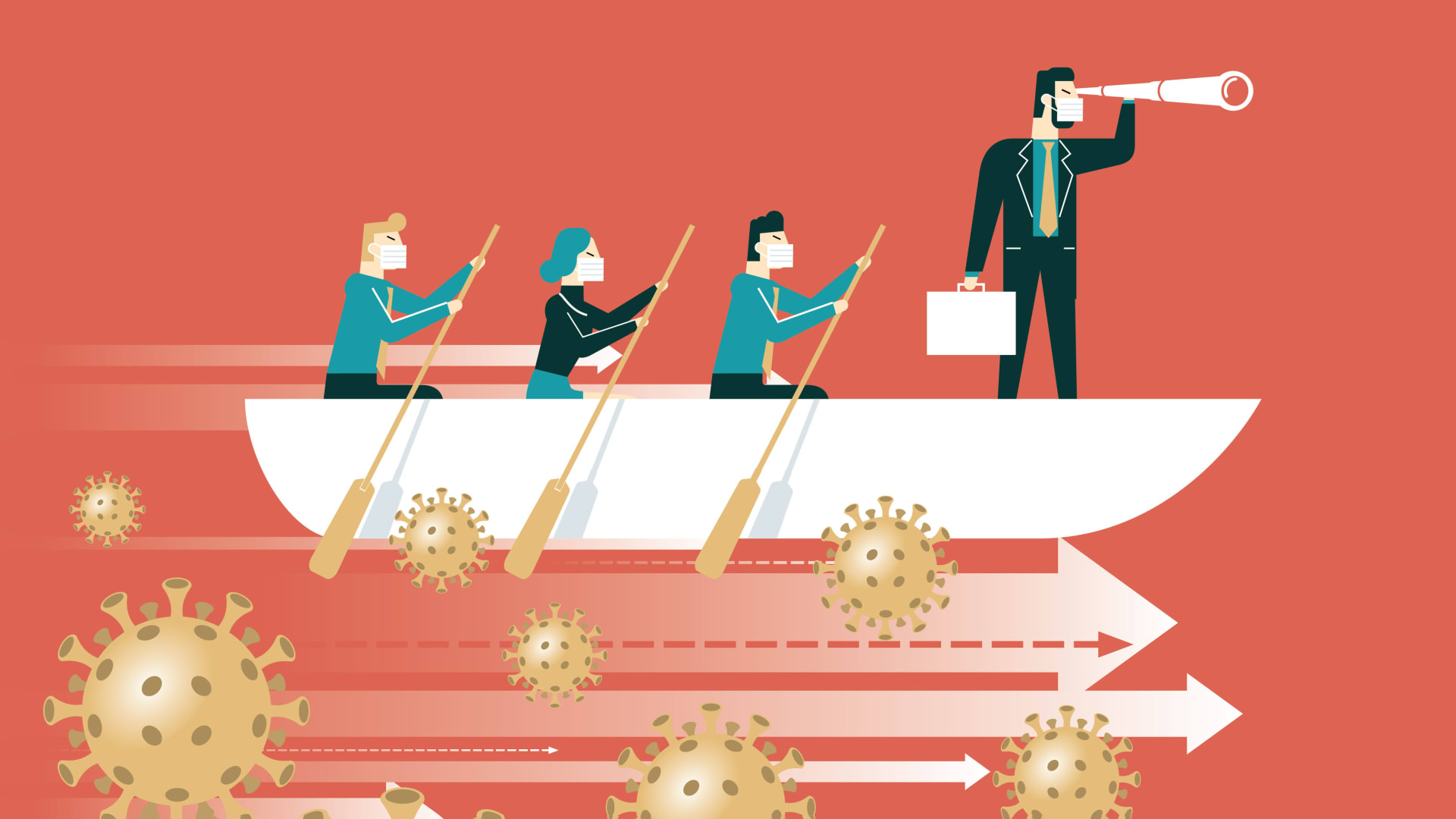 For months now, organizations everywhere have had to process the magnitude of the global situation that is Covid-19. Now, one of the biggest questions to grapple with is obvious: How do we lead better in the post-pandemic age?
Leaders have shifted their approach to management in order to remain flexible, open-minded, and adaptable -- while giving employees transparent feedback and peace of mind.
This "humans first" approach is a good way forward. To that end, I recently connected with four healthcare execs who shared with me how they're pivoting their business strategy and putting their best leadership qualities forward:
1. Take advantage of the small-business flexibility
Stefan Behrens, CEO and co-founder of patient engagement technology provider GYANT, believes that now is the time to utilize the flexibility of being a small business. Small businesses can easily pivot to meet society's most dire needs today, according to Behrens, and adjust their operations to meet the needs of their customers and employees within reason.
"By demonstrating empathy and clearly communicating an action plan for helping meet their needs, you not only instill confidence as a leader amidst a crisis," said Behrens, "but also bolster meaningful relationships that will last well beyond the pandemic."
2. Slow down your decision making
"Times of crisis can drive people to feel like everything is an emergency, when in reality moving slower produces much better, more calculated outcomes in the long run," said Dave Wessinger, co-founder and president of PointClickCare, an electronic health record company for older adults. Wessinger believes that speed can often contribute to chaos if not effectively managed.
"A company can't move at breakneck speed for long. Only by leading with empathy and transparency - simply understanding the needs of others, being aware of their feelings, while still being direct - do we stand a chance of seeing the good from this global crisis."
Wessinger states that it should be the responsibility of leaders to do everything they can to take care of their team during this trying time through measured, calm, and consistent communication. As the complexity of the situation continues to rise, clarity becomes increasingly important to align as a cohesive team, he says.
3. Prioritize bottom-up communication
Lynn Herrick, COO of connected health technology company GreatCall, believes that some of the most valuable input comes from employees. "Leaders should ask for feedback from those who make the company run -- the employees. Acknowledge the challenges they are facing, and take the time to encourage them, thank them, and truly listen to their thoughts and feelings in this strange time. Be open to feedback, and try to connect on a one-on-one, personal level."
Herrick explains that now more than ever, team members need encouragement and recognition, and leaders should be taking the time out of their day to provide that reinforcement. "By joining team meetings, you'll get a feel for what your employees are thinking, feeling, and worrying about, and this gives you an opportunity to provide feedback. As a leader, it's important to make yourself vulnerable and expose yourself to new challenges as a way to inspire others."
4. Transparency is key
Bob Segert, chairman and CEO of athenahealth, echoes a similar sentiment to Herrick. "Just as important as communicating is active listening from company leaders," Segert shared.
From employee comments on company blog posts, submitted questions through a dedicated HR email, or staff surveys, channels that capture the employee viewpoint are critical. "All these modes of listening provide us with quantitative and qualitative information that we can use to continually improve on how we lead our company through uncertain times," Segert added.
He believes that providing a stable viewpoint from the leadership team is essential. "Employees look to their leaders during times like this to provide a sense of stability and guidance. To do this, leaders need to be even more active, engaged, and visible than usual- even when the workforce is remote. This can be done by providing consistent, high-touch communications that are transparent, empathetic, and frequent."
No matter the structure, size, or clientele of your organization, clear leadership is now more important than ever. Organizations are looking to their leaders for answers, guidance, and comfort, and leadership teams will have to practice deliberate, transparent communication and decision making to guide their employees through an uncertain time.
Jun 19, 2020