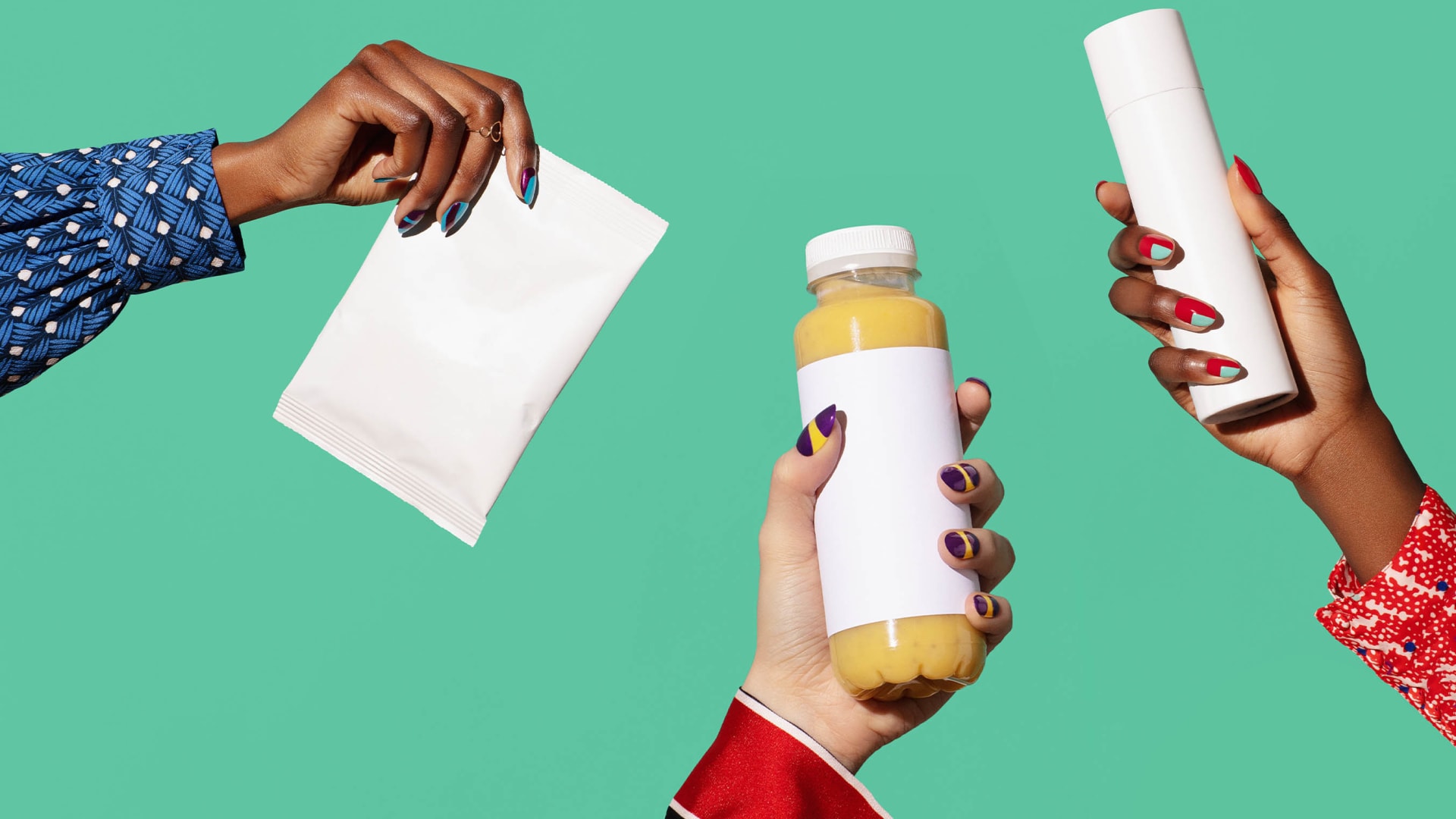 The massive, pandemic-driven surge in e-commerce sales resulted in an increased number of packages crossing the thresholds of people's homes. These packages are prime real estate for brand messaging, inside and out, carrying endless opportunities and tremendous value. Some tactics are practical, some are pretty, but they should always work toward the goal of delivering a singular, branded experience that customers want to share and repeat.
Sustainable
We're noticing our clients moving to more sustainable packaging choices at a faster pace now compared with pre-pandemic times. These earth-friendly alternatives come in a variety of materials, such as boxes made from 100 percent post-consumer waste and petroleum-free inks. Our 2021 e-commerce study revealed that consumers overwhelmingly prefer to support sustainably focused brands. In fact, 82 percent of consumers prefer to receive online orders in boxes rather than poly bags, and over a quarter of those individuals cite environmental concerns as the reason for their preference.
Anthony Gajewsky, chief financial officer of skin care brand Bliss, shared the following insights on the company's own initiatives to complement our study findings:
"Sustainability is a cornerstone to our brand purpose. As a clean, cruelty-free, planet-friendly skin care brand, we understand that consumers care not only about what they are putting on their bodies, but also about the implications their choices have on the environment. Therefore, we have partnered with international recycling leader, TerraCycle, to make our packaging 100 percent recyclable." He went on to say, "Consumers are now able to send all Bliss products and packaging--including flexible and rigid plastic, pumps, sprays, packets, pouches, tubes, jars, and complex closures--to be recycled for free. That material is then cleaned and melted into hard plastic that can be remolded to make new products. This partnership was a critical step in furthering our commitment to sustainability.
Minimalistic
This may sound counterintuitive coming from someone who runs an e-commerce fulfillment company, but for some brands, giving their customers a more satisfying experience actually means focusing on less. This is not mutually exclusive to, but goes hand-in-hand with, the environmentally friendly packaging trend.
Unwrapped Life, for example, takes a fully comprehensive approach to delivering plastic-free personal care products. Beauty, skin, and personal care are competitive verticals with plenty of luxurious, eye-catching brands to choose from, but Unwrapped keeps all packaging efforts aligned with its brand values, using only paper-based materials. Because the company is so clear about its mission, it attracts like-minded customers, making minimal, earth-friendly packaging with no bells and whistles a point of comfort, pride, and gratitude for their customers.
Story-Driven
What does your brand stand for? How do you support your people and communities? What are you doing to give back? How do you source the ingredients and materials used in your products? These used to fall into the "nice to know" category, but today are questions consumers care about, and expect answers to. Why? Because people are brand-conscious, meaning they see what they buy and whom they buy it from as a reflection of themselves, their values, and how they're contributing to the world.
Mark Truby, chief communications officer at Ford Motor Company, has been quoted as saying, "A good story makes you feel something and is universal. [Customers] want to grasp your values and your commitment to excellence; be inspired and intrigued. Storytelling is the most powerful way to convey these ideas."
In short, people care about brand narratives, and packaging is the perfect place to tell your story. You can do this with words, colors, symbols, shapes, and even textures and fragrances. The trick--and it isn't really a trick at all--is to be authentic.
Coded
QR codes were really on their way out the door not too long ago. But with the pandemic emerged the era of touchless transactions, putting them back on the map. Putting QR codes on inner and outer packaging components--from tissue paper to boxes and mailers--is an easy, engaging way to direct customers to any online property you want to promote. It also doesn't require any additional packing materials, which can help save on marketing and shipping costs.
Imperfect Foods, for example, uses QR codes to offer more resources to customers beyond the contents of the package. Scanning the code prominently printed on the outside of the box brings customers of the subscription-based grocery company to its blog--The Whole Carrot--for "seriously delightful kitchen tips & tricks, and recipes."
At the end of the day, your e-commerce packaging is your calling card, so your brand's DNA should be all over it, inside and out, from style to materials to story. The right mix is different for every brand, so make sure you have the right partners and resources in place to come up with strategic solutions that are designed for your brand, with your customers in mind.
Jul 6, 2021