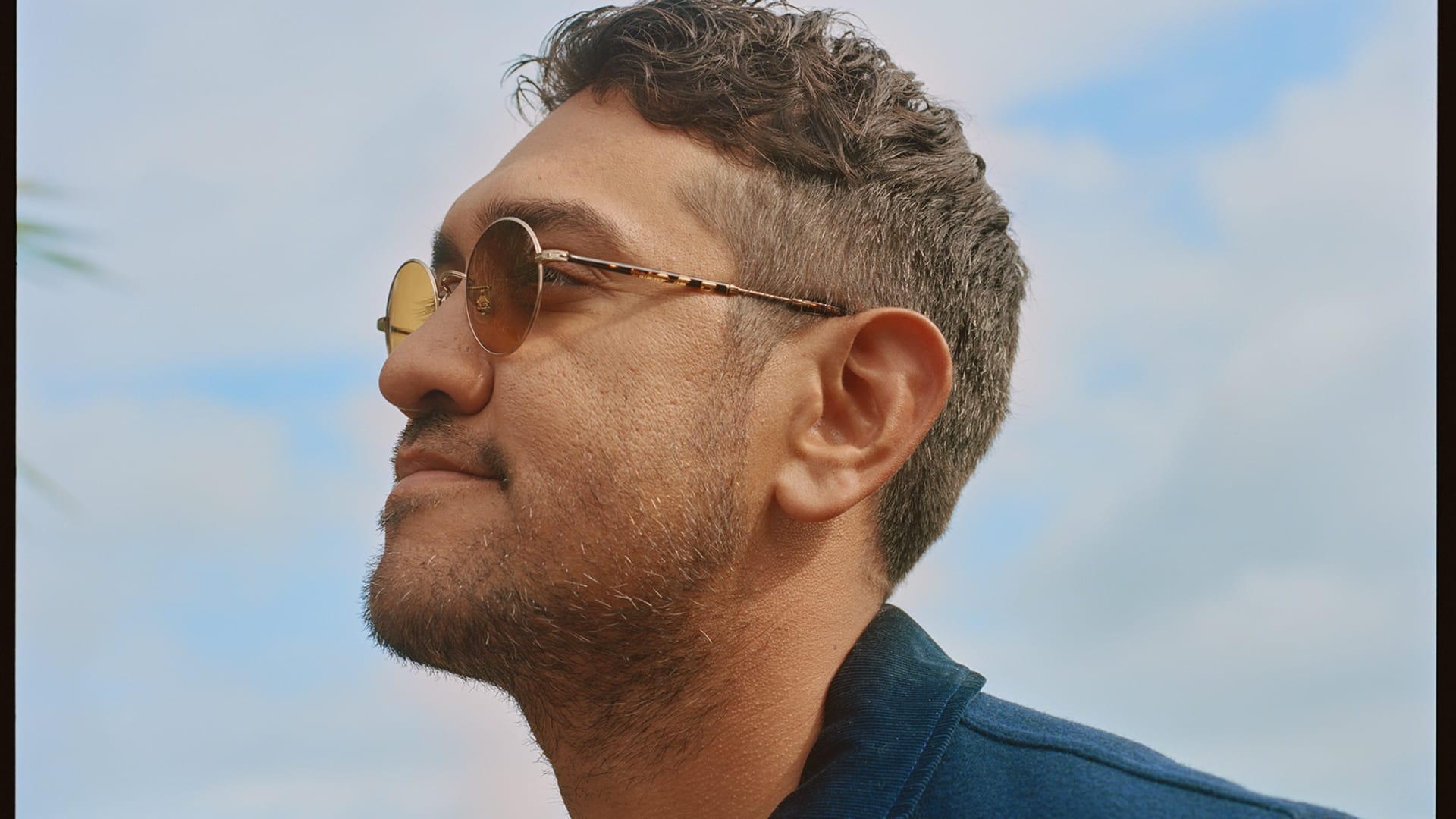 When Garrett Leight founded his own eyewear label in 2010, near the nadir of the Great Recession, Garrett Leight California Optical (GLCO) represented one of the few bright spots in a bleak economy. The only son of Larry Leight, the famed co-founder and longtime creative director of Oliver Peoples, Garrett seemed destined to become one of the leading names in the eyewear industry. But more than his name, it was Garrett's love for the sunny optimism and carefree style of Southern California that drew consumers the world over. Quintessentially Californian, GLCO's modern and fashionable designs soon became the favorite of stars like Brad Pitt, Leonardo DiCaprio, the Kardashians, and Mandy Moore. Millennials adopted the brand en masse, and GLCO is now sold in locations around the world. Garrett spoke with us from his Los Angeles headquarters to share what he loves most about the Southern California lifestyle, his secret to becoming a successful entrepreneur, and why continuing a family legacy can sometimes be harder than starting from scratch.

Your brand--Garrett Leight California Optical--is regarded as one of the most fashionable labels in eyewear, yet some people might be more familiar with the famous brand your father founded back in 1987, Oliver Peoples. Can you tell us about your family's history in the eyewear industry and how you came to launch your own label?
I was raised in the eyewear industry. My father, Larry Leight, was one of the founders of the iconic eyewear brand Oliver Peoples, and my mother and uncle were also part of the business. In 1987, he launched Oliver Peoples. It became a huge success. Of course, like many kids raised in the family business, I didn't want anything to do with it. I just wanted to play sports, listen to music, and hang out with my friends and play video games.
It was only after college that the idea of eyewear began to inspire and motivate me. I worked in my father's eyewear shop. I discovered that there's something very special about putting eyewear on people and making them happy. You really only get it in the retail setting. Working for my father at Oliver Peoples, I had the opportunity to reverse-engineer everything that had happened with the brand--from its growth and culture to its design, manufacturing, and marketing. It was real-world experience, but it was a lot like going to grad school. Eyewear, vision, and style are sensitive fields--how people see and how they look are incredibly important--and I learned that our family has a unique take on how to make fashionable eyewear with a classic feel.
By this point, I knew that if I ever wanted to build my own brand, retail had to be at the core of it all. I'd learned that working for my father at Oliver Peoples, and I wanted to learn more about it on my own. So I opened a multi-brand store in my neighborhood on Abbott Kinney Boulevard in Venice in 2009, and I sold glasses and all sorts of other stuff. My father and I found all these old vintage frames in an archive, and then I brought in some friends and family who made boots and clothes. It was a very real, local, family environment. Our customers were the local servers, and bartenders, and artists.
That was when I learned that being a successful entrepreneur is about solving a problem--and the simpler the problem, the better. In this case, with my multi-brand store, the main problem I was solving was that there was no optician on Abbott Kinney. So we solved that problem. Better yet, we did it authentically by embracing and advancing the local, Southern California style. Before long, we landed in The New York Times and The Wall Street Journal, and that really got us going.
Once that store started taking off, I felt like I was ready to develop my own eyewear collection--Garrett Leight California Optical. This was in 2010, right in the midst of the Great Recession. Though that may sound like terrible timing, it ultimately helped us. We were in a category that wasn't doing much, so it wasn't very competitive, and we stood out as an optimistic, sunny brand during a gloomy time.
Overall, the conversation was, "Nobody's doing anything right now. Nobody's buying." But that wasn't true. People were buying. They were just buying smarter. They were spending their money on things that were important to them--things they needed, things they identified with, and things that made them happy. And because of how I built this brand, we checked all those boxes.
You grew up in Southern California, and the brand you built is deeply rooted in that lifestyle. It seems genuine, like it comes from the heart. What do you love most about the region, and how does it manifest in GLCO?
I don't know what I love most about Southern California, but I'll tell you some of the many things I love about living here:
I love the weather. I think the sunny California weather itself has informed some pretty good-feeling design, especially as it relates to art and architecture.
I love the access to the beach and the beach style. I live in Venice Beach, and there's something to the laid-back, authentic culture here that I enjoy and admire. It's easygoing. Carefree.
I love the music. From the Doors to the Chili Peppers to Tupac, Los Angeles spans generations of great sound. As a fourth-generation Californian, I was fortunate enough to grow up listening to all of it.
I love the people. You get this bizarre mix you don't get anywhere else because people come here for all these different reasons--whether it's to work in Hollywood, fashion, music, or whatever it is. No other city but L.A. has that. It's the entertainment capital of the world, and it entertains me on a daily basis.
I love the healthy California lifestyle. It's good to be healthy and relaxed. I get how you can make a funny Saturday Night Live skit out of how we kind of commoditized healthy living. But it's better than being stressed out, eating bad, and being angry all the time. We have a great work-life balance here. Maybe we generate less work than we might because of that healthy balance, but honestly that's OK. We make an impact on the world.
I'm obsessed with California, and I've channeled my genuine love for this place through my brand from the beginning. A lot of people share that love. From day one, people have said, "I want that style. I want to be part of that happy, eclectic, creative universe, because it doesn't exist anywhere else."
How did your perspective growing up in the eyewear industry influence the way you built GLCO?
From the outset, I knew to surround myself with the right people. When my father started Oliver Peoples, he had friends and family around him, and that makes a huge difference when you're launching a brand. My first real hire was Elena, my friend and head designer. She helped develop our first line of prototype frames. I have a good sense of fashion, but I'm not really a designer. I'm more passionate about the vision of the brand, the company culture, and understanding the market and how we can affect it.
I also knew that if I was going to name the company after myself, I needed to be the face of the brand--and not just in the marketing materials. So, for my first sales trip, I personally emailed 100 potential accounts in Europe, and then I traveled by train to all of them with a briefcase full of 48 of those first frame designs. If those accounts were going to tell me no, I wanted to hear exactly why, in person, because I refused to fail. Everyone said yes. Well, actually, there was a guy in Amsterdam who said no at first, but I just stared at him until he relented and ordered "less than nine"--the minimum order.
When I got back from that first trip to Europe, I sat in front of an Excel document and started entering in a reorder with our factory. I was like, "300 of those ... um ... wait. Maybe more? Or perhaps less?" I realized right then and there that I was going about it wrong. I put that first order in myself as best I could, but then I immediately hired a planner with the intention of building responsibly for the long term. That's yet another example of surrounding yourself with the right people, and it was informed by my experience at Oliver Peoples.
Your father is one of the most famous designers in the history of the industry, yet you've managed to carve out something entirely your own. What was it like to launch your own brand in an industry still enamored with your father's designs and aesthetic?
Without question, I am building on a legacy here. My father is one of the greatest eyewear designers in the world. He changed the entire industry, and he did it from right here in Los Angeles with my mother and my uncle. But a lot of people don't know that. They may have heard of Oliver Peoples, but not my family. So when I created my own brand, I named it after myself because I felt like the Leight name needed a little more consumer-facing recognition. Continuing our family legacy in this industry is something that inspires me on a daily basis.
Of course, there will always be people who say, "Well, his daddy was in the industry, so he had a leg up." Or "The family has deep pockets, so it's easy for them." Not true. These are just some of the common misperceptions. In reality, I would argue that following in a successful parent's footsteps can be harder than being the first in the family to do something. Launching a successful business--getting the perfect mixture of everything--is challenging enough as it is. But when you're the son of a legend, some people don't want change.
We'll say, "Garrett Leight is different from Oliver Peoples. We're younger, the branding is different, and we have a different target customer." But some accounts will say, "Well, we don't want different. We want Oliver Peoples." They just want us to be the same, because Oliver Peoples is a well-established brand, and that makes everything easier for them on the sales side. So being part of a dynasty can actually make it harder to forge your own path and earn people's respect.
You're also up against this perception that you have it easy. People see you differently, and they treat you differently. People in the industry will come up to me and say, "We know your dad's doing everything behind the scenes. That's great for you!" I just smile and say, "Thank you." If that's what some people believe, then great. Whatever it takes to bring them along!
With GLCO, we've created something real of our own. Now, it's really just about figuring out how far we want to take it.
We're in the process of figuring out our sweet spot. How big do we let this thing grow? I'm not sure if I'd want to build a $500 million business. That might require a lot of sacrifice. I don't want to sacrifice this brand and the culture we've created by cutting corners, sticking it to my factories, and wringing every last discount out of my partners. I don't want this authentic brand we've built to become too corporate.
In a perfect world, I don't ever want to be entirely uninvolved with my brand. I want to grow and protect this legacy I'm building for a lifetime. Someday, I'd love to be able to pass it forward to my kids if they want to be involved.
What kind of advice would you offer to others looking to build an enduring, iconic brand like yours?
Relax. The whole "I just want to start a company and sell it before I'm 21" thing? First off, that's really hard to do. Moreover, you're going to spend the rest of your life searching for happiness, so get therapy immediately. You're going to need it, because you'll learn very little in that process.
Instead, find out what makes you happy. Sure, it's always hard to answer. And it can take people a really long time to figure out. So take your time. Even if you have to deliver pizzas until then. And once you understand what really makes you happy, chase it until you can't chase it anymore. But be adaptable as you figure it out! If you want to be a musician, and you're not really that good at it, don't go burning everything to the ground. You have to have the self-awareness to adapt. Maybe you work at a studio. Maybe you work at a guitar shop. Find a way to work around musicians. That way, the conversation will always be about what you love.
I guess what I'm saying is this: Try to find what it is that truly makes you happy, learn as much about it as humanly possible, and apply yourself within that category until you figure out where you fit in. At the very least, you will be surrounded by what you love all the time.
If you don't do that--if what you love is over there and what you do is over here--forget about it! You're going to be so miserable. You'll spend what's left of your free time trying to do what you love, and you're just going to suffer. What you love and what you do will both suffer.
Separately, succeed by doing something either better or differently. What is the unique thing that you bring to your space? What have others tried but have not been able to do quite like you? In our case, there's no other eyewear brand like Garrett Leight. Really. I'm a real person who loves L.A., has kids, loves golf, food, sports, and isn't perfect.
Mark Miller is the chief strategy officer at Team One, an integrated media, digital, and communications agency, and co-author of Legacy in the Making (McGraw-Hill Education).
Dec 28, 2020