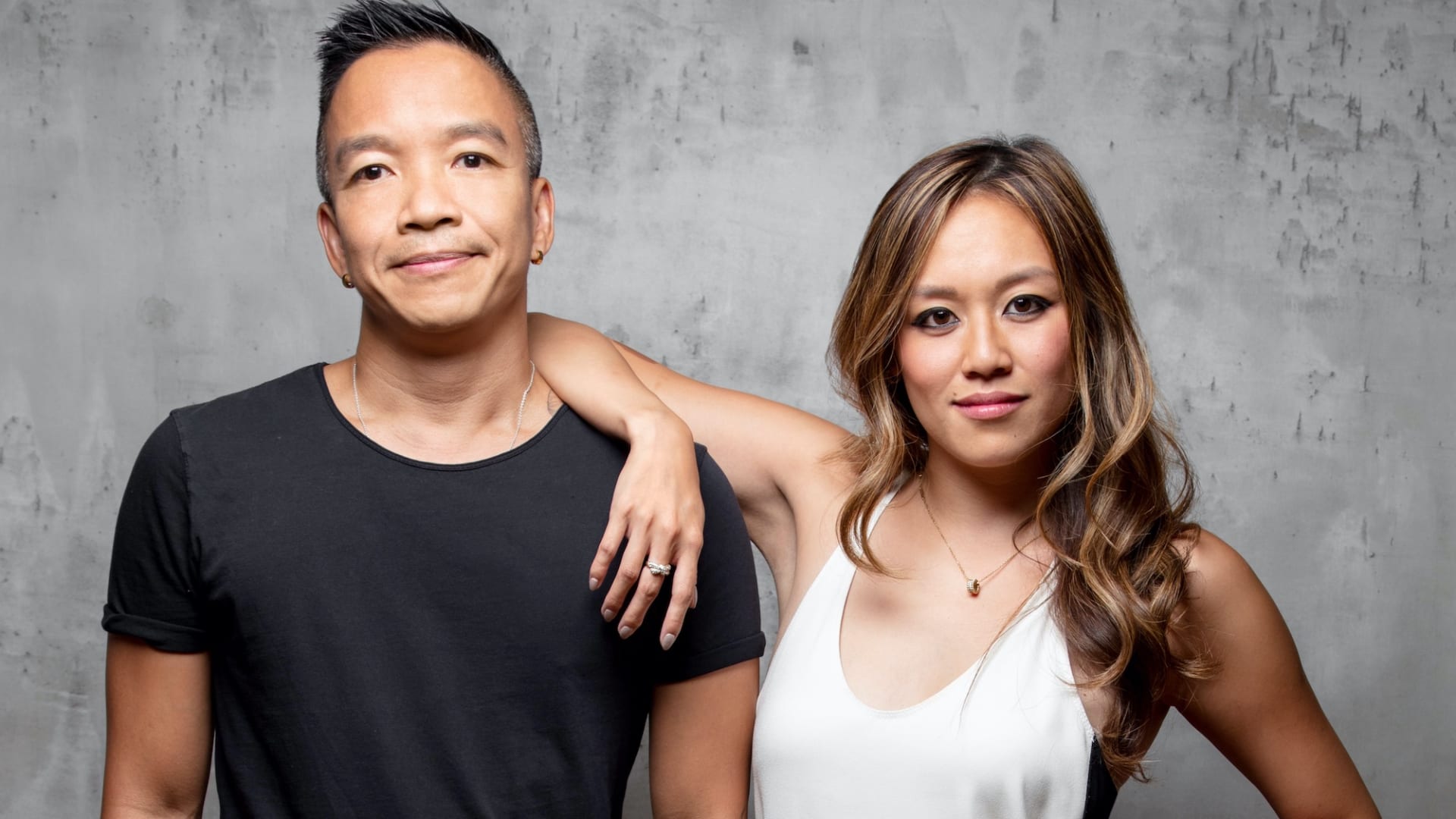 In the era of Covid-19, the concept of time took on a particularly meaningful role. For some, this was an occasion to slow down and take stock of priorities. For others, this was a moment to speed up and focus on passions before opportunity passed them by. The pandemic was a reminder that rather than allow time to dictate our lives, we should instead direct how we spend our own time. The significance of the moment was not lost on Jess Chow, co-founder of the Vieren luxury watch company, who, in March 2020, was readying to launch a modern take on the traditional automatic watch. Jess and her co-founder, renowned Canadian fashion designer and Project Runway all-star Sunny Fong, were forced to decide if they would put their entrepreneurial dreams on hold or follow their ambitions to launch a new venture. As Jess details it, since their brand celebrates "making the most of time as opposed to wasting time," they were moved to go for it. Jess spoke to us from her home office in Toronto to share her perspective on introducing the next generation to an old-world craft, turning obstacles into opportunities, and going all in on your dreams.
What's your founder's story?
I come from a family of watchmakers. My mom and dad make watches. Growing up, my parents talked about it all the time at home. So, naturally, I didn't like it at all. It was not something I wanted to pursue. Instead, I became a management consultant--advising brands, building businesses, and learning as much as possible about many other industries. But as I got older, my perspective changed.
I have long had an interest in entrepreneurship--in starting my own company--though it was something I thought I'd pursue much later in life. As a kid, you sort of always think that you have so much time. But when I turned 30, I better understood that time is so precious. And all the effort I was investing in other peoples' business priorities was effort not being spent on my own passions and priorities. That is when I told myself that if I was going to start a company, now was the time.
It was kismet, because I met a designer, now my business partner, Sunny Fong, who looks at the world the same way I do. When I told Sunny about my family's background, he recalled getting a unique timepiece, a watch with a rectangular face, when he graduated from high school. As a designer, he was inspired to create something that honored his past. As the daughter of watchmakers, I was similarly inspired to reconnect with my roots, albeit with a twist. Neither of us wanted to literally repeat the past. We wanted to bring things forward--pairing aspects of traditional watchmaking with modern design thinking.
As a starting place, Sunny and I traveled to Switzerland. We went to go learn from the best about the state of the watchmaking industry, including the craft. Our view as outsiders, affirmed by those on the inside, was that there was too much sameness. Too many watch brands were doing a lot of the same things--including replicating one another's designs. As next-generation leaders, we were going to do things differently--pushing beyond what was familiar to deliver something surprising.
Foundationally, Sunny and I both had a fascination with automatic watches. When Sunny turned 40, he started wearing his dad's automatic watch as a way to remind himself to always keep moving--because that is how you power it, by wearing it. And when you don't wear it, time stops. Today, when too many are sitting still, staring at a screen, wasting time, we believed that reintroducing the automatic solution would be an important piece of history to bring forward. When we told our friends about it, they would often ask, "Is it like an Apple watch?" Our response: "Well, actually, it's like the opposite." So, we knew we were on to something--investing in handcrafted heritage art from centuries ago, giving it a modern design aesthetic, and granting a new generation access to experience it for the first time.
With Vieren, we would challenge what an automatic watch could look like, we would challenge gender stereotypes--to demonstrate that watch designs do not have to be separated into conventional male versus female options--and we would challenge the idea that obtaining a very high-quality timepiece required paying Rolex prices. We were going to bring a modern sensibility to a traditional space.
That is our brand's origin story. Born of a shared ambition, inspired by our upbringing, and encouraged by some modern masters. Together, Sunny and I are passionately working to write the next chapter of the automatic watch for new generations.
You mentioned taking an important trip to Switzerland. In today's marketplace, how important, or relevant, is it to brand a watch as "Swiss-made"? Does it even matter?
A number of industry insiders told us that nobody in this new generation really knows what Swiss-made means. They advised us against investing so much time and effort into something that didn't matter as much to today's audience. We pushed back on that.
Too many brands and leaders cut corners to make things faster and easier, but not better. We wanted to produce a quality product that would last a lifetime. For Sunny, a world-renowned fashion designer, and for me, having grown up surrounded by the business, it was essential to start with exceptional engineering and craftsmanship. While others were prepared to lean away from the Swiss tradition, we were going to lean into it--to celebrate it and revitalize it for new generations, who, by the way, do have respect for quality and craft. Our brand of watches was going to be both timely and timeless, not trendy and fleeting.
Was it easy to follow through on our plan? No.
First, most Swiss watch manufacturers require a commitment to manufacturing at least 100,000 pieces. As we were creating limited editions, only 500 pieces in our first collection, we couldn't just buy our way into a conventional production agreement.
Second, since our design featured a unique rectangular case, inspired by the same watch Sunny received years ago at his graduation, new processes had to be developed to make our vision real. Putting a watch movement inside required fitting a circle perfectly into a rectangle. And because it's an automatic watch movement, you're talking about a bigger circle. If your measurements are off by the slightest fraction, it just will not fit together. It took five to six months to master the prototypes. Not only were we asking an established Swiss institution to make a financial commitment in our brand, we were also asking them to invest their valuable time without any guarantee of a high return on investment.
Still, we succeeded for one main reason: The Swiss watchmaking industry had to evolve if it was going to stay vital. The industry had to become more agile, flexible, and modern. Ultimately, we partnered with a Swiss manufacturer who shared our ambition--to help bring the past forward.
It's actually really cool. If you watch some of the videos of our factory in motion, you'll see that youth are well represented. So, it is older and younger, mentors and protégés, working to make something new with the potential to last for generations.
When it came to where you manufactured, you didn't take the easy route. The same could be said for when you chose to launch, in 2020. How, if at all, did Covid-19 impact your brand's early success?
Doing things the hard way, turning obstacles into opportunity, has definitely been a recurring theme for us. We were readying to launch Vieren in March 2020, when many other businesses were closing because of the Covid-19 global pandemic. So, we took a brief pause and asked ourselves if this was really the right time to launch. Would it be tone-deaf to launch a luxury product at a time when the world was more focused on essential items ahead of extravagant ones?
As the focus of our work was on making the most of time, not on wasting time, we felt like our work had relevance. So, while we took a brief pause to assess in March, we moved forward, in a thoughtful way, in September 2020. We held a Covid-safe launch event at a restaurant in Toronto. We could host up to 10 people at a time on the restaurant's patio. Since I love tasting menus, Sunny and I created a mash-up--taking the tradition of the tasting menu and reimagining it with aspects of our work: cocktails, an amuse-bouche, a first and second course, plus a sampling of the Vieren brand. For 30 minutes at a time, special guests could learn about how automatic watches work, learn about our story, and, of course, experience our products.
The product launch, as we hoped, was a success. However, there was another success that I am equally proud of. Event-goers did not just love the brand, they also were moved by our founders' story of having an ambition and pursuing it despite big hurdles. Our story helped inspire others to move from dreaming to doing--to elevate their side hustles into priorities and new business startups, too.
Sunny and I said at the outset of this venture that, as individuals and as a team, we wanted to make the most of our time. It's meaningful that, through Vieren, we are motivating others to do the same.
You talked about going back to founding ideas and ideals to help you navigate through difficult times. Can you elaborate on that theme a little more?
Our internal slogan, our mantra, is to "power your time." It is directly related to the idea that when you wear an automatic watch, you are powering the movement--it is your power, your time, your life. All of us have the opportunity and strength to make time move for us. In an out-of-control world, we're giving people a sense of personal power and control.
I find that, especially during this Covid era, some days time moves very quickly and some days it seems to move not at all. By wearing my watch every day it reminds me, when it stops, that I have not gotten out of the house all day. I need to keep it powered. Sunny and I sometimes joke that the automatic watch is, in fact, the original Fitbit. But it works.
As an important aside, when Sunny and I originally conceived the brand, we called it Gordon, after my father. That said, we ran into a legal issue with the name--another obstacle for our launch. We turned to our brand purpose to help solve the problem. Powering your time--being powerful with your time--motivated us to do a language search. Vieren is Dutch for "celebrate," to feast in life's most important moments. Through our work, we are celebrating those who choose to take power over their time.
Given all you have learned launching Vieren, what advice do you have for aspiring entrepreneurs and future leaders looking to power their ideas?
Have clarity about why you are doing the work you're doing--your purpose. Trust your intuition. And go all in on your dreams.
As it relates to purpose, when Sunny and I began our collaboration, we had an ambition, but we didn't go from zero to 100 right away. We took the time to research, talk to mentors, and evaluate if there was a white space opportunity. We did lots of reasonable work. In fact, we spoke to so many people that the situation started to become unreasonable. There was too much research. And too many opinions. If we did not have a clear sense of purpose, it would have been easy to get lost and give up. Each time we're at a crossroads, we go back to our purpose to gain focus and make good long-term decisions, even in the short-term.
As it relates to intuition, as we continue to grow Vieren, we find that we have lots of ideas. We always want to improve and refine to get to that one perfect answer. But often, our best idea is the first one. That's why we named our inaugural collection OG Automatic. Because whenever we get lost, we always go back to our original idea. And today, we look to it as a reminder to ourselves to always trust our gut.
As it relates to going all in on your dreams, the worst-case scenario is not that you fail while trying. It's that you do not give things your all because you fear failure. For me, if Vieren didn't succeed, I could always return to consulting--to helping others pursue their dreams. That said, I remain committed to first giving 150 percent to something I'm passionate about, to realizing my purpose and dreams by powering the way I spend my own time. In the process, I'm hoping to continue to inspire others to do the same with theirs.
May 11, 2021