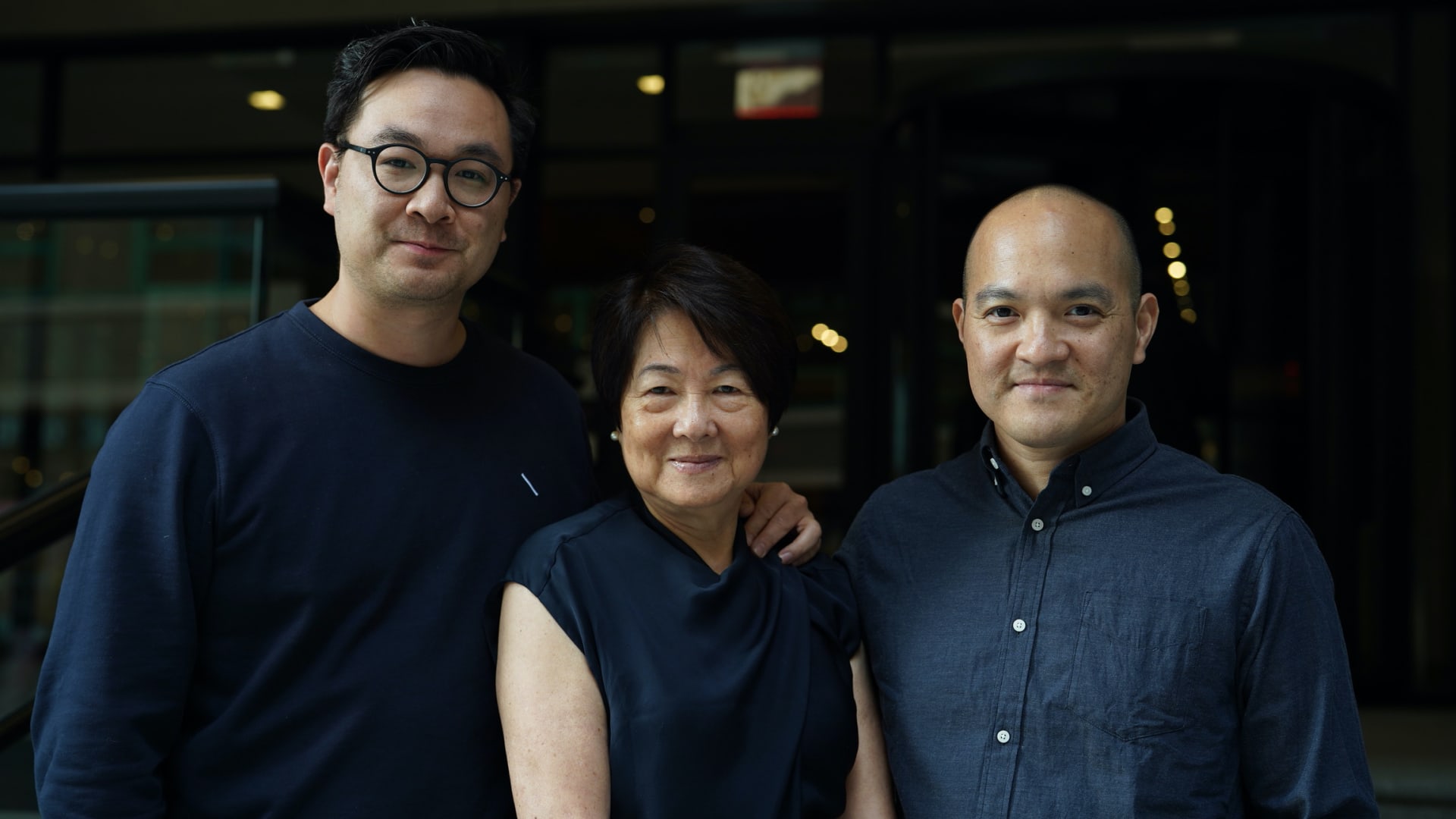 Today, Lo & Sons is an in-demand brand of bags and accessories made to make travel easier and more enjoyable. The brand is helmed by two of its co-founders, Jan and Derek Lo. But before the business was led by the sons, it sparked to life as the solution to a problem faced by the brand's third co-founder, and still-active chairperson: their mother, Helen Lo. As a frequent flier, Helen had been frustrated by a lack of adaptable luggage options. Her choices were limited to fashion or function--one at the expense of the other. Rather than compromise, she collaborated with Jan and Derek to design the options she desired. In 2010, at age 65, Helen combined her passion for travel and talent for detail to reinvent what luggage could be for travelers like her. Here, the first-time entrepreneur discusses adding a more dynamic quality to a once-stagnant category, doing things the hard way to make sure things are done the right way, and building a brand legacy rooted in her three P's: profit, people, and the planet.
When Lo & Sons launched, the luggage category was already saturated with options. The world didn't seem to need another luggage brand. Why did you create this one?
The idea for the brand started back when I was spending a lot of time traveling with my [late] husband. I was retired at the time, and he was traveling a lot for work. The biggest problem about traveling with him was that he refused to check luggage. He would go on trips for two or three weeks at a time with only a carry-on. As you can imagine, going on a trip that long with just a carry-on was quite challenging for a woman, but I would always figure out a way to do it. At the same time, I had some neck and back problems, so traveling light had actually become a priority for me for multiple reasons.
The TSA limits everyone to one carry-on roller bag and a "companion bag." If you want to carry a small purse, that's considered a companion bag. To me, that was an issue--I needed more than that. So, basically, I started out with this one specific question: "Where do you find a companion bag that's purse-like in style but functions as luggage?" Despite all of my traveling, despite searching department stores everywhere, I couldn't find the bag I needed.
Go to the luggage section of a department store and you'll see what I mean. You'll find all these companion bags that function well but don't look good. Or maybe you'll come across bags that are big but, when you open them up, there's just one big hole with no pockets or way to organize anything. So what I saw in the market just wasn't sufficient for what I needed. I needed a companion bag that was light, looked like a purse, and provided organization--yet I couldn't find anything like this.
I told Jan and Derek about my problem, and they said to me, "Well, you know what you want. Why don't you create your own bag?" And that's how things got started.
Beyond creating a great bag, we wanted to make traveling and dealing with luggage less complicated. We wanted to make it easier and less stressful. We imagined a dynamic bag that you could carry directly into a meeting after hopping off a plane, rather than having to make a detour to your hotel room to change bags.
How did you go about designing that first bag and forming industry relationships? What was the learning process?
When we were making the first prototype, we spent about four months out of the first year at the factory. I wanted to be there on the ground so I could test the bag and relate to it. I wanted to know first-hand that it worked for me, and if not, to explain in person what needed to change.
One advantage we had early on was that the factory owners we chose to work with could design, fabricate, and sell bags to wholesalers. They could do all of that, which allowed us to focus on the product and the brand. Another advantage was that the factory designer took an interest in us--and especially in Jan and Derek, because he was impressed by how hard they worked.
We sat in the factory working on the initial design every day for the first three weeks, watching them make changes, examining the prototypes, and then making more changes. The process was demanding, but it was actually quite fast because we weren't waiting weeks to ship prototypes back and forth.
Before long, we were taking the prototype bags to Hong Kong and asking relatives--like my nieces, who are corporate professionals--to test them out and let us know what they thought. We sent prototypes to Jan and Derek's friends in Chicago and Beijing. With each round of feedback, people would say things like "My computer wouldn't fit" or "The straps are too wide," so we would keep iterating the design. We just kept trying to learn and be thoughtful about how the bag would be used, not just how it looked.
The process of designing our bags is very time-consuming--we go to great lengths to get everything right. We learn about how people use their bags, focus on all the tiny details, and refine everything until we've delivered exactly what people are looking for. There is a real need for bags like these in the world, and nobody else is making them.
Lo & Sons launched during a difficult time, not long after the Great Recession. What obstacles did you face in starting and how did you overcome them?
It matters how you choose to see the world. We saw obstacles as opportunities.
Were we industry outsiders? Yes. And that meant we were not stuck in the old ways of doing things. We learned early on that there were certain standards that were not ideal from the user's perspective. For example, zippers tended to be placed on bags so that it was easy to open when it was placed down. But there wasn't consideration given to the reality that many were carrying smaller bags on their shoulder--so there might be a better configuration for when a person needed to quickly access their passport to get through security without having to drop their bag. Early on, we were told that other brands don't do it this way. Well, we weren't making our bags to conform to an existing standard. We worked to set a new standard--one that added function to fashion and made the traveler the priority. In that way, being industry outsiders benefited us.
Did we lack the financial resources of competitors? Yes. And as a result of the Great Recession, the industry had to make accommodations to generate revenue of any kind and to keep their lights on. Factories and suppliers that, likely, wouldn't have talked to us in better times--since we were novices doing more original, less mass, work--took a chance on us. Warehouses that likely wouldn't have supported our small-batch inventory unless we signed longer term leases had room for our products on short-term agreements. In some ways, the economy favored us.
If you wait for the perfect time to launch, you'll find many reasons to delay. If you're driven to succeed, you won't let obstacles slow you down.
As you look forward, what is the long-term ambition for your brand? What brand legacy are you and your sons working to build?
I'd like to see us establish a travel lifestyle legacy where we make it easier for people to go places they want to be and where people think of us when they have meaningful travel experiences. I don't want people to think of us purely as a fashionable brand or an innovative brand, because we're both and more.
We have grand ambitions. Being at the heart of people's travel experiences goes beyond our current product line. We want to make other products that blend into the travel lifestyle and make it easier for people to explore. I also see us being a global brand, so that when people all over the world think about going places, they think of Lo & Sons.
No matter how big we get, I will always be focused on the three Ps: profit, people, and the planet. To be clear, we're not about profit for profit's sake. Profit serves everything else. As we see it, the purpose of profit is to ensure that the people and communities we work with can live well. That's why, for example, we recently partnered with the Heart of Dinner to provide meals to East Asian elders in New York City, where our headquarters is located. Also, we are dedicated to using profits to make our planet better by investing in premium eco-friendly materials, and in committing to a circular design mission. That is, we are excited to start upcycling as much of our products as we can so very little goes to waste. Profits allow us to make the very best products for our customers. Profits help us keep each of those promises and give us the opportunity to have a long-term focus.
What advice do you have for entrepreneurs looking to follow their own long-term ambitions and build their own legacies?
My advice is to be persistent and be courageous. Be willing to work really hard and do everything that's needed. Recognize that no aspect of work is beneath you. Don't start a business if you feel like you shouldn't have to do a certain task or like you can only work five hours a day. You've got to be willing to put the time in. Be brave enough to make mistakes, but be quick to learn from them. Lastly, be humble. Learn from other people. Learn from whomever you can, and adapt quickly.
Dec 29, 2021