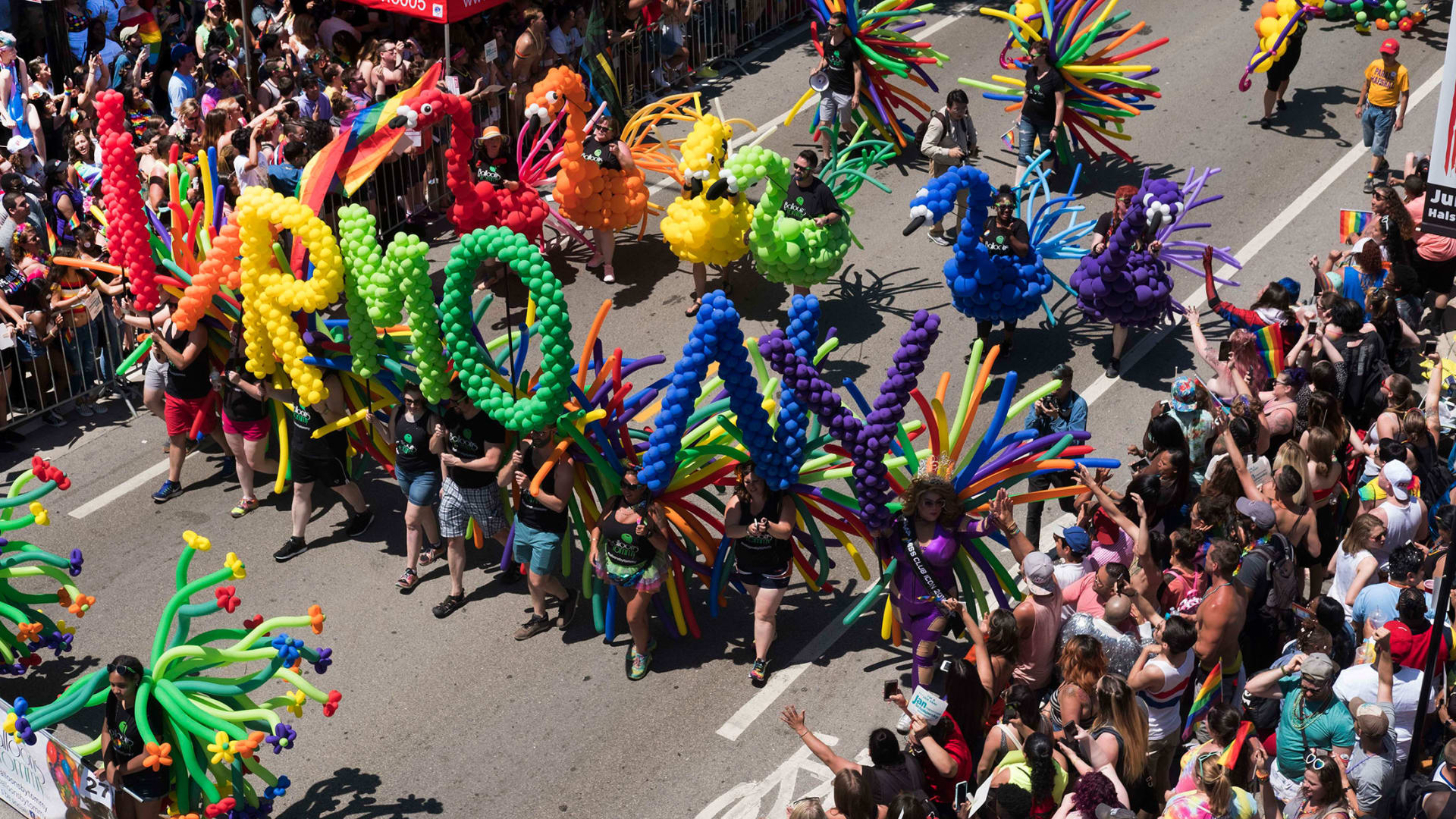 At the Chicago coffeehouse Two Hearted Queen, customers get what they order and more. Every to-go cup comes with a love note.
The shop started this small extra at the height of Covid-19 and will continue it post-pandemic. It's been a big hit with the community it serves in Northalsted.
Northalsted, long known as Boystown, is the oldest officially recognized gay neighborhood in the U.S. For a community that thrives on an active social scene and packed bars and clubs, 2020 was a test. How district business owners pulled through the pandemic is a case study in resilience. Like businesses across the U.S. and around the world, they experienced drops in revenue and had to get creative to stay open. Yet fewer than five businesses there have closed permanently, says Northalsted Business Alliance business development coordinator Robert Morvay. To survive, some, like Two Hearted Queen, relied on customer relationships. For others, like soul-food restaurant Supper House and nightclub Progress Bar, the pandemic slowdown prompted experiments that they would not have otherwise tried but now plan to keep well past 2021. Their stories offer a playbook with lessons bound to outlast the pandemic.
Connecting With Customers.
Pre-pandemic, the team at Two Hearted Queen would welcome customers with a loud "Good morning!" and strike up conversations at the register, says co-founder Cassandra Andrewson. When social distancing required a patron to leave before another could enter, she says, there was hardly any time to talk. The location had been open only a month, and Andrewson and her co-founder, Cely Garcia, worried about connecting with the community. "So we started writing on everybody's cups, like, 'We love you!' and 'You're awesome!'"
Andrewson and Garcia closed their Northalsted location temporarily and saw revenue drop at their original shop in Roscoe Village, which opened in 2015. In their minds, a coffeehouse wasn't an essential business. They were wrong.
"People would leave their houses just to come get coffee to have a two-second conversation with us," Andrewson says. "Just to have some kind of connection."
The company's efforts to connect with customers also paid off in a different way. What really pulled the business through 2020 was a campaign to raise $20,000 that they launched on crowdfunding site Indiegogo to support their staff, according to Andrewson. Within two hours, they had raised more than half of their goal and ultimately raised more than $24,000, which she says mostly came from customers in Lakeview.
"Without that, it would have been incredibly difficult," she says. "Who's going to donate to a crowdfunding campaign for a business they've never even heard of?"
Experiments Worth Keeping
What had been a rhetorical question for Andrewson was a bet Thomas Masse had to make. His soul food restaurant, Supper House, opened for delivery in Northalsted on March 16, 2020, the same day the state of Illinois closed indoor dining. Supper House then closed on March 28, less than two weeks after it opened.
His biggest concern wasn't cash. "In a startup, you always predict to be running as short as possible," says Masse, who is Supper House's owner and executive chef. The restaurant had enough financial cushion to run six months without making money. His big concern was customers. "We didn't get a chance to get to know the neighborhood, because as soon as we opened, we shut down," he says.
Supper House became a ghost kitchen--a delivery-only restaurant. It started offering takeout a few weeks later. The business was already geared toward to-go orders because of Northalsted's proximity to Wrigley Field and frequent neighborhood events, such as Chicago Pride Fest each June. "It's been kind of a clean slate from the beginning," says Masse.
The pandemic pushed Masse, a former culinary instructor, to experiment with new products and sites. Sweet Rush, Supper House's dessert line, was one of them. Masse says it's been well-received, and the success has inspired him to try pop-up stores, such as a bakery and a breakfast-foods line.
"Everything we've done, we plan on keeping," Masse says. While he is a newcomer to the community, he says he has felt its support. Masse applied for and received a grant from nonprofit community organization Northalsted Business Alliance, and a PPP loan from the federal government also helped.
New Improvements
For drag bar and nightclub Progress Bar, business is booming. But owner Justin Romme says getting to where he is now has taken a lot of patience--and money.
In March 2020, revenue hit zero, and the bar closed for three months, says Romme.
Romme says he secured a food license for Progress to qualify as a restaurant, because restaurants were eligible to reopen before bars. He put in a grease trap and bought more tables and barstools because the city regulations require seating for dine-in patrons.
"I had to jump through hoops to get re-inspected," Romme says. But he says it was worth the expense. Because of the tables, Progress Bar now gets an earlier crowd, and Monday to Thursday sales tripled. "Hopefully that sticks," he says.
Romme says he's eager for things to return to the way they were before. He's no longer using his food license, and he's allowing fully vaccinated staff and customers to go unmasked.
Now Romme says he's understaffed. "It's competitive right now because everyone's hiring," he says. Many workers left the hospitality industry during the pandemic and haven't returned. "There's less people to choose from."
Jun 9, 2021