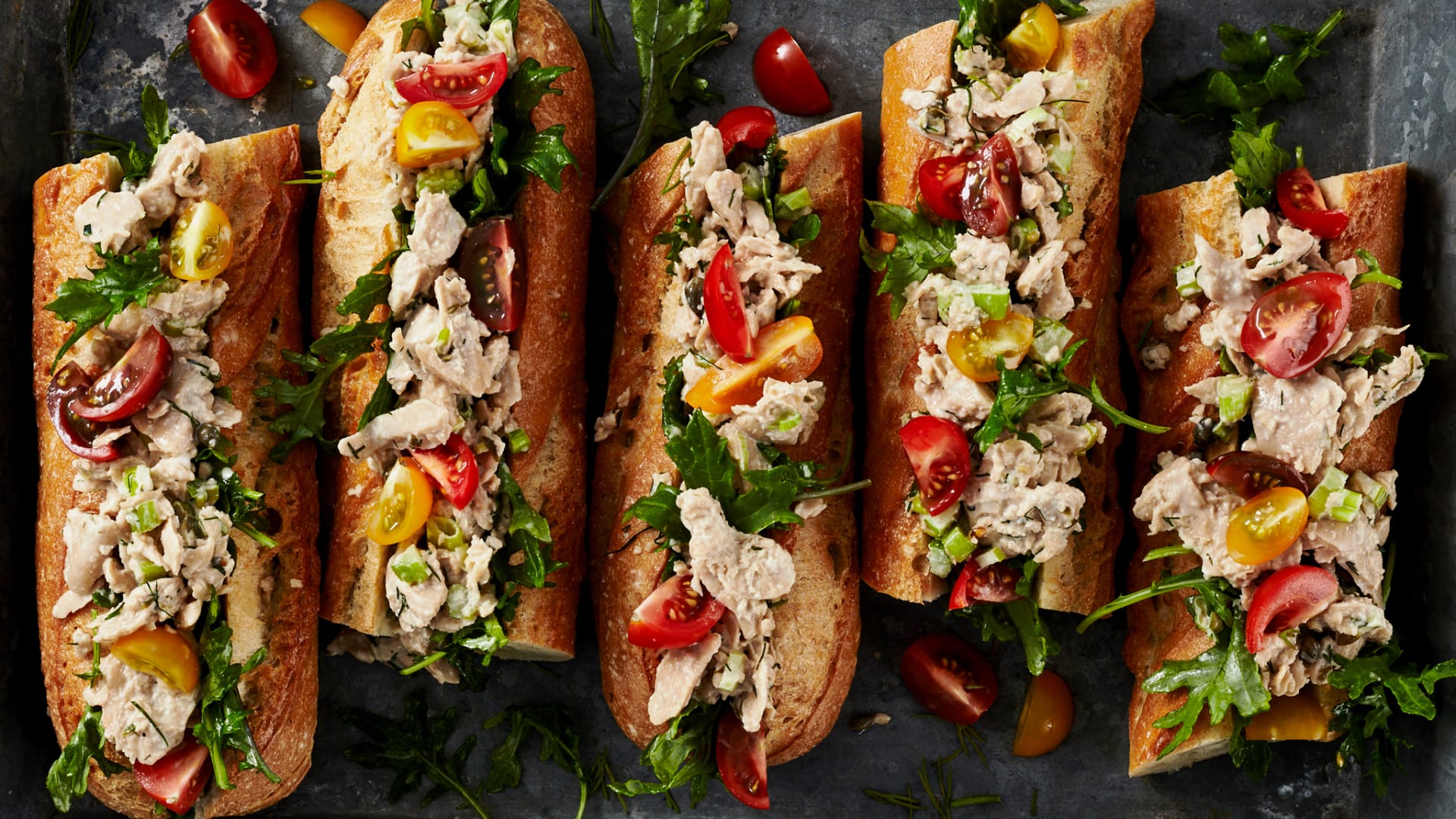 Thanks largely to hot companies like Impossible Foods and Beyond Meat, fake burgers are cool -- and ubiquitous. A new crop of startups is aiming to give plant-based fish the same treatment.
According to recent data from Good Food Institute, a D.C.-based alternative protein research nonprofit, the U.S. plant-based foods market generated $7 billion in retail sales in 2020, growing nearly twice as fast as total food sales. Plant-based meat, a $1.4 billion category, grew by 45 percent in 2020 -- three times as fast as its animal-based counterpart.
While plant-based seafood made up just 1 percent of all plant-based meat sales last year, brands and investors are eager to crack the "white space," says Jen Lamy, senior manager of Good Food Institute's Sustainable Seafood Initiative.
Food and agriculture giant Louis Dreyfus Company (LDC) was the lead investor in plant-based seafood maker Gathered Foods' latest funding round. In April, the company secured more than $26 million to expand its Good Catch lines of shelf-stable tuna and frozen appetizers and entrees in the U.S. and in Europe. Meat giant Tyson Foods, through its subsidiary Tyson Ventures, is backing plant-based shrimp purveyor New Wave Foods.
These innovative startups aren't just interested in vegans and vegetarians; they're mainly marketing to a growing consumer base of flexitarians -- people who primarily eat plant-based but allow meat in moderation -- in the wake of the success of alternative protein retailers Impossible Foods and Beyond Meat, Lamy says. The vast majority -- 98 percent -- of people buying plant-based products eat meat too.
"At this point, it's kind of expected that your fast-casual and quick-service operators have some kind of plant-based burger option," she says. "There's a consumer base that's waiting for alternative seafood."
While it's hard to tell exactly when faux fish will become a menu staple, here are a few of the most promising startups working to get their products there first.
Gathered Foods
In 2016, co-founders Chris Kerr and chef-brothers Chad and Derek Sarno challenged themselves to create a tasty, plant-based seafood alternative. After a couple years of trial and error, the team launched its debut line of Good Catch tuna, which is made from a blend of six legumes, at U.S. retailer Whole Foods during the first quarter of 2019.
Since its founding, the company has raised over $77 million from investors, including LDC and startup accelerator Big Idea Ventures. The company has also added frozen faux fish burgers, fish cakes, and crab cakes to the Good Catch line.
The company's target audience is "Millennial flexitarians," younger people looking for plant-based products that have similar nutritional benefits as the conventional option, says Christine Mei, CEO of Gathered Foods. "We are on the leading edge of a very nascent industry."
In 2020, the company more than doubled the number of retailers and restaurants selling Good Catch products -- including New York-based sustainable burger joint Bareburger and national vegetarian restaurant chain Veggie Grill -- to around 5,500 establishments, says Mei. The startup also opened a manufacturing facility in Heath, Ohio, for its core operations during the pandemic.
New Wave Foods
In 2015, co-founders Michelle Wolf and marine biologist Dominique Barnes started New Wave Foods with the goal of creating a plant-based alternative to shrimp. Backed by Tyson Ventures since 2019, New Wave's mung bean and seaweed-based shrimp hit the market this year.
In January, New Wave announced an $18 million Series A round with leading investments from global technology and health care VC firm New Enterprise Associates and "culture-tech" investor Evolution VC Partners. The startup plans is using the funding to get its plant-based shrimp into retailers across the U.S., including restaurants, businesses, and university campuses, through a partnership with food redistributor Dot Foods.
The rise of plant-based seafood is the result of several trends coming together, says longtime consumer products executive and New Wave Foods CEO Mary McGovern, who joined the company in 2018. Millennials are driving greater interest in sustainable, plant-based eating, and the food-service industry is becoming more conscious of its environmental impact, she says.
The company plans to expand its product line from plant-based shrimp to faux lobster, crab, and scallops. "Success is not bringing a better product to current vegans. Success is transforming how people think about enjoying shellfish," says McGovern.
Ocean Hugger Foods
Founded in 2016 by food consultant and investor David Benzaquen and American Culinary Foundation certified Master Chef James Corwell, Ocean Hugger makes a product called ahimi, which means "the spirit of tuna" in Japanese. Made from cooked-down tomatoes, Ocean Hugger's ahimi is flavored with tamari and algae oil. The company markets the product, which was launched in November 2017, as an alternative to raw, sushi-grade fish, says Benzaquen. In 2019, Ocean Hugger launched a second fish alternative, unagi, which translates to "the spirit of eel," made from Japanese eggplants.
The New York-based purveyor sold its products exclusively to food-service operators, including Japanese food distributor Wismettac Asian Foods and Whole Foods' sushi kiosks, until pausing operations due to the pandemic in 2020. "Nobody wanted to eat prepared foods because they were concerned about contamination," says Benzaquen, "A good three-quarters of our top customers never re-opened."
Ocean Hugger plans to resume production as a joint venture with Thailand-based food manufacturer Nove Foods, says Benzaquen, who sold the company this winter but remains a shareholder. Ocean Hugger and Nove plan to expand distribution of the products and experiment with selling directly to consumers.
Correction: An earlier version of this story misstated when New Wave Foods announced its Series A round of funding. The company disclosed the news in January.
Apr 22, 2021