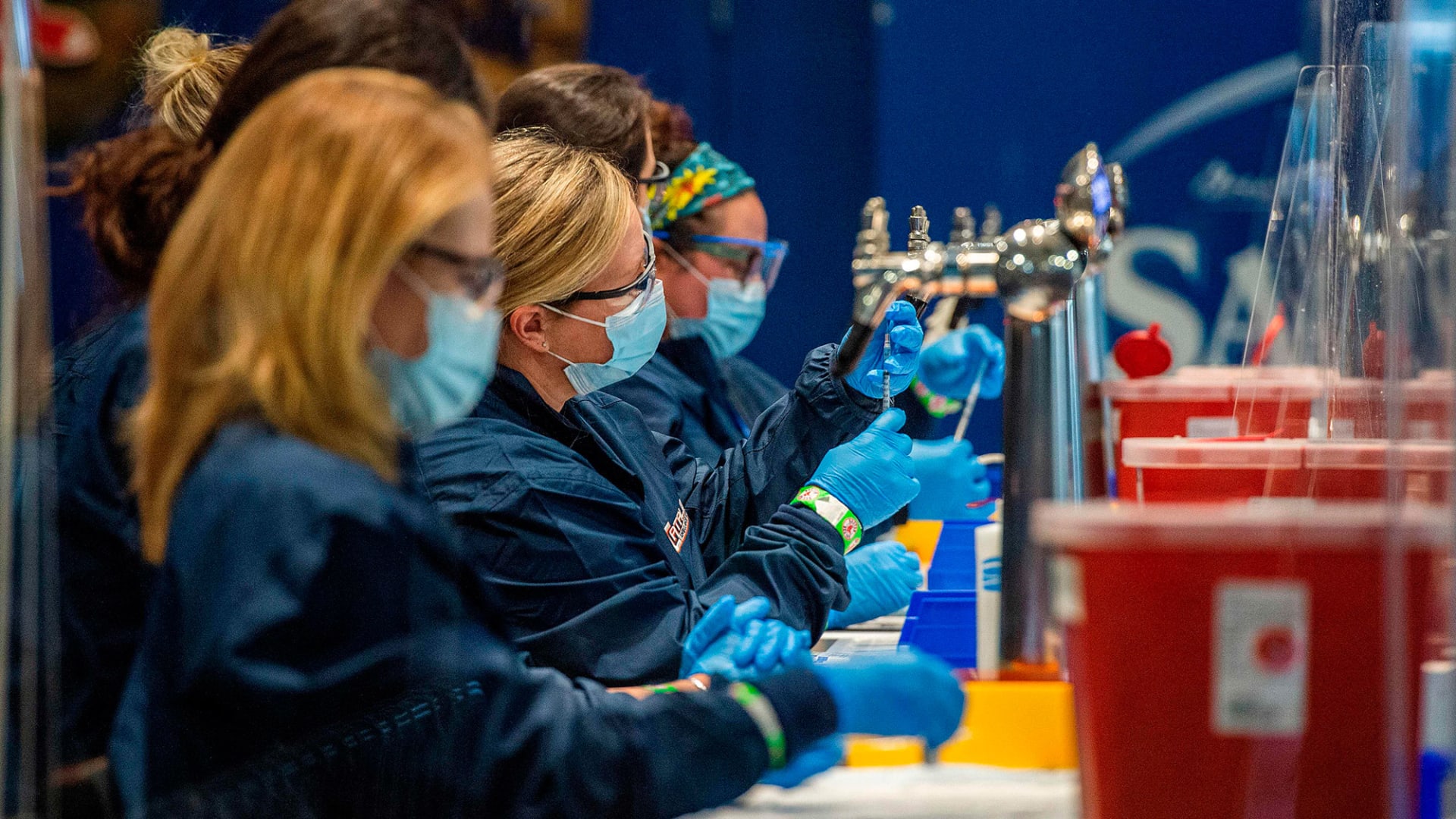 More than 400 small-business owners and leaders have signed a pledge to commit to champion Covid-19 vaccinations in their workplaces and communities.
Those who sign on agree to play an active role in getting their communities vaccinated, including creating vaccine plans for their employees and volunteering at local Covid-19 vaccination sites. The pledge was organized by Reimagine Main Street, an initiative focused on Covid-19 relief and recovery for small businesses. An April 6 webinar briefing on it included a panel of six small-business owners who have committed to promoting vaccines in their communities with the goal of adding more names to the pledge.
"Small businesses like mine have struggled during this pandemic, but the vaccine shows us that the end is in sight," said Shaundell Newsome, founder of Sumnu Marketing and chairman of the board of the Urban Chamber of Commerce in Las Vegas, during the event. "I have implemented a vaccine plan for my employees, and all business owners should do the same so we can make it through Covid-19 as quickly as possible."
In the U.S., 3.1 million vaccine doses are being administered per day, said Kristina Schake, a strategic communications counselor at the U.S. Department of Health and Human Services, at the briefing. But only half of Americans who haven't yet been vaccinated say they intend to be.
The Centers for Disease Control and Prevention estimates that between 70 and 85 percent of Americans need to receive the vaccine to achieve herd immunity in the U.S. Once that happens, companies large and small will be able to get back to business at full capacity, and the economy and communities can completely reopen.
Here are two steps small-business owners can take to encourage employees to get a jab.
1. Address fears.
Many small-business owners may encounter barriers among employees who are hesitant to receive the vaccine, especially among communities of color.
"In terms of the vaccine rollout, there's been a lot of fear and misinformation that's being shared among tribal communities, which is making a lot of Native people hesitant to get the vaccine," said Ginger Sykes Torres, co-founder of PPE for Navajo First Responders. The organization has raised more than $60,000 to provide supplies, masks, and other types of protective gear to frontline workers in the Navajo Nation. It also partnered with a larger nonprofit Covid-19 relief organization to produce a social media campaign highlighting testimonials from Native influencers who focused the message on protecting loved ones.
Employers should emphasize that one of the benefits of getting vaccinated is gaining peace of mind, said Torres.
In Springfield, Ohio, hair salon owner Patty Young is known for helping people of color in her community register to get the vaccine. She said during the webinar that there's a high level of distrust in the vaccine among Black community members.
Each day, Young receives dozens of calls to her salon, Young Hair, from people asking her to help them get an appointment, most of whom are referred by word of mouth. Together with her sister, who's the receptionist, Young has scheduled more than 130 vaccine appointments for people of color in her community. Both Young and her sister are Black. "They feel better when they talk to somebody of color, when they call us to schedule an appointment," said Young.
2. Create incentives.
For workers who are still hesitant to get the vaccine, employer incentives give them a reason. Among the 3,300 small businesses that responded to the Reimagine Main Street survey, nearly half say they are willing to provide their workers with paid time off as an incentive to get the vaccine. This can help alleviate employees' fears of losing work, and it ensures they have time to rest from any side effects.
Small-business owners can also help employees set up vaccine appointments or partner with local health departments to open up their facilities, said Tammy Halevy, a senior adviser at Public Private Strategies, an organization that connects private and public business leaders, which launched Reimagine Main Street in March 2020.
Free food and movie tickets are some of the prizes being offered at Kokoro Restaurant in Denver, said owner Mas Torito during the webinar. Torito is also offering his employees paid leave to get the vaccine.
For business owners who fear that requiring vaccines among employees sounds too aggressive, Torito said employers should see advocating for vaccines as an obligation, not an opt-in choice. "To come back stronger than ever, we have championed the vaccine, but it is critical that more small businesses do so as well," he said.
Apr 7, 2021