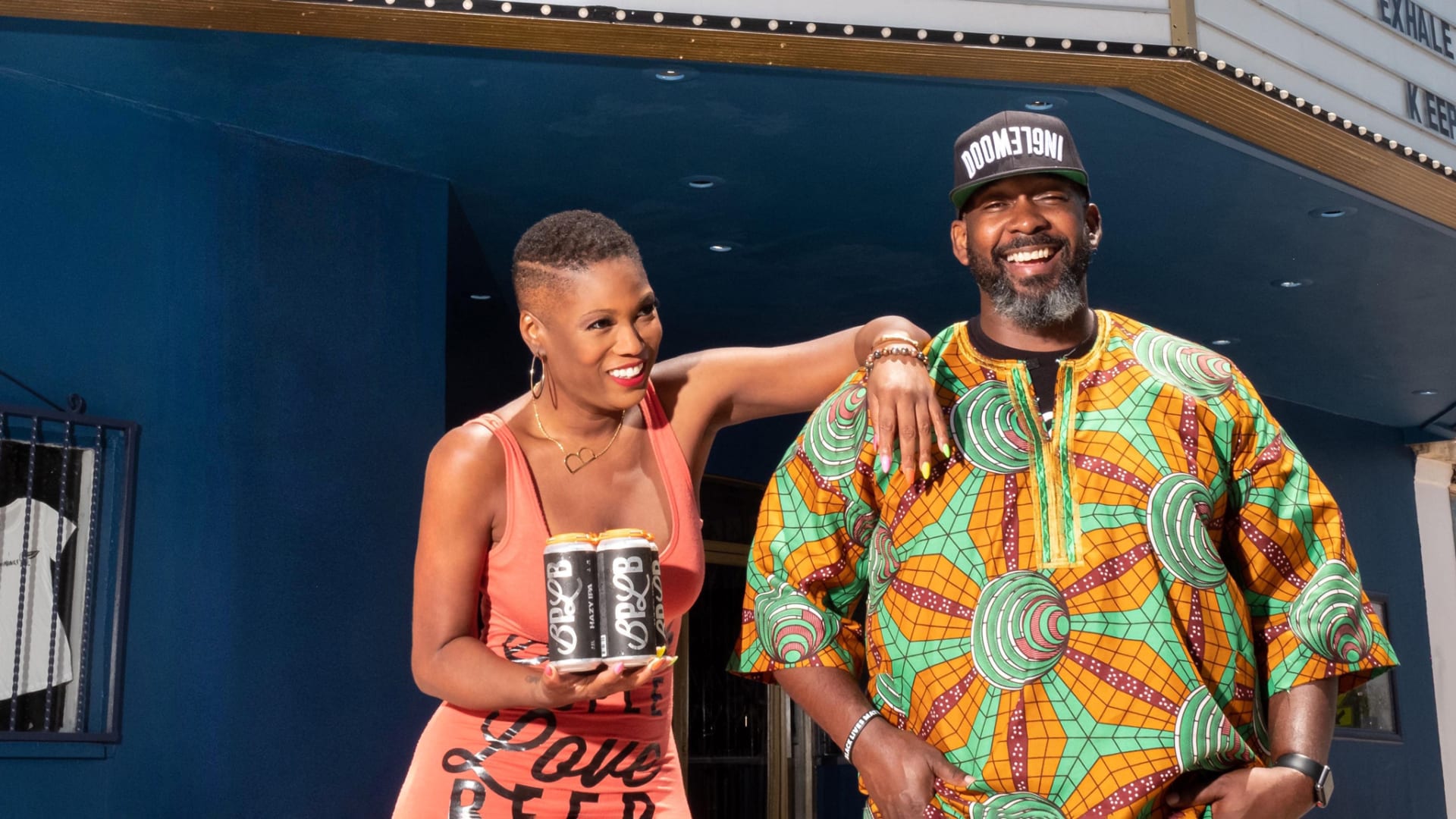 In 2014, friends and fellow craft brew enthusiasts Beny Ashburn and Teo Hunter realized something was missing from the chummy but uniform $29.3 billion American craft brew scene: People who looked like them.
"There was a huge void of diversity" among craft beer drinkers and brewers, says Ashburn, an advertising pro who once worked on the marketing team at Beats by Dre. Ashburn started kicking around ideas with Hunter, a craft beer aficionado who had acquired a taste for smaller batch brews while working as a vendor in the entertainment industry. They created a lifestyle brand representing Black beer drinkers and brewers. Dope & Dank, as they named it, launched with the simple, direct slogan: "Black People Love Beer."
"The industry is pretty homogenous, not only from a cultural standpoint, but from a race standpoint," says Hunter. "Beny and I just kind of took that head on."
Now they want to help the industry become even more diverse: Crowns & Hops, together with Scottish brewers BrewDog, have announced a program to give out $100,000 in grants to other Black brewers through an initiative they've called the 8 Trill Pils Fund.
The name 8 Trill Pils comes from a 2018 study by the W.K. Kellogg Foundation, which found that the U.S. economy could grow by $8 trillion by 2050 if racial barriers were knocked down and structural inequalities were remedied. (It's also the name of a limited edition Crowns & Hops beer launching September 8, the profits of which will go to social justice charities.)
"We saw immediately that we could literally be an '8 Trill' case study; we were embodying it," says Hunter.
When starting the business, Ashburn understood the importance of creating an "emotional connectivity between products, community, and culture." Dope & Dank focused on inviting African Americans into the largely White world of craft beer through events, tastings, and social media. They threw craft beer potlucks at barbershops and streetwear businesses and invited Black beer lovers to taprooms where they could sample microbrews.
"We identified pretty early that your palate is connected to your experience," Hunter says. "If your experience is full of doubt with regards to if you even belong, then the likelihood that you're going to enjoy something--and enjoy it enough to pass it on to someone else--is pretty low."
Their early events were small, but in 2017, Dope & Dank hosted a "take over" party during L.A. Beer Week, offering a curated list of hard-to-find beers and lifestyle merchandise to 150 attendees at a North Hollywood bar. As the brand's momentum picked up, Ashburn and Hunter traveled the world, reaching out to Black beer drinkers everywhere from Miami's Art Basel to London taprooms. All the while, they served up beers made by their favorite craft brewers and hatched a plan to start brewing their own.
At the end of 2019, Hunter and Ashburn launched a craft label called Crowns & Hops and contracted with a Santa Rosa, California-based brewery to make their first beer, called BPLB (Black People Love Beer) Hazy IPA. The most recent run of BPLB Hazy IPA (about 550 cases) sold out. Now, Hunter and Ashburn are building their own Inglewood, California-based brewery and taproom.
Another Crowns & Hops blend, Urban Anamoly American Stout, came out of a partnership with BrewDog, which recruited Hunter and Ashburn as guides to L.A.'s craft brew scene while filming a TV show in the city. Since then, the Crowns & Hops team has visited Scotland, tapping their Urban Anamoly beer at BrewDog pubs in the U.K. and growing their fan base overseas.
Thanks to the Black Lives Matter movement, the conversation around race in business, particularly around equity, has buttressed Dope & Dank's mission. "For the first time in history, everyone in this country is looking at what it means for the Black community to actually take part in the equity that drives this community," Hunter says. Fighting racism and making room for Black-owned businesses to thrive is "a strategy for economic growth for all of us," he says.
As Ashburn sees it, the aim of 8 Trill Pils initiative is "galvanizing the Black and Brown craft beer community to come together and really be involved in craft beer in a way that no one had ever seen before."
"They're such an important voice in this conversation," says James Watt, CEO of Brewdog. "They're just so passionate in everything they do. The more diverse our industry is, the stronger it's going to be long term."
In addition to collaborating on the 8 Trill Pils initiative, BrewDog is brewing and distributing Crown & Hops's 8 Trill Pils, which joins BPLB Hazy IPA, Urban Anamoly, and Black Is Beautiful Pecan Pie Stout--all very different flavors brewed to appeal to a diverse community of beer lovers. The idea is: The more beer lovers who feel included, the better.
"Craft beers always express that community is first," Hunter says. "We haven't altered or changed anything outside of just truly representing our culture."
Sep 2, 2020