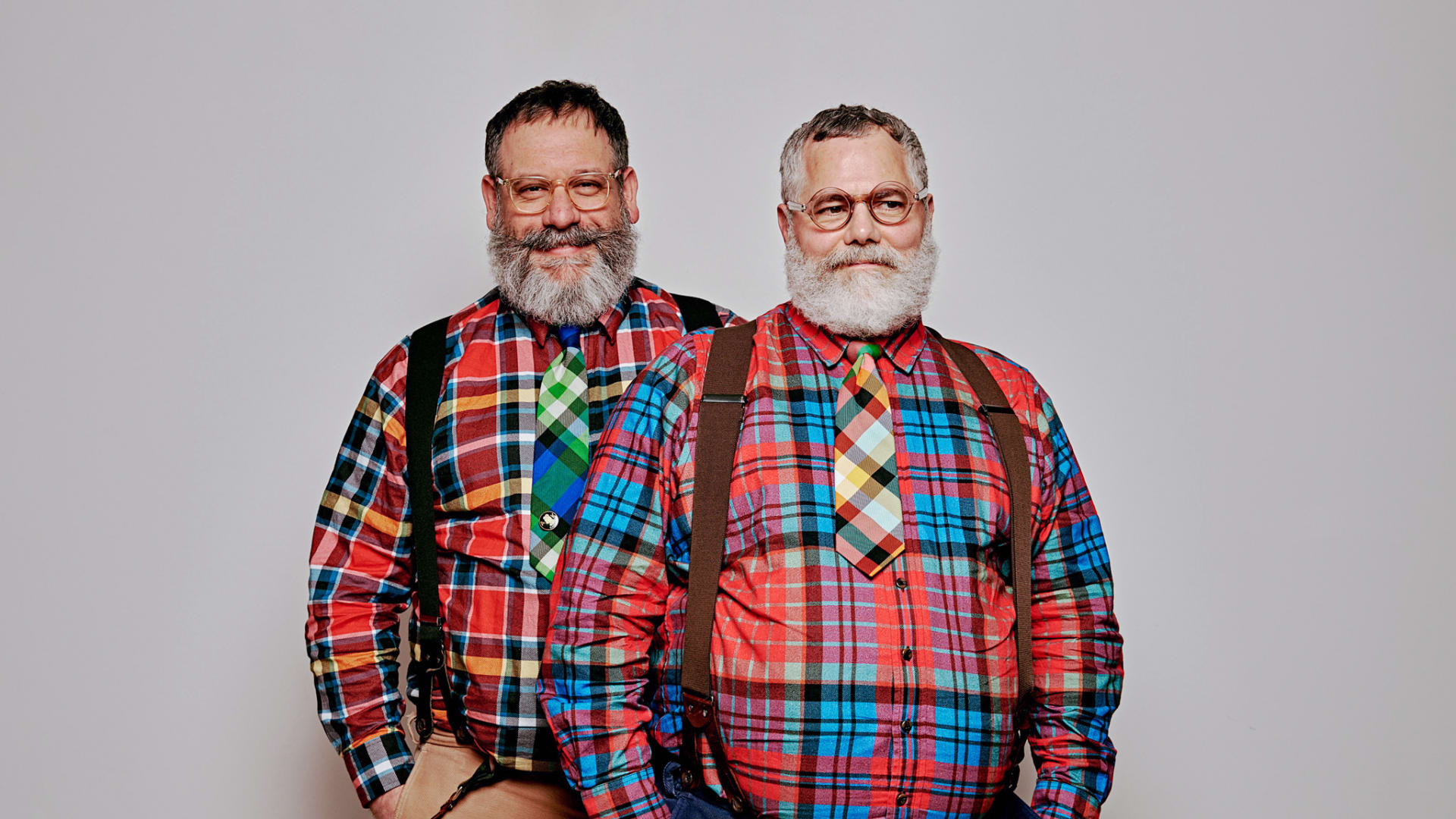 When New York State went into quarantine in mid-March, Jeffrey Costello and Robert Tagliapietra had just moved JCRT, their direct-to-consumer shirt company, to a new office on Pier 59 in New York City. Founded in 2016, JCRT celebrates all things plaid and camouflage, with colorful patterns named after David Bowie and Kate Bush albums and movies such as the Lord of the Rings trilogy.
Stuck in a rental home in rural New Jersey, the married Costello and Tagliapietra got to work. Heartsick that the city that had been their base and home for years was the epicenter of the Covid-19 outbreak, they wanted to do something to help friends on the frontlines. Costello began sewing masks from whatever sample fabrics he had on hand. Tagliapietra boxed them "by the hundreds" and the couple sent them to wherever they heard PPE was needed.
"Everything was sort of unknown at that point," Tagliapietra says. "We were very happy to be able to even do that."
After sewing about 600 masks ("My hands were tired!" Costello jokes), they were able to reopen their factory in the Dominican Republic, which been closed due to government quarantine and curfew rules, and began producing masks for sale and donation, giving more than 12,000 to first responders. They're donating a portion of their retail sales to the New York City Covid-19 Emergency Relief Fund, benefiting health care workers, supporting small businesses, and vulnerable workers and families. Without any marketing other than their social feeds, Tagliapietra and Costello estimate they've sold 45,000 masks through JCRT and raised more than $65,000.
Now they're selling masks and collared shirts made from a black, red, and green plaid, with proceeds going to Movement for Black Lives. Over the Father's Day weekend, which also included the commemoration of Juneteenth, they donated 100 percent of the sales of those goods to the organization.
"The JCRT community is pretty responsive," Tagliapietra says. "It's pretty beautiful."
JCRT is a second act for Costello and Tagliapietra, who previously founded a women's wear business called Costello Tagliapietra in 2005. Their runway shows were written up in glossy fashion magazines and the founders got a lot of press for their shared plaid-on-plaid aesthetic and impressive beards, which led to their being dubbed "the lumberjacks of fashion."
The women's wear brand struck partnerships with Uniqlo and Kiehl's and was twice named a finalist to the CFDA/Vogue Fashion Fund, a coveted award for emerging designers. Despite these laurels, it wasn't a smooth ride. "We launched right before the big recession and it was just a hard thing," Tagliapietra says. "We were never a huge company. It was always a struggle of running a business and doing every single aspect of it."
After dismantling their first company, Costello and Tagliapietra saw JCRT as a refresh that would be digital, DTC, and greener. "Essentially, at the core of it, we make to order," Tagliapietra explains. "It allows us to be a tremendously sustainable brand. We're probably as close to zero waste as anybody could possibly be. We don't have bolts of fabric to be thrown away or burned or sold for nothing. We don't have unsold styles."
Keeping their operation small also allows the founders to decide where and how to focus their energies, including supporting the causes they care about. They're now at work on another fundraiser, this one for Pride month, with proceeds going to the Ali Forney Center, a New York City-based program for LGBTQ homeless youth. With their factory up and running, JCRT also continues to release new designs, selling dress shirts, pants, jackets, bags, and accessories through their website.
"This brand is just Jeffrey and I," Tagliapietra says. "If we have the opportunity to do good, why aren't we using that?"
Or, as Costello puts it: "We want to be able to sleep at night."
Jun 23, 2020