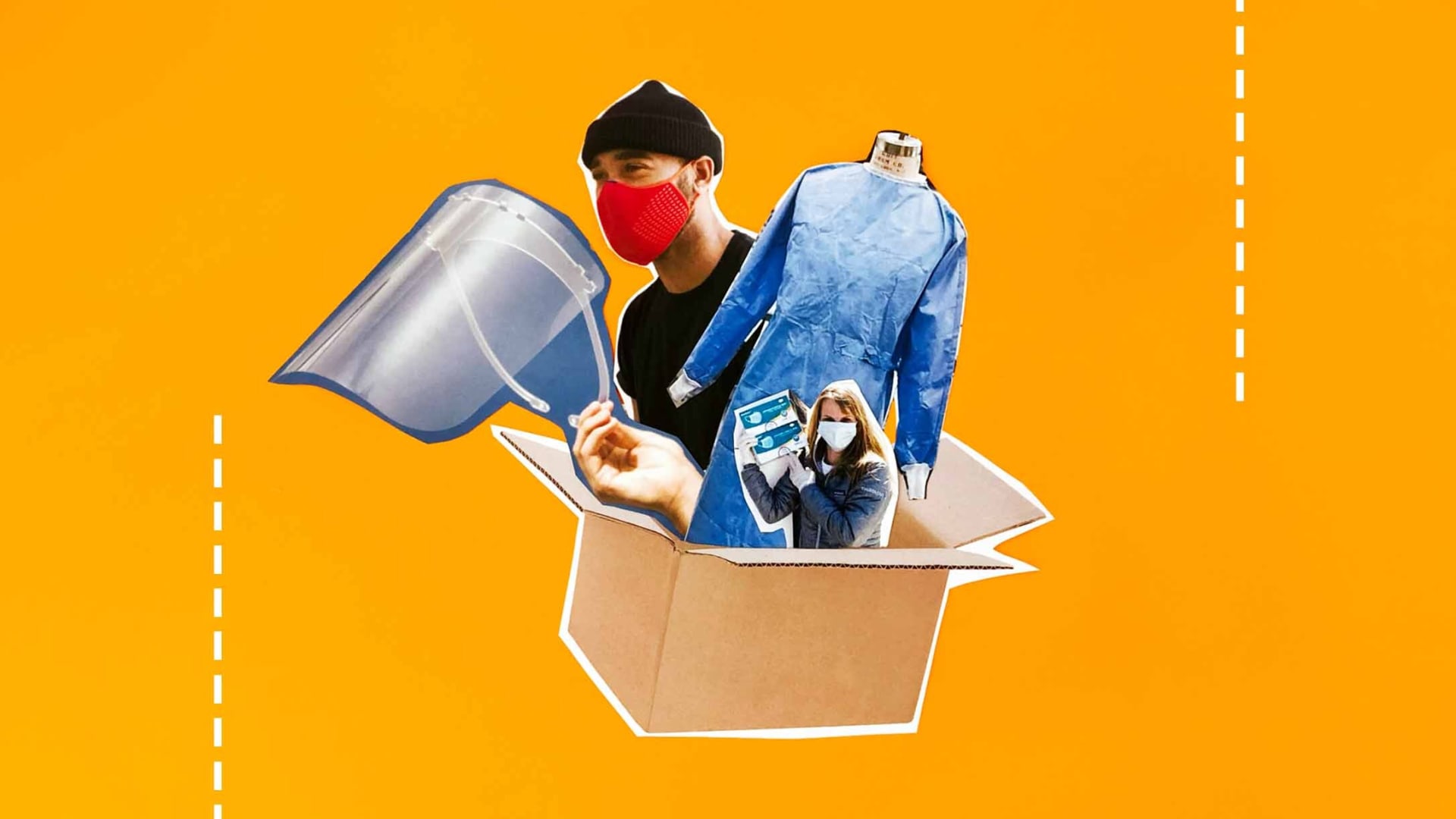 Open-source initiatives can make for strange bedfellows. Consider this array of direct-to-consumer (DTC) businesses that joined forces to collaborate on Covid-19 relief: a bra-maker, an online picture framer, and a company that makes shoes from plastic bottles, among others. In the early days of the pandemic, they all got together to help one another do their part. What they also got was a lesson in collaboration.
It all began in April, when Rothy's, a direct-to-consumer company that makes women's shoes out of recycled plastic bottles, came up with a design for a mask. It reprogrammed its knitting machines and used materials left over from earlier shoe lines. All it needed was elastic to help the masks fit snugly on people's faces.
"We were operating in isolation, but heard rumblings that other companies were trying to figure out what they could do," says Saskia van Gendt, head of sustainability for the San Francisco-based company. Rothy's began reaching out to other businesses. The resulting collaboration grew into The Open Innovation Coalition, a grassroots effort to raise money, create whatever was needed, and support one another during the crisis. In all, 25 brands signed on, including lifestyle apparel brand Marine Layer and online bra company, ThirdLove.
"We were all figuring things out and trying to do whatever we could," van Gendt says. "Everyone was open-sourcing patterns," sharing materials, troubleshooting, and guiding one another through import requirements and complex logistics, she says. Another vital role: playing matchmaker for companies that needed resources and materials.
For example, ThirdLove had 9,000 meters of elastic to contribute to the OIC companies to help make masks, some of which were used by a company called Suay Sew Shop making masks in Los Angeles. Rothy's own masks, made from the company's signature weave material, went on sale online in June for $25 for two and sold out. While Rothy's declined to disclose the number sold, it says 35,000 people were on a waitlist while the masks were being created. The company estimates that it dedicated more than 100 hours to developing its masks and a third of its factory effort.
Collaborating was "a natural, easy relationship," says Heidi Zak, ThirdLove co-founder and co-CEO, who also writes a column for Inc.com. "It felt really brand-aligned." ThirdLove has also donated 1,000 pairs of bras and underwear and 2,000 surgical masks to front-line workers.
Working together has made it easier for companies to step into new categories, says van Gendt. "We're all navigating this completely new space," she says. "Within the apparel world, there's not that much collaboration. Sometimes you can get a feeling of privacy around designs or things like that."
Framebridge, a DTC custom-framing startup, wanted to make face shields at its Lexington, Kentucky, factory. Members of the group offered feedback on designs, which were well outside its usual line of work, says Eszter Gordon, Framebridge's director of retail marketing. Just as critical was the advice it received on manufacturing them at scale. The company made about 40,000 "Halo" face shields, made of plastic and sold at cost for $4.50. Shield replacements sell for 80 cents each.
"Overall, it was just an incredibly collaborative experience and project to work on," Gordon says. "Way more so than anything that you would imagine between somewhat competitive DTC brands."
For Soft Goods Detroit, a DTC company founded in 2018, the coalition is a chance to learn from more-established businesses and to challenge itself to step up, according to co-founder Josh York.
"It's super cool for a small shop like ours that's not super old," says York, who is 27. "We're in calls with CEO of Marine Layer and all these big brands. My partner and I, every time we're in a group call with them, it's like, 'Holy crap, how did we get in this group?' We really get to learn a lot from them and how they do things." The company made more than 27,000 face masks--donating more than 5,000 to hospitals, nursing homes, and homeless shelters--and produced 5,000 hospital gowns for hospitals in Detroit and elsewhere in Michigan. Soft Goods Detroit grew its team to 12 from four and also began producing consumer masks, selling three for $18 on its website.
The coalition offers a chance for small businesses to partner and develop new ways of working, even once the world goes back to some semblance of "normalcy," says Van Gendt.
"We really feel that this is a unique type of collaboration that didn't exist before," she says. "We're trying to see how can we keep the elements of the openness, the sharing, the rapid prototyping and innovation, but potentially look at other ways to collaborate beyond Covid."
Correction: An earlier version of this article incorrectly stated that ThirdLove's elastic donation had been used for Rothy's masks. It went to a general pool of coalition members, and some has been used by Suay Sew Shop in Los Angeles for masks. Additionally, the article misstated the status of the Rothy's face mask wait list. It had 35,000 names before the initial run sold out.
Jul 15, 2020