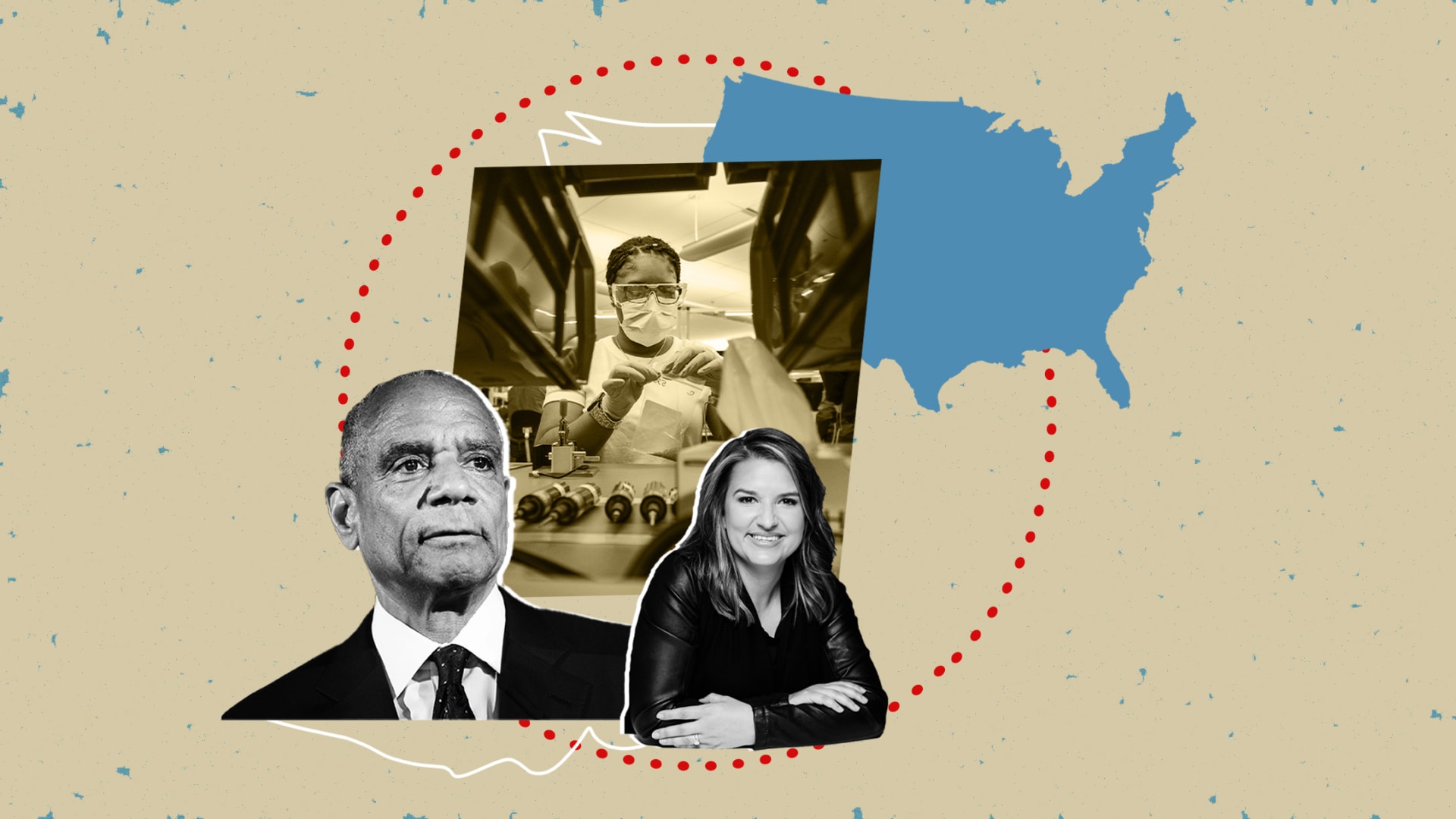 Stop the Spread is a consortium made up of over 300 companies doing their parts to create, source, and distribute PPE, build lifesaving medical equipment, and increase coronavirus testing--basically, anything and everything in their power to end the crisis. According to its own numbers, the organization has raised $350,000. Among its many goals is asking larger companies to pay smaller vendors and partners quickly through a "#payitforward campaign" to help keep them funded and keep their employees paid. Stop the Spread is investing in initiatives to cooperatively procure and make PPE at ethical factories.
It began with a March 2020 Medium post (republished by The New York Times) by former CEO and chairman of American Express Ken Chenault and entrepreneur Rachel Romer Carlson calling for businesses to do everything in their power to fight Covid-19.
Romer and Chenault were seeing "gaps in how the private sector was harnessing its resources to respond to this public health crisis," according to Christian Peele, Stop the Spread's head of operations. Romer, co-founder and CEO of Guild Education, a company that helps employers cover their employees' education costs, and Chenault, who now serves as chairman and managing director of the VC General Catalyst Partners, put out the urgent call to other CEOs to roll up their sleeves and get to work.
"This, put simply, is the moment when American business must step up," Romer and Chenault wrote. "Wherever we can, however we can, we must meet this unprecedented challenge as generations of business leaders have before us--with the drive of innovation, the spirit of endeavor, and a sense of shared sacrifice."
One such company was Ventec Life Systems, a Bothell, Washington-based medical technology maker. Ventec, which has about 160 employees, produces the VOCSN, a device that combines a ventilator, an oxygen concentrator, a cough assist, suction, and a nebulizer to assist people unable to breathe on their own, whether due to ALS, MS, a spinal cord injury, or any other reason.
As it became clear that hospitals would need ventilators to help Covid patients, Ventec's team knew they had a piece of technology that could help. "Rather than trying to build something from the ground up, we wanted to take a proven technology and scale it," says Chris Brooks, Ventec's chief strategy officer.
A representative from Stop the Spread connected with Ventec's CEO over LinkedIn and, as Brooks recalls, "before we knew it, we were on a phone call with General Motors."
With Ventec's know-how and GM's mastery of supply chain and scale, the two companies got down to work. Within two days of the first call, GM sent a team to 3-D scan Ventec's factory where the company is able to produce 100 to 200 devices a month. Using the scans, GM reproduced Ventec's facility--at 10 times the size--in Kokomo, Indiana, where they were able to produce 10,000 ventilators a month.
As The Wall Street Journal reported last month, GM and Ventec were able to deliver 30,000 ventilators to the U.S. government as part of a $490 million federal contract.
Throughout the process, Stop the Spread remained involved. "They were on the ground in D.C., talking with folks at all levels of the administration, helping them to understand what was needed and how best to leverage private companies and other third-party entities who were looking to help out," Brooks says. "They were instrumental."
Nearly six months into the Covid crisis, Stop the Spread's work continues. What started as a group of eight volunteers, some of whom took leaves of absence from their day jobs to work on this "more than full time," as Peele put it, now has the backing of ImpactAssets, a social-good investing fund. In addition to adding some organizational heft to Stop the Spread's efforts, the team is now getting paid. While some organizations are shifting away from the crisis mode of the earlier months of 2020 (the Trump administration, for example, recently canceled $3 billion in ventilator manufacturing, a move that did not affect GM and Ventec), companies and volunteers continue to sign up with Stop the Spread. Even amid the challenges, companies are still looking for a way to do good right now.
Sep 25, 2020