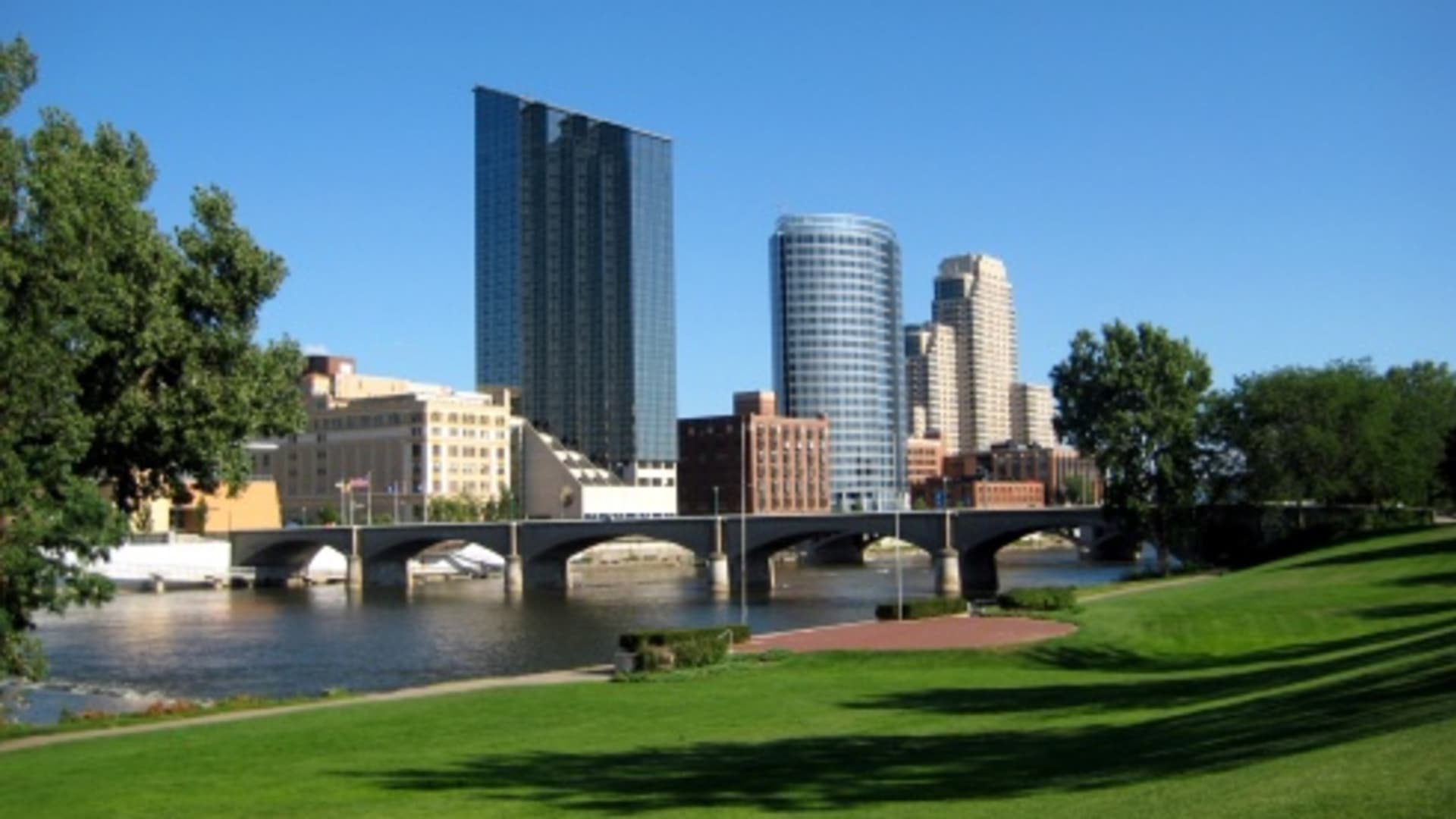 Fifteen years ago, Greg Williams co-founded Acrisure, now an industry-leading insurance broker in Caledonia, Michigan. Launching in Michigan was a no-brainer. Staying in Michigan, on the other hand, was a strategic decision, and one that has paid dividends for the business.
"It was natural to have a business here because I lived here," Williams explains. Deciding where to scale your company is an "entirely different decision." Over the past seven years, Acrisure increased revenue from just north of $38 million, to more than $2 billion. In 2020, it earned a spot on the Inc. 5000 list of fastest-growing businesses for the second time. The recent surge is partially fueled by strategic acquisitions: Acrisure acquires about 100 businesses yearly. With that sort of growth comes challenges, of course, particularly pertaining to recruitment and culture.
To house its growing corporate workforce, the leadership team evaluated a number of locations, including Chicago. They concluded Grand Rapids, Michigan, was the best place to build their new headquarters and that the state isn't just a great place to start a business--it's a great place to grow one, too.
Homegrown talent and all-star transplants
Acrisure's 9,000-plus workforce delivers insurance and risk management services and solutions through a global partner network. Recruiting the right team is an integral ongoing task, Williams says. "The quality of people and the requisite work ethic and talent--those things are needed to scale and grow a company the way we have done."
Williams says they find the majority of new hires in-state, and that Michigan has a large pool of insurance industry talent. They look for people who will outwork their competition and share their core values and ethics. They often take advantage of the state's large network of quality colleges and universities to find talent, including the University of Michigan, Michigan State University, Grand Valley State, and Davenport University.
Acrisure's impressive growth attracts industry leaders from around the country. About 25 percent of the executive team relocated to Michigan from elsewhere, Williams says. "Nothing succeeds like success. If you've got a lot of momentum, and your industry profile is ever increasing, which ours is--that attracts people." It also helps that Michigan is a great place to live and raise a family. The state's modest cost of living and favorable tax structure plays a role in people's decision to relocate there, Williams explains.
Ongoing state support
The 106,000-sq-ft. new corporate office is underway in Grand Rapids, although Williams isn't sure when the team will be able to move in due to COVID-19. Williams says Michigan's support of their construction project played a role in Acrisure choosing Grand Rapids for its headquarters, as did the state's business-friendly environment and tax foundation. "The Michigan Economic Development Corporation (MEDC) made it clear we were welcome and would be supported along the way. Michigan has been fantastic in terms of ensuring we are aware of their interest and support." COVID-19 obviously poises challenges, but Acrisure vows not to use it as an excuse. The team has increased yearly earnings and proceeded with acquisitions, despite the pandemic. "We grow--that is what we do," Williams says. It is not about growth for growth's sake, though. Williams is committed to "smart and thoughtful" expansion. To fuel its next chapter, Acrisure completed a $400 million acquisition of artificial intelligence firm Tulco LLC's insurance business. Williams believes technology will play a big part in their future and that Michigan is well-suited to support the company's continued expansion as the world's most tech-enabled broker.
"We started here because that's where we were from. Staying here was a very intentional and conscious decision," he explains. "Michigan meets all of our needs. There are plenty of resources here to help businesses grow and to meet greater aspirational goals."
Nov 2, 2020