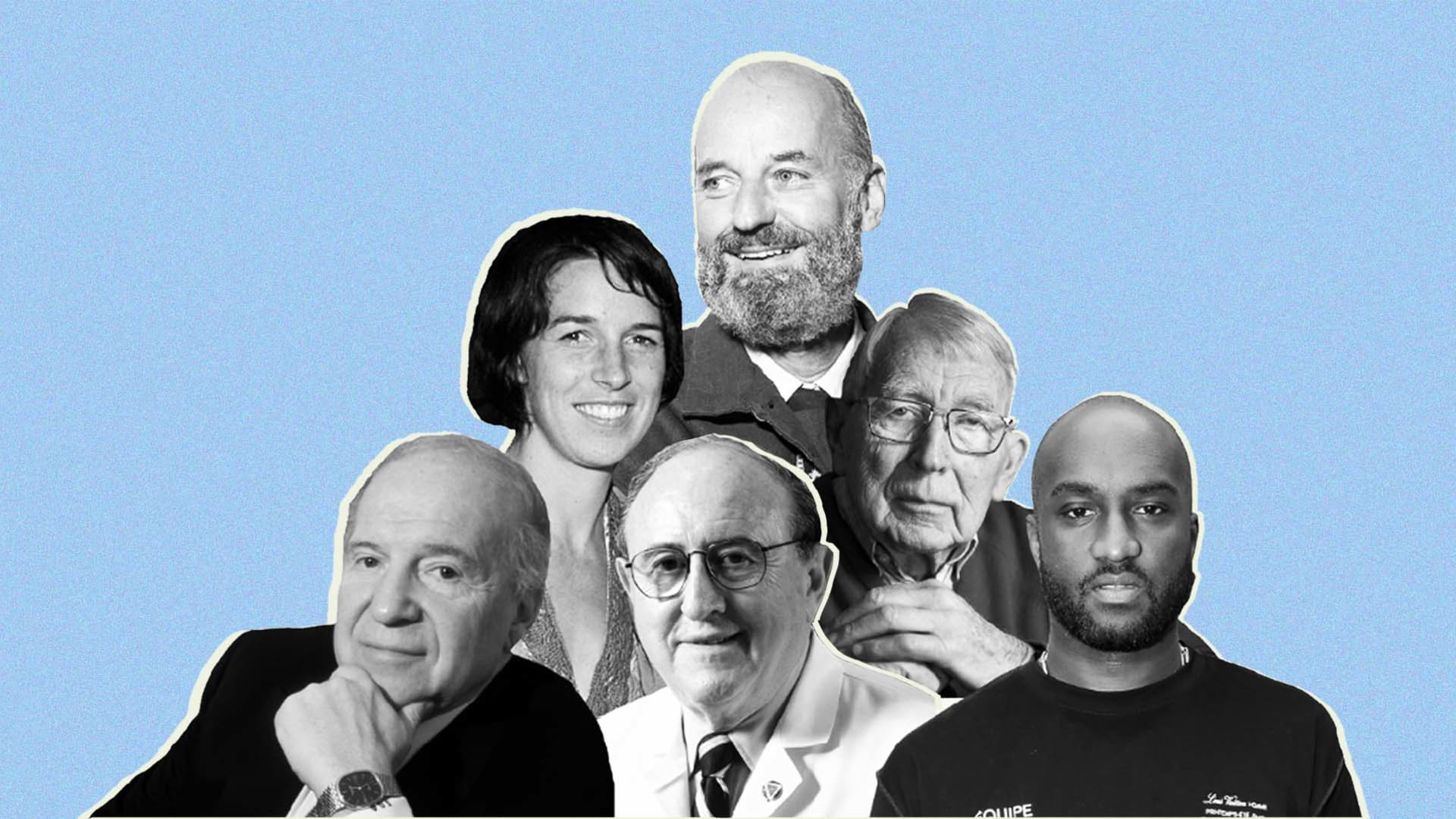 You have Lou Ottens to thank for the cassette and Bernard Lown for the defibrillator. Anne Saxelby is best remembered for schlepping around cheese, atop her bike, to some of New York City's finest eateries. And Virgil Abloh left an indelible mark in the fashion world.
Here are some of the prominent entrepreneurs the world lost in 2021.
Sheldon Adelson (January 11, age 87)
You might know him best as one of the biggest financial backers behind Donald Trump's successful 2016 presidential campaign, but it wouldn't be the first time that a bet ended up in his favor. The casino magnate scooped up the Sands Hotel and Casino in Las Vegas in 1988 and conjured the idea for mega-resort hotels roughly three years later. And when he wasn't running his own shops, he was investing in them. Those who enjoy staying at the Venetian in Las Vegas, in part, have Adelson to thank for his financing help. Adelson passed on with a net worth in the billions, as one of society's richest self-made men.
Bernard Lown (February 16, age 99)
Lown's medical breakthrough arrived in 1962 in the form of the direct-current defibrillator that's since saved countless lives. As a leader in the cardiology field, he was a staunch advocate for a good diet and exercise in helping treat heart disease. While sudden cardiac death along with delving into the impact of stress on the cardiovascular system anchored his medical career, the Harvard cardiologist became active in the world of demilitarization. Lown worked with a handful of American and Soviet doctors to create the International Physicians for the Prevention of Nuclear War. The group received a Nobel Peace Prize in 1985 for their efforts on spreading awareness on the effects of atomic war and how such warfare would overwhelm the medical world.
Douglas Turner Ward (February 20, age 90)
After Ward penned his article "American Theater: For Whites Only?" in the New York Times, he landed a $434,000 grant, and from that created his Black theater group, the Negro Ensemble Company in 1967. The theater group attracted minority actors who were passionate about Black theater and the plays produced from the company often explored Black experiences and perspectives in America. Notable productions from the company include Home, A Soldier's Play and The River Niger, which snagged a Tony Award in 1974 for best play. Ward, a playwright himself, was also an actor and has a spot in the American Theater Hall of Fame.
Lawrence Ferlinghetti (February 22, age 101)
The Beat movement of the 1950s owes much to Ferlinghetti and his City Lights Bookstore, an eclectic bookstore-publisher nestled in San Francisco's North Beach community, right across from a drinking spot frequented by some of the same authors Ferlinghetti published. Founded in 1953 as the first all-paperback bookstore in the country, it revolutionized the literary scene and increased accessibility to the arts. Ferlinghetti was also a poet laureate who authored a number of poetry collections, though A Coney Island of the Mind remains his most popular collection.
Lou Ottens (March 6, age 94)
At a young age, you could find Ottens meddling around with radios during World War II. That was his segue into his audio infatuation. But before he brought the cassette into the world, Ottens used to walk around with a block of wood on his person to nurture the idea of portability in a world filled with reel-to-reel tape recorders and other bulky sound systems. His goal was to bring to life a "pocket recorder"--a small, inexpensive music player that didn't need excessive batteries. Good sound quality was also a must. And with that in 1963, the cassette was born as an instant hit. Ottens also had a hand in developing CDs.
Kent Taylor (March 18, age 65)
Taylor's idea for what would be come the sprawling steakhouse chain Texas Roadhouse kicked off rather unassumingly but commonly enough: just some notes jotted down on a cocktail napkin. Perhaps unsurprisingly, the back-of-the-napkin idea didn't scream great investment at first. As the Texas Roadhouse lore goes, Taylor was purportedly turned down by investors more than 80 times. Still, he persisted. The restaurant's first location opened up in 1993 in Clarksville, Indiana. And today the concept, known for its signature shelled peanuts atop every table, has spread to hundreds of locations nationwide.
Paul Van Doren (May 6, age 90)
It's hard to name more iconic footwear than Vans's black-and-white checkered skate shoes. But the brand, founded in 1966 by Van Doren and his brothers, and its cult following almost didn't get off the ground. On opening day, the business booked some limp individual sales after helping fewer than 20 customers. The entrepreneurs' advisers famously urged them to shut their doors after half of their initial stores failed to turn a profit. Van Doren instead opened even more locations with the logic that if he made more shoes, it would drive the costs down and allow him to sell more. The gamble paid off--particularly after the no-slip nature of the shoe took hold among skateboarders.
John McAfee (June 23, age 75)
When computers started becoming more popular during the 1980s, McAfee was one step ahead in figuring out how to protect the machines from viruses. With his novel McAfee VirusScan, the antivirus software entrepreneur quickly rose to prominence and dominated the anti-virus market with the software. Other ventures of his include Tribal Voice, which created an instant message and chat program, and a herbal antibiotics company called QuorumEx. He's also flirted with two presidential runs on the Libertarian ticket. Known for more than his fair share of controversies, McAfee's record was padded with a number of arrests.
Ron Popeil (July 28, age 86)
"But wait, there's more!" That's not just a phrase Popeil helped cement into America's vernacular--it was also key to his business philosophy. Popeil became a household name thanks to the Chop-o-Matic food dicer television infomercial, which he then parlayed into other infomericals. Popular products the famous pitchman sold included the Showtime Rotisserie and the Veg-o-Matic. Both the Chop-o-Matic and the Veg-o-Matic were invented by Popeil's father, Samuel Popeil. Popeil also fancied himself an inventor and created the various household items such as the 5-in-1 Fryer and Popeil's Pasta & Sausage Maker. Through his own company, Ronco, which he founded in 1964, Popeil peddled some of the same products he created. He would go on to sell the company for $55 million in 2005.
Maki Kaji (August 10, age 69)
Known as the Godfather of Sudoku, Kaji enjoyed a good puzzle and wanted to spread that love with others as well. He launched Nikoli, a puzzle magazine, in 1980, which blossomed into a puzzle company under the same name. In 1984, a logic-based puzzle caught Kaji's interest. The premise? Fill a 9-by-9 grid with numbers so that each row and column within the subgrids add up to the number 9. The game was called Number Place at the time, but Kaji renamed it Sudoku. He selected the name in mere seconds since he was pressed for time in getting to a horse race. But the name stuck and so did the game, where it's now enjoyed by millions of players.
Douglas Ankrah (August 16, age 51)
If you enjoy sipping on a Porn Star Martini, pour one out for Ankrah, who invented the renowned cocktail. Originally from Ghana, the entrepreneur created the saucy drink that calls for vanilla vodka, passion fruit liqueur, passion fruit juice, plus a shot of Prosecco on the side. But before his concoction shook up the world, he also made waves after opening the London Academy of Bartending, or LAB, which served up mixology training. He later led LAB through a pivot--away from an academy and toward a bar--which opened up in London's Soho in 1999. The success he achieved resulted in his second bar, Townhouse. Beyond being a mixologist extraordinaire, Ankrah also authored the cocktail book Shaken & Stirred.
Yolanda Fernández de Cofiño (September 6, age 87)
While some might want to supersize their meals, Fernández de Cofiño sought to do just the opposite. The Guatemalan businesswoman is credited for creating the Happy Meal at McDonald's, a fun-size version of the fast-food joint's meals often enjoyed by children. After noticing that the meal portions were too large for youngsters, she rolled out the Happy Meal idea in the 1970s at the Guatemalan franchise she oversaw with her husband. Originally coined the Ronald Menu (a reference to the fast food chain's mascot, Ronald McDonald), the meal took Guatemala by storm and caught the attention of executives at the golden arches. It eventually landed a permanent spot on the menu in 1979.
Anne Saxelby (October 9, age 40)
"I am as unlikely as a cheese expert as they come." That's the first sentence from Saxelby's book The New Rules of Cheese, published in October 2020. In Saxelby's perspective, immersing herself in the world of cheese was a lifelong pursuit. She started working in the cheese industry after college in 2003 as an apprentice at Colchester, Connecticut's Cato Corner Farm, eventually graduating to Murray's Cheese in New York City, where she both produced and sold cheese. The artisanal cheesemaker opened up her first shop, Saxelby Cheesemongers, in 2006, when she was 25 years old. Housed within Manhattan's Essex Street Market, the 100-square-foot shop wasn't known for its size--and at times was compared to a phone booth--but it was beloved. During the early days of her shop, Saxelby made her own deliveries, lugging orders around by bike to the city's restaurants.
David Kennedy (October 10, age 82)
"Creativity is like a plague that I've contracted and I can't get rid of, just an itch I've got to scratch," Kennedy once said. Of course, it worked for him. He co-founded Wieden+Kennedy, the famed advertising agency, alongside Dan Wieden in 1982. The pair hit the big time after snagging a then-unknown sneaker brand, Nike, as their first client. Kennedy is one of the masterminds behind the shoe giant's "Just do it" slogan, and he served as the creative director on Nike's first commercial where the slogan premiered.
Chris-Tia Donaldson (November 13, age 42)
A Harvard lawyer-turned-entrepreneur, Donaldson is seen as a pioneer in the natural hair and skin products space. Her own product line, Thank God It's Natural (TGIN for short) launched in 2013 and came to fruition after Donaldson walked back her usage of lye hair relaxers. Her line can now be found at Target, Whole Foods, CVS, and Walgreens, among other stores. She's authored a couple of books, including a best-selling novel that details her fight with breast cancer and the importance of business owners taking care of themselves while they build their companies from the ground up. Her other book provides guidance on caring and maintaining natural hair.
Virgil Abloh (November 28, age 41)
Abloh first became entangled in the fashion industry during a 2009 internship at Fendi, where he was in the same intern class as Kanye West. The two worked together in Fendi's Rome office and would continue to collaborate on future endeavors, with Abloh working as the art director for West's 2010 album, My Beautiful Dark Twisted Fantasy. Abloh launched his first brand, Pyrex Vision, back in 2012, marking his introduction into the world of high fashion. From there he founded the luxury street fashion label Off-White and expanded the collection into womenswear by 2014. The collection drew major attention when Beyoncé was seen sporting an item from the line in Nicki Minaj's "Feeling Myself" music video. Abloh quickly ascended in the fashion world, nabbing the International Design of the Year title at GQ's 2017 Men of the Year Awards. And one year later, Abloh joined the ranks of Louis Vuitton as the fashion house's artistic director for menswear.
Dec 30, 2021