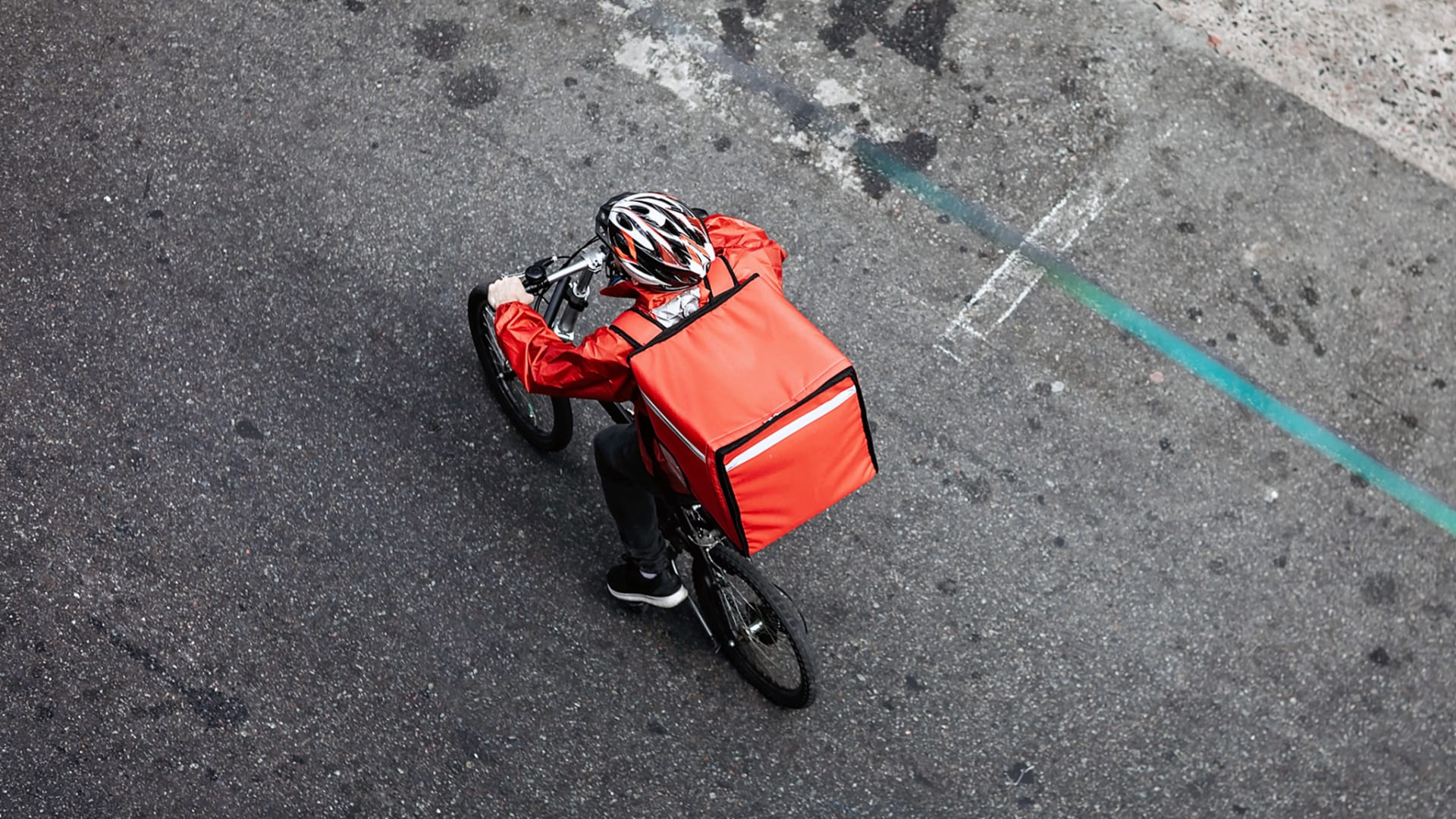 With statewide shutdowns, massive layoffs, and tentative reopenings, restaurants are struggling to mitigate pandemic-induced profit loss. Delivery apps like Grubhub and DoorDash facilitate a much-needed revenue stream, but the high fees are burdensome for small-business owners.
"It was extremely difficult," says Jamie Gilmore of her experience with delivery services. "I mean, we were getting pennies--pennies on the dollar." Gilmore, who owns the Chicago-based brunch and breakfast spot Lizzy J Cafe, closed her restaurant for nearly six weeks after Illinois issued its shelter-in-place mandate. When she finally reopened for delivery and pick-up the Wednesday after Memorial Day, she found that services like DoorDash and Uber Eats were charging fees of up to 30 percent on customers' total bill.
Gilmore, who opened Lizzy J Cafe last November, normally employs five to eight staffers, but is now down to one. To keep the business afloat until things stabilize, she and her husband, who performs odd-jobs around the restaurant, aren't taking any pay. Delivery services, on the other hand, are enjoying soaring profits.
Profits Are Up for Delivery Services
In a May 2020 shareholder letter, delivery service platform Grubhub, which dominates the delivery market in the Northeast, noted "an influx of new diners and restaurants to our platform, higher average order sizes, increased tips for our drivers, and high activity rates for all diners." The business also cited $363 million in net revenue for the first quarter, an increase of 12 percent over 2019's Q1.
DoorDash, which is most popular in Washington, D.C., and Texas, individually negotiates fees with restaurant owners, and the commission charges pay for dashers' salaries, credit card processing fees, background checks, support agents, and the company website. DoorDash did create several initiatives to reduce the strain on small businesses, like waiving commission fees for 30 days for businesses new to the app. This offer, though, was only available from March 17 to the end of May.
Cities Intervene to Help Restaurants
Cities, as part of their own effort to support restaurant owners, have limited the percentage apps can charge. San Francisco was the first to do so, announcing a temporary charge limit of up to 15 percent on April 10.
Similar legislation passed in other major cities, including Seattle and D.C., rankling delivery businesses. In an email to Inc., a DoorDash spokesperson noted, "Unfortunately, caps will eventually make our services less affordable and accessible to customers, reducing sales for restaurants and earnings for Dashers at a time when access to work is more important than ever."
Ankit Harpaldas, the owner of two restaurants in Connecticut, thinks, that delivery services should try to compromise: "Everyone has to eat, everyone has to make money. Grubhub or Uber--they're not running charities," he says. "But I think they should maybe look at it more from the restaurant owners' perspective, especially for the smaller businesses--the national chains have different advantages than we do. And maybe charging them something different than us makes sense."
How Owners Are Getting By
Chicago has yet to place caps--though it's been discussed. To keep Lizzy J. Cafe afloat, Gilmore relies on less expensive secondary services, like her point of service site, Toast, which partners with DoorDash and charges restaurants a flat fee for delivery. She also works with private contractors who, besides handling her catering, also deliver within a five-mile radius around Lizzy J Cafe at low rates.
To recuperate lost profit, Gilmore is reinventing the cafe's line of products and services. Lizzy J boasts its own tea brand, which it's now selling through an outside subscription service. Additionally, Gilmore plans to host online cooking tutorials and meal prep how-tos, She's also set to publish a cookbook in six weeks.
"Gotta reinvent yourself," Gilmore says. "If my passion is food, it doesn't matter to me if I'm serving it to you in my kitchen, or if I'm serving it to you virtually, if I'm teaching about the food, or if I'm sending it to you--because food is what I do."
Jun 27, 2020