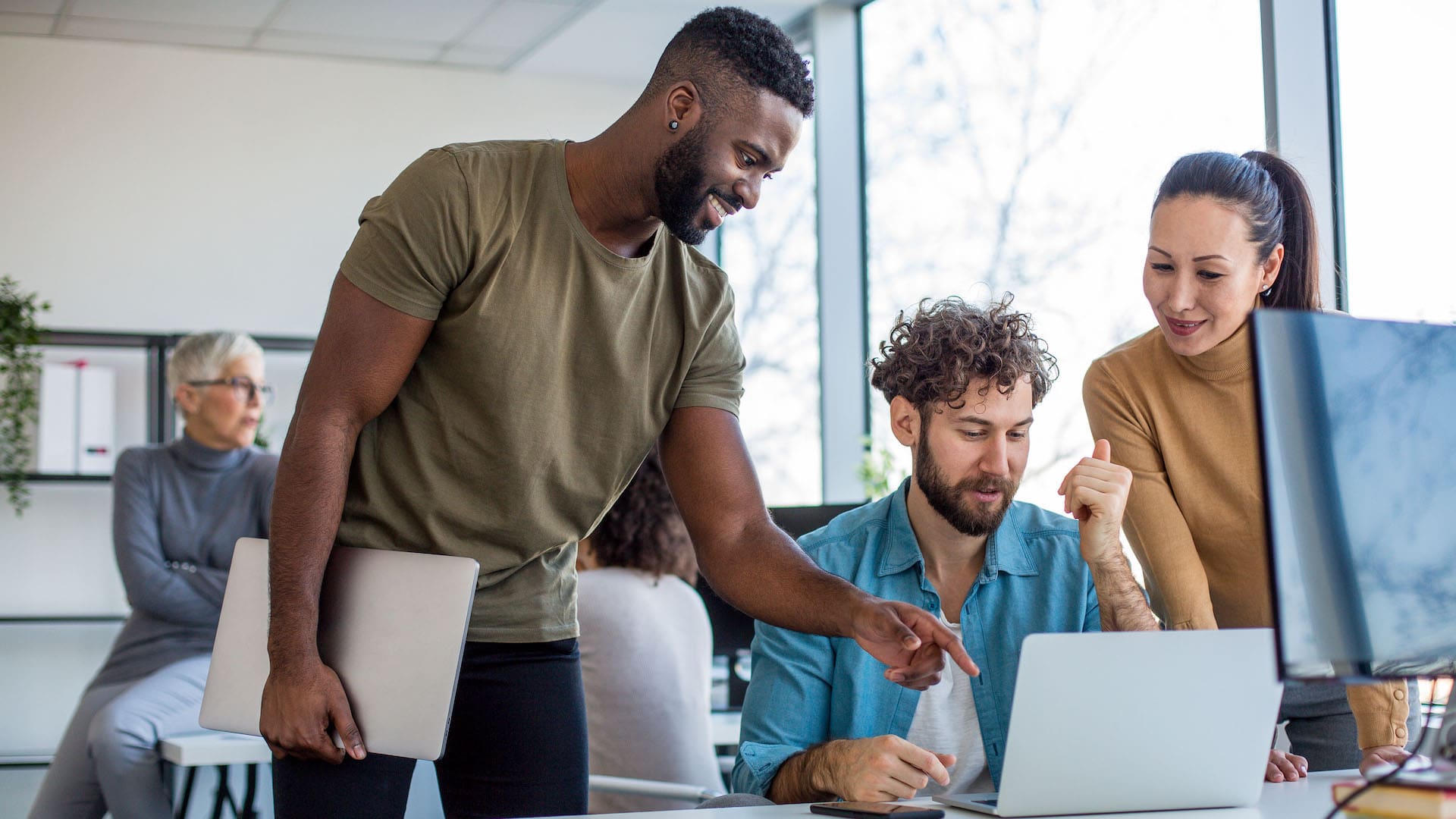 What if building business-critical apps could take days or weeks instead of months? And what if anyone in your organization - no matter their technical skill - could build them?
Empowering your workforce with a low-code platform enables your entire organization to innovate faster and more efficiently. Business users and professional developers can collaborate on large-scale projects, and anyone with an idea for a new app or process can build, launch, and share it securely and at scale.
Here are three reasons to adopt low code for your business.
1. Enhance collaboration and customer experience.
Low code brings line-of-business and IT teams closer. In fact, 82 percent of low- and no-code users surveyed for the Low-Code Trend Report (LCTR) commissioned by Microsoft said that using low- and no-code platforms or apps increases collaboration between professional developers and business users.
At EY, the collaboration-boosting nature of low code was key to streamlining its General Ledger document-posting process. EY's senior IT leaders partnered with leaders from EY Global Finance and enterprise resource planning teams to develop PowerPost, replacing an error-prone posting process with a real-time dashboard, built-in approval workflow, on-screen validation, and faster processing speeds. Because PowerPost is built on a low-code platform, the EY development team can continuously iterate based on end-user preferences and changing business requirements.
The benefits of low-code extend outside the organization, too, with low- and no-code users and business decision makers (BDMs) noting a positive impact on customer experience. The ability to easily build, update, or improve processes that affect customers means frontline workforce can build solutions with their priorities in mind.
2. Drive employee retention and enablement.
Upskilling your workforce is a powerful way to engage teams. The LCTR study revealed that most users, potential users, and BDMs are more doubtful of their future with a company that won't invest in the technical upskilling of its employees.
In 2019 Zurich Insurance Group gave its business users the ability to create their own low-code applications and automations with the goal of streamlining processes, reducing costs, and driving innovation.
The response was overwhelmingly positive, engaging users and giving them the skills to create thousands of apps and flows. Zurich launched a dedicated Center for Enablement to manage volume, govern and drive use of its Power Apps and Power Automate low-code solutions, ensure data and security compliance, and facilitate increased platform adoption.
3. Balance agility and compliance.
Compared with the manual-coding development model, a low-code platform can significantly improve efficiency. Workers can quickly create low-code apps independently or with limited IT support. Of the low-code users surveyed for the LCTR, 86 percent said that using the platform has made them more productive; 79 percent of BDMs also report increased organizational efficiency.
Of course, some business leaders worry about putting so much capability in the hands of their workers. In the LCTR study, 78 percent of BDMs said they had some security concerns. For this and other reasons, a proactive governance and security approach is critical to safely unlocking the potential of low-code solutions.
At Zurich, the success of low code raised similar concerns. Because the company deals with sensitive and confidential data, it wanted to ensure that solutions upheld security, privacy, and data-loss prevention (DLP) policies without discouraging employee innovation. Microsoft Power Platform was uniquely equipped to help Zurich drive both compliance and use of its low-code platform with advanced DLP and governance guardrails.
In today's business environment, adopting a low-code platform is a smart way to improve agility, increase employee engagement, and free IT teams to focus on important strategic initiatives.
Sep 20, 2022