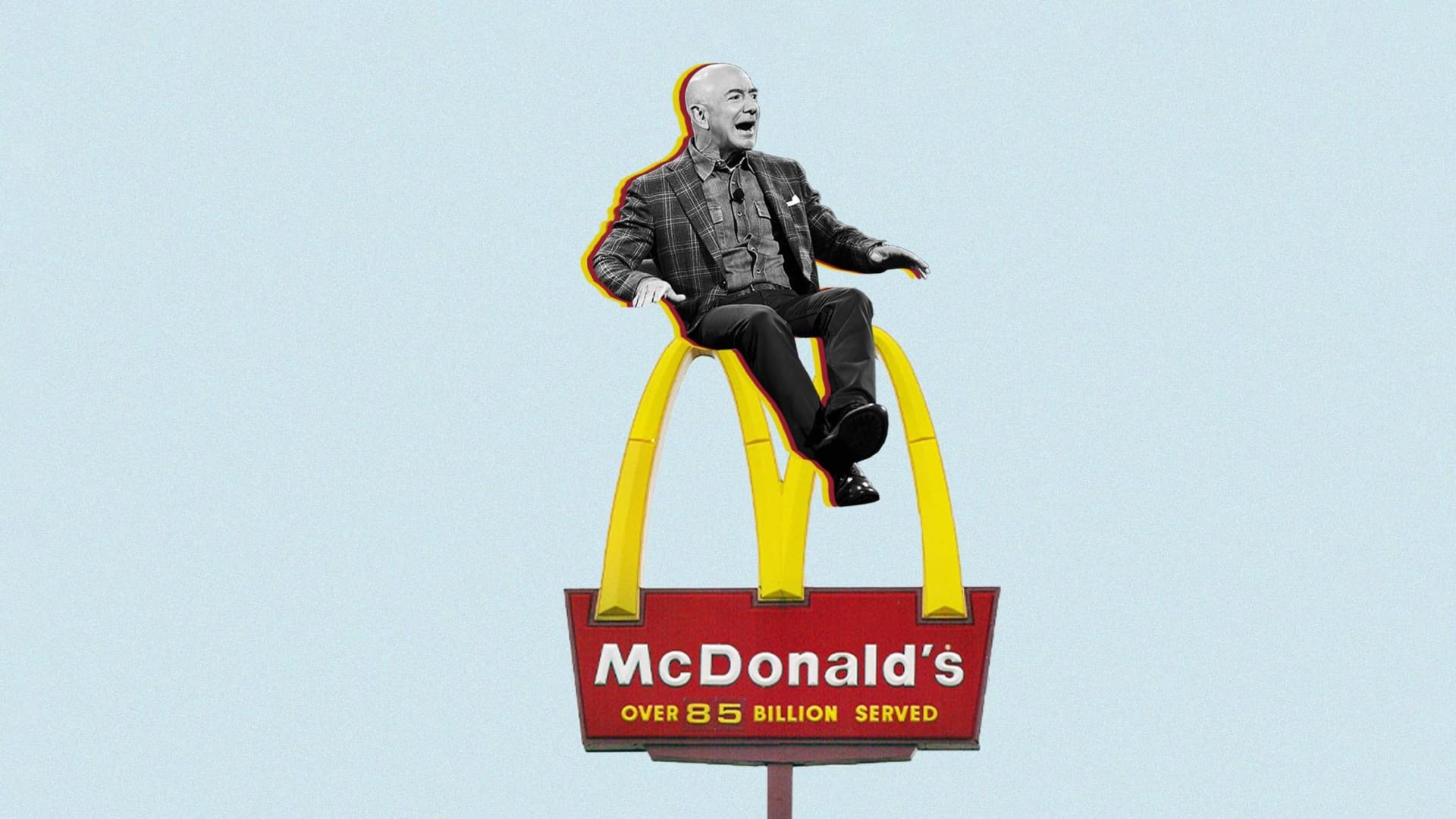 Jeff Bezos had a very good day on Monday. He was already the world's wealthiest person and his fortune grew $13 billion after Amazon shares rose 7.9 percent. By the end of the day, he was worth $189.3 billion. That means that he by himself is worth more than several very large corporations, including Exxon Mobil, Nike, and McDonald's. His ex-wife, Mackenzie Bezos, is now worth $63 billion, making her the 13th wealthiest woman in the world.
Amazon's stock has gone up a mind-boggling 70 percent since the start of the year, and it's a no-brainer as to why. The continuing pandemic is forcing people to stay home and turn to online sellers for most of their purchases. In addition to boosting Amazon's retail business, that's increased advertising on the site, as well as demand for Amazon Web Services, as companies beef up their online presence. And the fact that most people are spending their free evenings at home hasn't hurt Amazon's streaming video service either.
But why the record-breaking price jump on a single day? According to the Motley Fool, the explanation is that two widely followed stock analysts have predicted big price increases for Amazon shares in anticipation of the company's second quarter financial report, due out July 30. The analysts are expecting another round of healthy profits.
Bezos warned at the beginning of May that any profits the company made in the second quarter would be spent on measures to keep both customers and employees safe during the pandemic. "This includes investments in personal protective equipment, enhanced cleaning of our facilities, less efficient process paths that better allow for effective social distancing, higher wages for hourly teams, and hundreds of millions to develop our own Covid-19 testing capabilities," Bezos wrote. In fact, he added, the company might even spend more on these items than the $4 billion it expected to earn in the second quarter. Either the analysts aren't letting that worry them, or they may think Amazon's promised investment in Covid-19 response is a smart business move now that it looks like the virus will continue disrupting daily life for longer than hoped.
Elon Musk and Steve Ballmer are having a good year.
Bezos's $13 billion one-day gain is the highest that's been recorded since Bloomberg began tracking billionaires' net worth eight years ago. But he's far from the only tech billionaire to see his net worth soar during the pandemic while the rest of the country struggles with the biggest economic downturn since the Depression. Elon Musk's personal fortune increased three-fold this year as Tesla stock quadrupled in price. He's now the sixth richest person in the world. Former Microsoft CEO Steve Ballmer is now the fifth richest, having risen from 15th this year on the strength of Microsoft stock price growth.
This is all great news for the billionaires involved and their shareholders. But, Recode's Theodore Schleifer warns, it could also spell trouble ahead for these super-wealthy tech titans. Nine of the world's richest 15 people now come from the U.S. tech industry, he notes, and most tech billionaires have seen their wealth increase during the pandemic. You can see how this might grate on the 19.5 million Americans who are still out of job because of Covid-19. "If the American economy drops further, the tech billionaire will loom--fairly or unfairly--as an easy scapegoat," Schleifer writes.
Will that prediction come true? It's hard to say. But for Bezos, who's closing in on a net worth of $200 billion and has profited hugely from a pandemic that's caused heartache across the globe, spending Amazon's profits on fighting the disease--if only for the company's employees and customers--is a very wise choice.
Jul 22, 2020