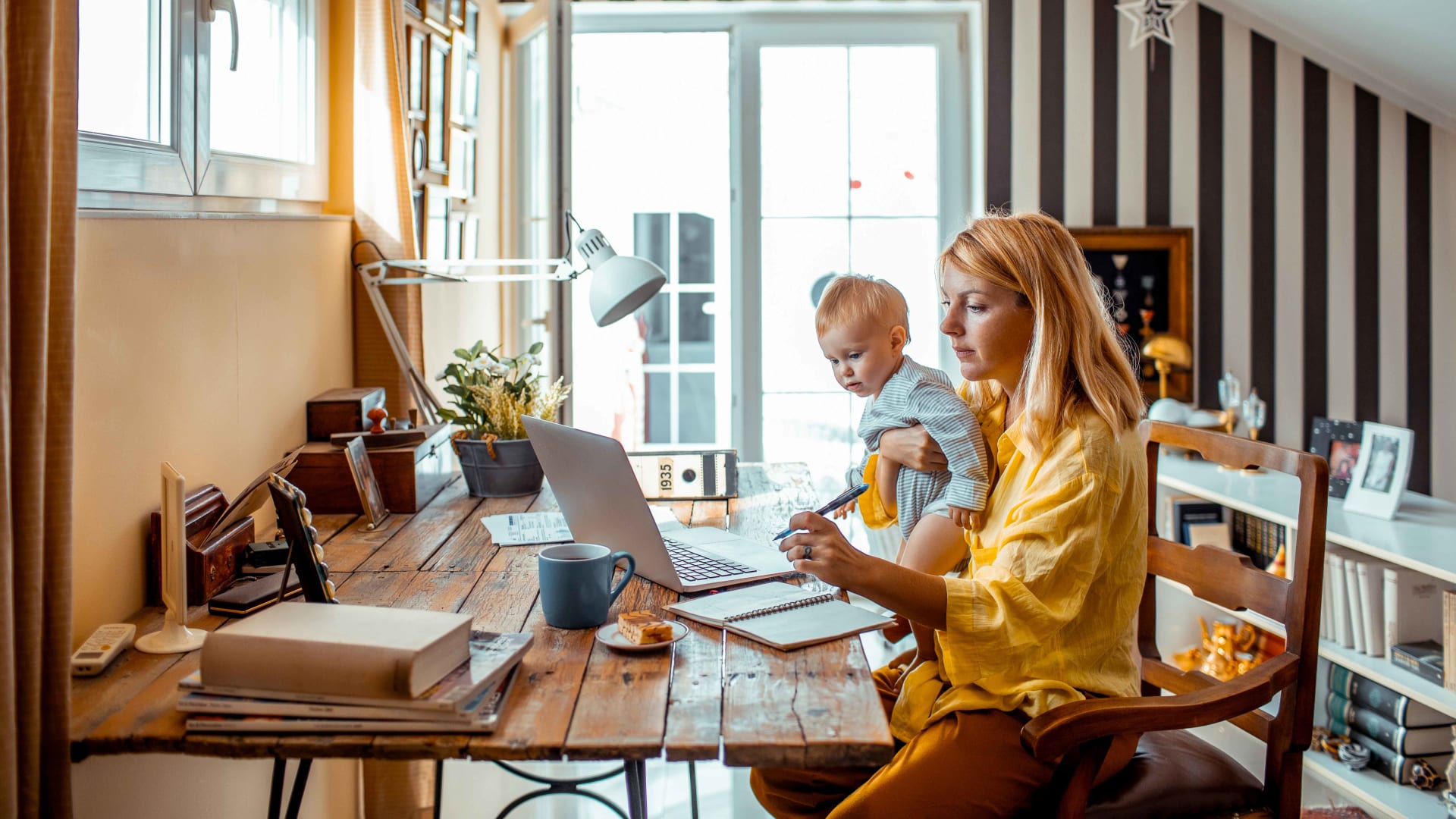 Many working parents, especially those with small children, welcomed the chance to do their jobs while staying home during the pandemic. With offices reopening but remote work now a norm, many of these parents want to keep on working from home. But if they're smart, they won't do it. And if they're your employees, you shouldn't let them, says Nicholas Bloom, professor of economics at Stanford.
Bloom is most famous for a huge 2013 study proving remote workers are more productive than those in the office. These days, though, he's advising companies not to allow employees to work from home full time, and not to let them choose their own work-from-home days. "It feels weird to be having this conversation, because up until March 2020, I was one of the biggest advocates for working from home," he tells Inc.
To be clear, Bloom supports the idea of employees working from home some of the time, such as two or three days a week. And he thinks it's fine to have employees work at home full time if the entire company does the same, as WordPress and its parent company, Automattic, do, for example. But problems can arise in a hybrid company where employees have the freedom to choose which days, if any, they come to the office.
Mothers want to work from home
As with most of his opinions, this one is grounded in serious research. Bloom and his team have surveyed more than 30,000 working-age Americans in the past year. Asked about their post-pandemic preferences for working at home versus coming to the office, the majority said they would choose to work in the office one day a week or more. Thirty-two percent said they wanted to work at home all the time. "It turns out that who wants to work from home after the pandemic is not random," Bloom wrote in a recent Harvard Business Review piece. "In our research we find, for example, that among college graduates with young children, women want to work from home full time almost 50 percent more than men."
Why is this a problem? Because, research shows, working from home full time when you have colleagues who go to the office is detrimental to your career. In one study in China, Bloom randomly separated 500 volunteers into two groups. One group worked in the office five days a week, and the other group only came in one day a week. After 21 months, the second group had a 50 percent lower rate of promotion.
Put those two findings together and you can see the problem. Research has already shown that the pandemic's economic hardships fell disproportionately on women. The last thing they need is to be deprived of promotion opportunities, but that's what working at home five days a week will do. Over time, this means there will be even more men and fewer women in top positions than there are now.
Remote employees get forgotten
Why do people working from home miss out on promotions? For two reasons, Bloom says. The first amounts to "out of sight, out of mind." People who work from home tend to be forgotten when it comes to handing out plum assignments or promotions. Bloom says this problem may disappear in time, with more people working from home and companies learning to deal with them better. But the other problem is stickier. "When you come in to work and you go for lunch or coffee or chat with people, you're developing more firm exposure and culture, and managerial ability," he says. "You have a better sense of what's going on." People who don't come to the office regularly risk getting disconnected from their colleagues, and that limits their potential as leaders, he says. Looking back on his famous work-from-home study, Bloom notes that the workers he observed were travel agents who spent most of their time on the phone. It could be that other types of jobs, especially managerial jobs, can only be done well if you're in the office at least some of the time, he says now.
This is one big reason why he recommends that company leaders set work from home schedules for employees to follow, rather than letting them choose for themselves. (Another is that most employees would choose to work at home on Mondays and Fridays, which could lead to the office being empty on some days and overfull on others.) But where does that leave parents--usually mothers--of small children who may be stuck scrambling for child care if they have to return to the workplace?
For one thing, he says, many employers plan to allow employees to work from home two or three days a week. "Two days a week is miles better than zero," he says. "And if you have a couple, maybe you can organize it so there's one parent home four days a week."
Ultimately, he acknowledges, there is no fix that will give working parents an equal shot at promotion and all the time at home they want to care for their kids. And, he notes, though he's never researched this himself, other studies have consistently found that raising children does have tradeoffs for one's career. Given this reality, he says, "There isn't a perfect solution. But I think we're in a much better position now than we were pre-pandemic."
Jun 26, 2021