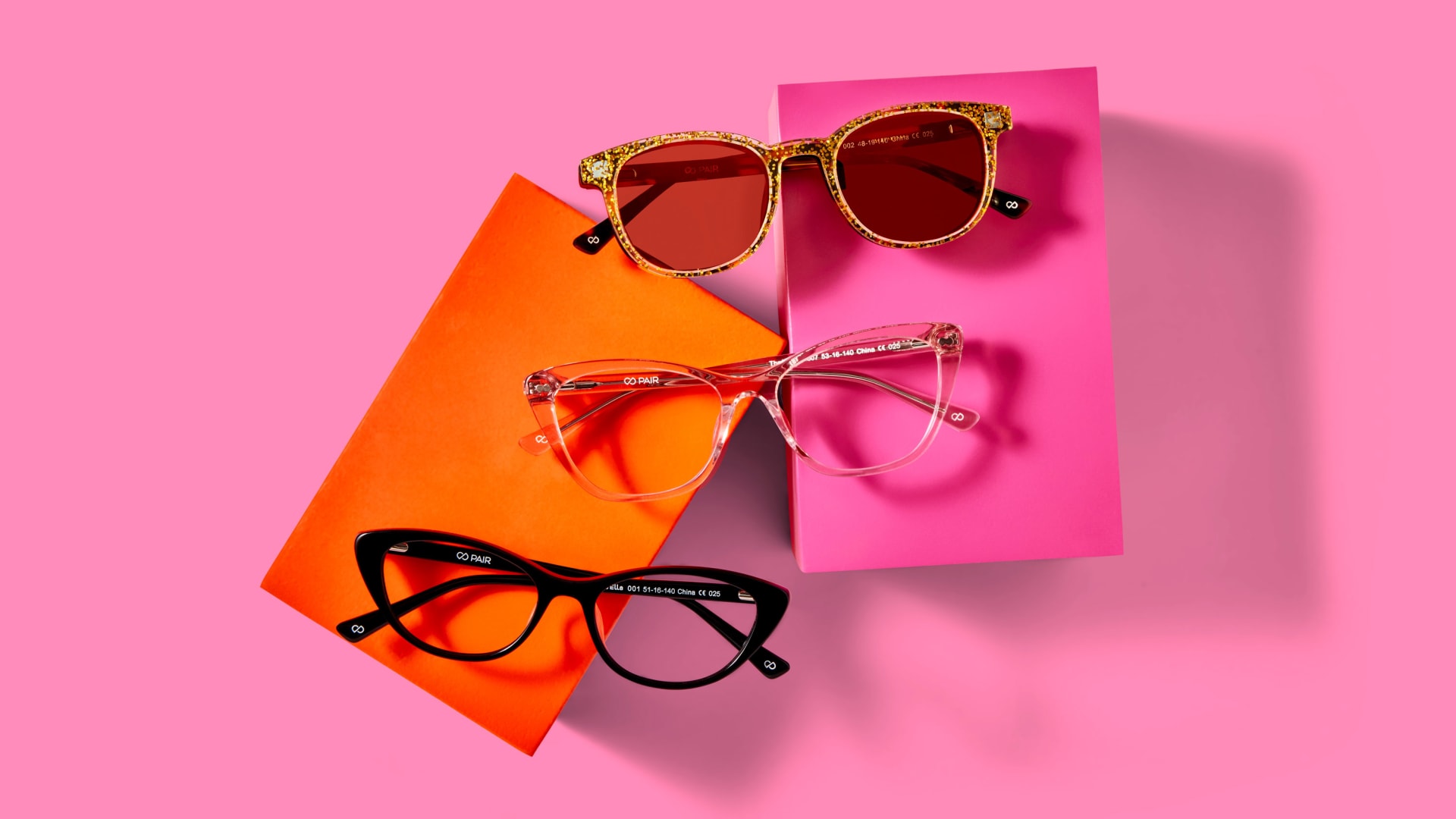 Nathan Kondamuri has been wearing glasses nearly his whole life, an experience he used to find rather unenjoyable: "When you are a child, it's daunting and stigmatizing. And the experience is very static."
When he met Sophia Edelstein at Stanford in 2014, the two got to commiserating over the spectacle of spectacles--and began to wonder why glasses lacked the options and personalization inherent to other accessories like shoes, clothes, and jewelry. That's where they saw an opportunity to bring a new approach to a stuffy industry. They figured that typical buyers purchase glasses only every two or three years. So why not create a new model where consumers would be incentivized to purchase with the same frequency and in the same quantity as clothing or shoes? To do that--while still students at Stanford--Edelstein and Kondamuri launched Pair Eyewear in 2017.
Since they lacked engineering and design chops, the co-founders knew they'd need to bring industry experts onboard. With $150,000 in angel funding, they hired Lee Zaro, the former head of product design from Warby Parker. A 30-plus year veteran of the eyewear industry whom Edelstein calls their "glasses guru," Zaro developed a magnetic mechanism that allows spectacle wearers to attach an infinite number of vanity frames to their lenses. For just $25 per top frame, the co-founders reasoned, their innovation would allow customers to change their glasses as often as their clothes. In early product testing with fellow undergraduates, most asked to buy the glasses soon after trying them on.
Pair initially launched with 10 different top frame options, which they ordered in bulk from an overseas manufacturer. But the partnership's shipping constraints only allowed Pair to add new frames to its lineup every 3-6 months--a timeframe which fell short of the company's initial premise of infinite customizability: It didn't take long for customers to begin asking for more custom options. They wanted frames that featured their favorite artists, teams, and superheroes.
So, in late 2019, Pair began researching and developing a proprietary production process that would allow any digital design file to be translated onto their top frames. That helped the founders land on Shark Tank in early 2020 where they agreed to give 10 percent of the company for a $400,000 investment plus a $1.50 royalty on each pair of glasses until the sharks recouped their investment. Later that year, Pair secured its first licensing partnership with entertainment giant Marvel. Months later, other major companies and organizations such as Harry Potter, Sesame Street and the NBA recognized Pair's value: Have more than one favorite team? Buy three top frames. Excited for your favorite player to make the finals? Buy their top frame.
Edelstein, 27, says on average it took just a month to close these deals. Many businesses had never really thought about licensing in the eyewear category, and Pair created an untapped market opportunity: "As we acquired some, the conversations changed from like, 'Wow, this is so cool' to like, 'Oh my God, why didn't you talk to me first?'" she says, adding that, "It started becoming more of like that fear of missing out."
Throughout 2021, the Pair co-founders continued to hone their manufacturing process but struggled to keep up with demand. They brought their manufacturing in-house, purchasing and moving into a brand-new 20,000-square--foot facility in Irvine, California in August 2021. To staff it, they once again turned to folks with plenty of experience in the eyewear industry, and brought on Philip Gordon, the former head of Research and Development at Oakley, to head Pair's product development and run its entire in-house manufacturing and labs facilities. They also added James Mata, Director of Manufacturing, and Scott Craycraft, Director of Quality, both formerly of Oakley, to improve manufacturing at scale. Pair, which is headquarted in New York City, currently has 100 employees across its offices in New York, Irvine, and Nashville.
Mata and Craycraft helped spearhead and build out Pair's manufacturing and research facilities, and guided equipment purchases need to manufacture lenses in-house in addition to the top frames. Pair also invested heavily in manufacturing automation to improve efficiency. Kondamuri, 27, says the proprietary image translation process took about two years to research and develop, and the company continues to fine-tune it to this day.
Pair's continuous focus on innovation and investment in research and development has led to an explosion of growth over the past two years with 10x revenue growth from 2020 to 2021, and 3x revenue growth between 2021 and 2022. They declined to provide specific revenue numbers but did raise a $60 million series B round of funding in December of 2021. "It's been incredibly exciting--increasing the customers that we reach, but also the number of times they're purchasing with us," says Edelstein.
Sep 14, 2022