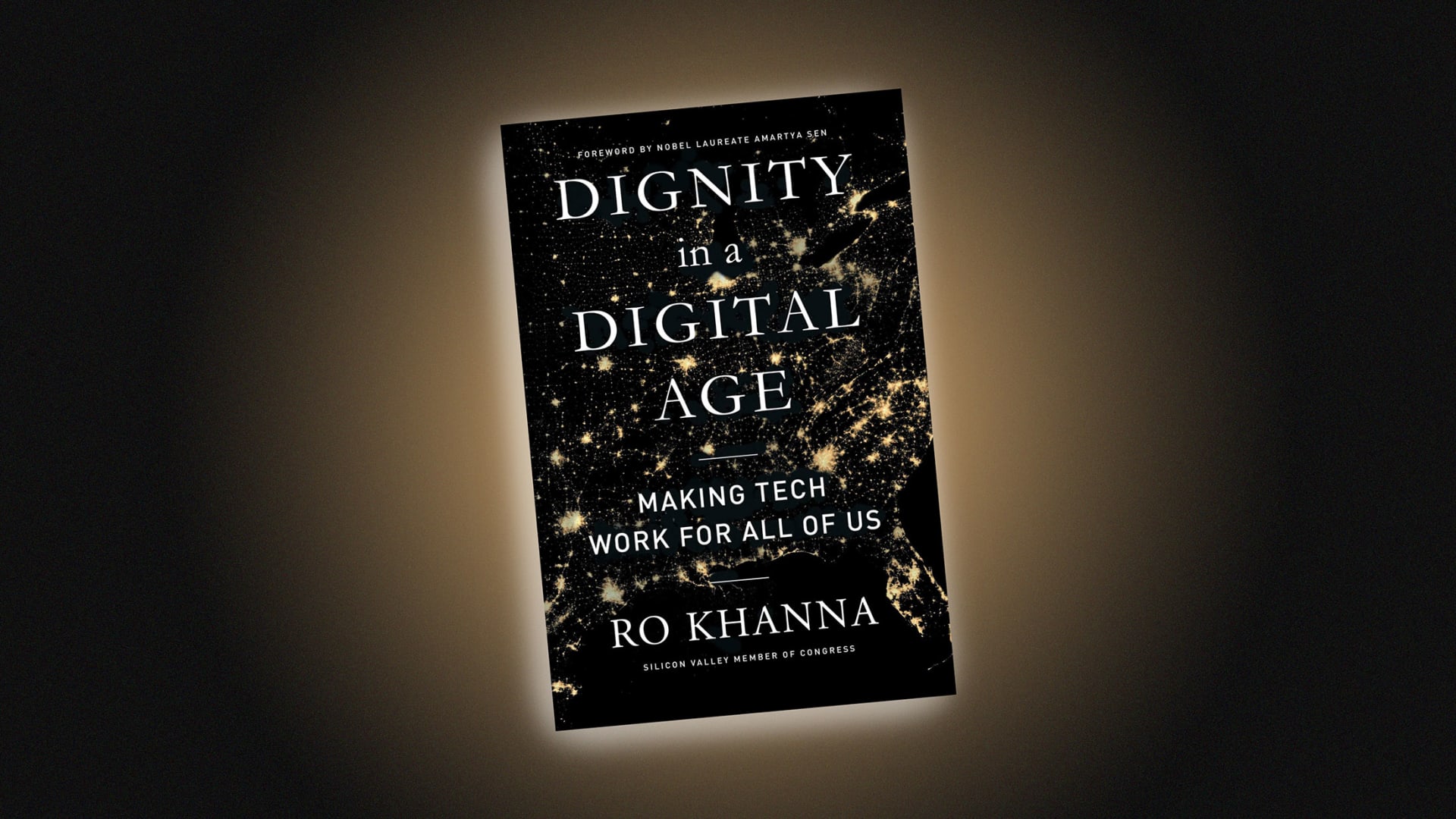 When economic growth helps only a small portion of a society, it is time to make changes. That's according to Rep. Ro Khanna, whose new book, Dignity in a Digital Age: Making Tech Work for All of Us, provides straightforward ideas to bring meaningful change to our tech-giant-dominated landscape.
Khanna, the Democratic congressman who represents California's 17th district, which includes a large portion of Silicon Valley, describes himself as a progressive capitalist. "You shouldn't have the government making all decisions about an economy and that's why I embrace innovation and entrepreneurship," Khanna said during a recent interview with Judy Woodruff on PBS News Hour. "I just want to make sure everyone has the shot that I did: healthcare, education, nutrition, a safe community, to have a real chance of success in this market economy."
He also believes these changes will help heal the deep political polarization in our country.
"I believe, to reduce some of the division, we have to bring the opportunities of the modern economy to communities left out, so people can prosper without leaving their hometowns. And so, when Silicon Valley prospers, Youngstown, Ohio, or Beckley, West Virginia, could prosper, and that there's more interconnection in our economy," Khanna said.
Here are three of Khanna's suggestions for leveling the tech playing field.
1. Make an Internet Bill of Rights
Khanna believes there needs to be policy in place for transparent and consensual data collection, and misinformation guidelines. "There's a societal harm to these companies having all of this data, constructing social profiles and using it to target the most vulnerable," he said on the Brian Lehrer Show on WNYC. "[I]t shouldn't just be the Wild West."
2. Require federal contractors to create jobs in rural areas.
Citing Intel's recent decision to build a chip-making factory in Ohio that's expected to create roughly 10,000 jobs, Khanna suggests that creating tech jobs in areas outside of the traditional tech cities will help close the digital divide. "My argument is that we have to make sure these 25 million new digital jobs are decentralized, that we need a place-based policy that brings these jobs to communities," Khanna said on WYNC. "We need more of that and policies that will encourage that."
3. Fund more technical education.
Khanna envisions a kind of digital version of the Peace Corps that would help create opportunities by training government workers in the field of technology. He noted that apprentice programs at tech companies have proven to help give students a leg up in gaining valuable tech skills early in their career. Khanan pointed to a need for additional training when citing that students with a 4.0 GPA at Claflin University, an HBCU in South Carolina were having trouble getting hired when interviewing for entry-level positions.
"Those students were not getting the training on the interview techniques and whiteboard interviews," Khanna said on PBS News Hour, adding that a simple partnership with a tech company could easily familiarize students with these practices. "[I]f they work with communities and listen to those communities' aspirations, that could help move the needle forward."
Feb 8, 2022