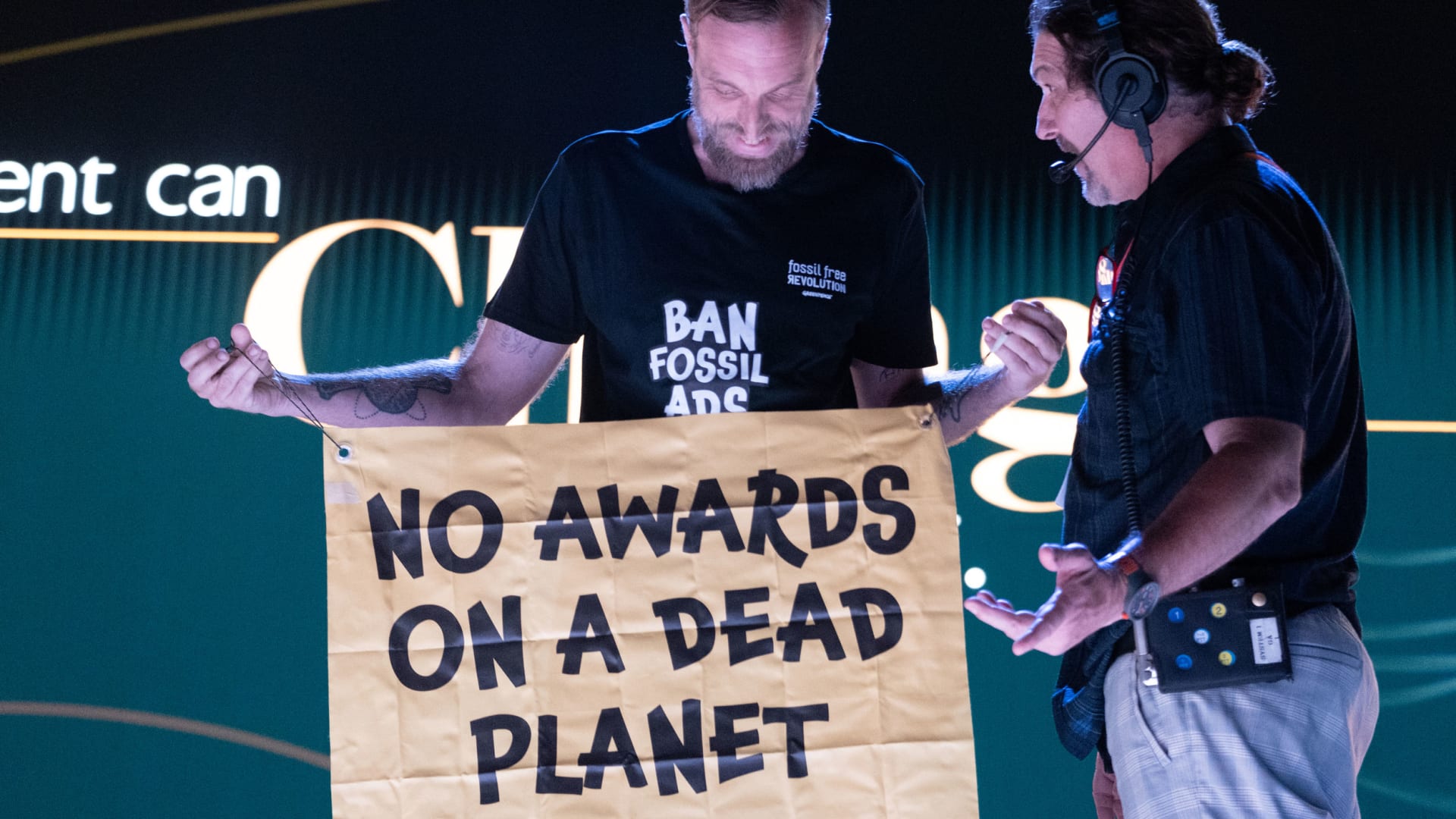 With the world we live in these days, protests are a daily occurrence. From pandemic restrictions and gun control to abortion rights and the war in Ukraine, there's a lot to protest against. But sometimes, it's the quiet protests that speak volumes. Sometimes it takes the courage of one person to stand up and have their voice heard. These are the moments of true leadership.
Gustav Martner is currently head of creative at Greenpeace, and earlier in his career was a creative lead at the ad agency for Volkswagen. Fifteen years ago, Martner and his team were recognized for their work with VW at the annual Cannes Lions Festival of Creative. At this year's event, Gustav crashed the stage during its opening ceremonies to give the award back, urging the crowd to support a ban on all products using fossil fuels, and unfurling a sign that read: "No Awards on a Dead Planet."
He has expanded his arguments to social feeds like LinkedIn, where he explains that "the elite of the advertising industry has been a huge disappointment. The big networks and the smartest brains are still working for the oil majors, for the airliners, to sell SUVs with combustion engines. It has to stop."
What I see here is leadership in action.
Here are three important tenets of leadership that Martner has demonstrated, and that you should consider too:
You have to be willing to stick your neck out
Believing in the awesome power of a cause to change the trajectory of society is the start of turning a publicity stunt into a bona fide movement. And the most powerful way to build momentum in that movement is to do something startling and antithetical. Martner did this by returning an award, in a very visible manner, to the very organization that supports the companies he's come to believe are the problem.
Biting the hand that once fed him, to be seen as a catalyst for change, and to make a poignant statement. He showed leadership by sticking his neck out, knowing that he was opening himself up to criticism of his actions of the past.
And it's risky from a reputational standpoint. It's been found that whistleblowers can suffer irreparable damage to their reputations and livelihoods post-disclosure. And still, despite this, it's out of personal integrity that someone like Martner feels compelled to take stand regardless of the consequences.
You'll probably ruffle the feathers of the elite and powerful
Highlighting hypocrisy can often lead to change in ways that a carefully crafted set of methodical arguments can't. This requires people to fully understand who are the specific benefactors of the very issue at stake, and having the courage to call them out and confront them directly, even if they have the power and position to marginalize you.
Leaders who believe they have a solid case for "better" don't let those in power blunt their energy to create transformation. Sometimes subverting authority, even through embarrassment, is a requirement to spark the flames of change.
Your move has to be bigger than your ego
The people who support a movement are not typically doing it for personal gain. They believe that things can be better -- not just for themselves, but for others. Leading these movements requires the same. The actions they take and the speeches they make can never be construed as self-serving, even though it often takes a strong willed individual with no shortage of ego to lead a group of people toward the "promised land" of a better place.
Leaders, in business and society at large, need to use their self belief to open doors, convey conviction, and build collaboration, but avoid basking in the benefits of personal power as a result.
This is bigger than your ego.
Jun 27, 2022