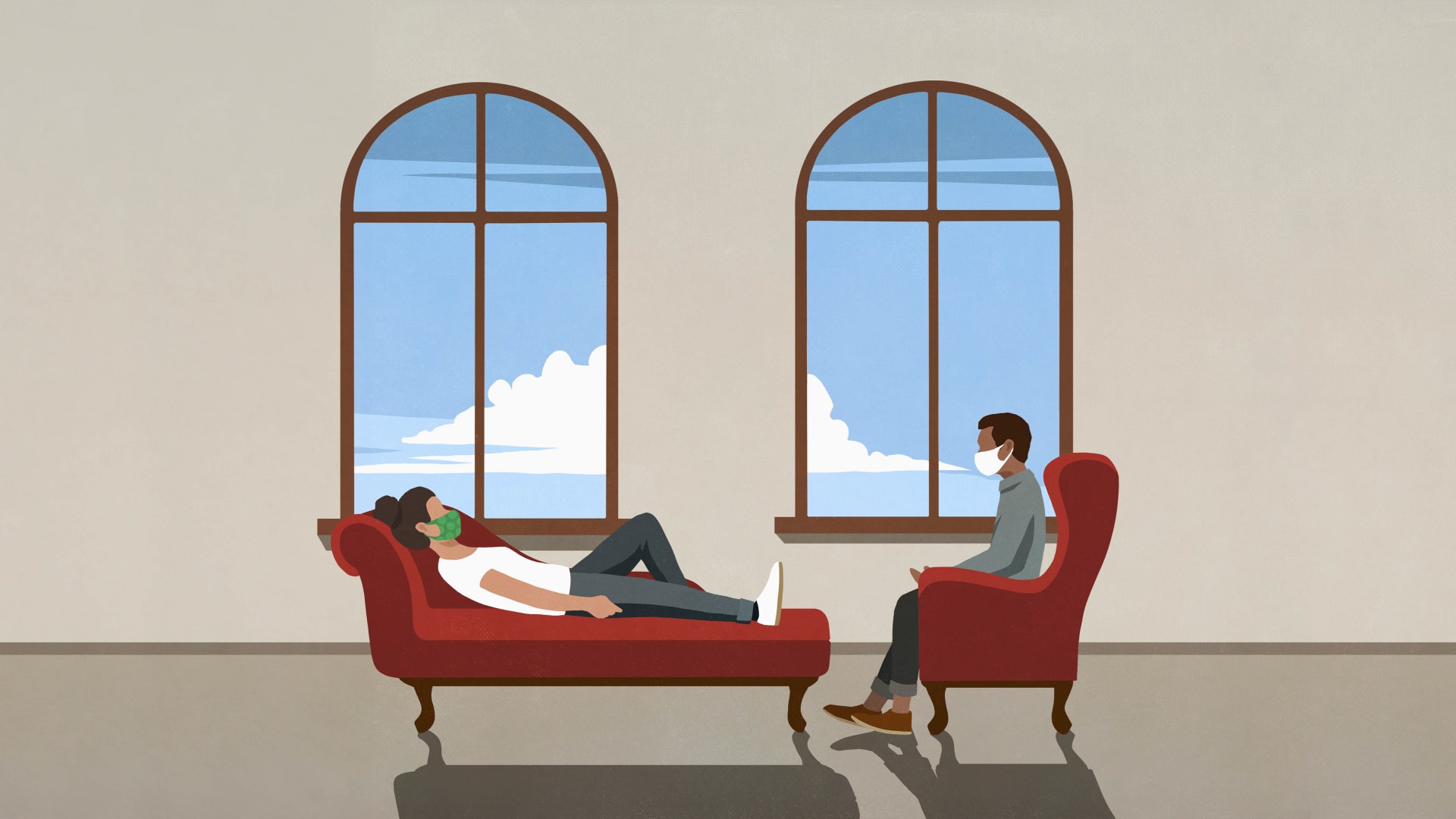 It's incredible to think that we've been living with Covid-19 for more than a year. For many, the quiet streets, silent offices, and shuttered shops which have come to typify the past 12 months have resulted in one of the slowest moving years on record. For others, time in lockdown has seemed to slip away much quicker than usual.
Whatever your perceptions are, across the last 12 months many questions have emerged that remain unanswered. What will the post-pandemic future look like? Will we ever return to true "normalcy"? If we do, what will that normalcy look like?
Whether or not we can answer those questions now, we've started to see some of the long-term consequences emerge. Through my experience as CEO of Koa Health, a digital mental-health-care provider, I believe there are three major impacts that we must tackle as we move forward, especially as we may not understand the full extent of the pandemic for years to come.
The mental health effects will be felt long into the future.
Perhaps one of the biggest secondary impacts of the pandemic has been on mental health. By October 2020, mental health was top of the charts when it came to published papers and preprints on the effects of Covid-19.
During the pandemic, about four in 10 adults in the U.S have reported symptoms of anxiety or depressive disorder, a share that has been largely consistent since Spring 2020. A telling poll by the American Psychological Association later in the year found that 74 percent of psychologists were seeing a greater number of patients with anxiety disorders, with 30 percent seeing more patients overall.
What's even more concerning, is that many of the mental health impacts will only become clear as society begins to get back to normal, meaning the full extent is yet to be seen. New mental health impacts will emerge as a result of the return to normality, with many people likely to feel anxious after having adjusted to living with restrictions for over a year.
While there is growing recognition of the pandemic's impact on mental health, and the strain it's putting on mental health care, the government's response has yet to meet demand. Out of the $2.5 trillion emergency relief approved last summer, just 0.01 percent ($425 million) was designated for both mental health and substance use treatment.
Students of previous pandemics will know that the full impact of the mental health burden often lags two to three years behind the infectious disease. If government support is to remain low, these effects could last even longer, trickling into the next decade.
Due to the suffering caused by Covid-19, conversations surrounding mental health have only accelerated and helped to further overcome stigma. We must now use this opportunity to rally against all barriers to care if we are to change how we treat mental health for good.
Employers must do more to support the mental health of their employees.
It's undeniable that, in many cases, our collectively poor mental health has impacted job performance during the pandemic. In turn, many companies are beginning to recognize the costs associated with not addressing employees' mental health.
It's estimated that depression interferes with a person's ability to complete physical job tasks about 20 percent of the time, and reduces cognitive performance about 35 percent of the time. In a study from Harvard, researchers analyzed employee responses to a questionnaire by the World Health Organization and found that workers with depression reported the equivalent of 27 lost workdays per year. Nine of these were sick days or other time taken out of work, while the remaining 18 reflected lost productivity.
Equally abundant are studies clearly indicating that healthy workplaces attract the best talent and avoid the negative impact of illness on productivity, measured in staff turnover and absenteeism.
These papers make it all the more shocking that, according to a study commissioned by Mind Share Partners, 40 percent of global employees said that no one at their company had asked them if they were doing OK during an unbelievably testing time. This is backed up by research from McKinsey, which found that only one in six employees report feeling supported during the pandemic.
There has never been a more important time for organizations to re-evaluate their mental health benefits package. Not only will employers be rewarded with improved productivity and profitability, but it's the moral thing to do in times of unprecedented crisis.
There will be a long-term migration to digital health solutions.
Of the employers that have taken steps to support their employees' mental health throughout the pandemic, many have turned to digital tools.
A survey by the National Alliance of Healthcare Purchaser Coalitions found that 53 percent of employers are now providing special emotional and mental health programs for their workforce, including discounted (or free access to) digital health apps.
This is likely in recognition of the surge in usage of apps over the past year. Early into the pandemic, first-time downloads of the top 20 mental wellness apps in the U.S. hit 4 million by April, up 29 percent from the total downloads in January, showing that many people sought a new approach to health care and were willing to try new things.
Despite this success though, digital mental health solutions still face challenges to widespread adoption. If employers are to roll them out to their workforces, they must demonstrate that they can handle personal and sensitive data ethically and responsibly. Eighty-one percent of Americans already feel that the risks of sharing personal data outweigh the benefits, and it's likely that people will be even more conservative if sensitive data could make its way back to an employer.
With a mental health crisis looming, app developers must do everything in their power to only offer truly ethical and secure products for workforces.
The light at the end of the tunnel may be approaching, with more populations getting vaccinated, but Covid-19 is likely to have many more twists and turns yet. No matter what happens in the near and far future, we must not lose sight of the trends this crisis has crystallized.
Apr 16, 2021