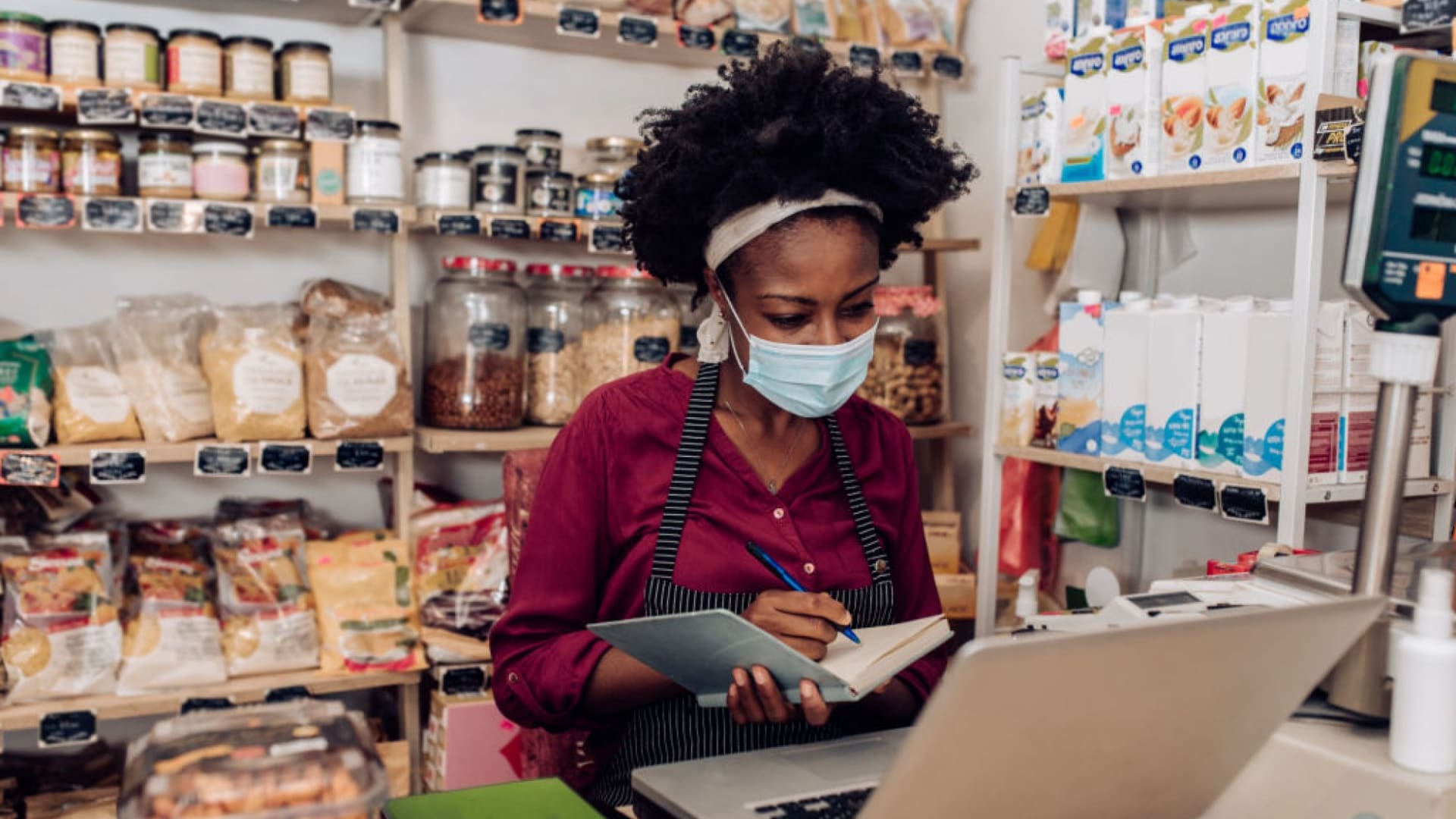 The $1.9 trillion American Rescue Plan Act (ARPA) of 2021, signed into law on March 11, 2021, brings a third round of economic relief to businesses still battling the pandemic as they work to protect employees and adapt to better serve customers.
The law updates the Coronavirus Aid, Relief, and Economic Security (CARES) Act, passed in March 2020, and the Consolidated Appropriations Act, 2021 (CAA), passed on December 27, 2020. It adds more relief for small businesses through a number of targeted incentives, additional funding for the Paycheck Protection Program (PPP), and myriad adjustments to Small Business Administration (SBA) programs and procedures.
One of the main goals of this complex legislation, which is also one of the longest bills in United States history, is to simplify access for the millions of business owners who still rely on these programs.
"The more the federal government can provide relief that's understandable, easy to administer, and provides clarity, the better for businesses and communities," says Amy Friedrich, president of U.S. Insurance Solutions at Principal®.
Following are some CAA provisions.
Expanded PPP access and larger loans for more business owners
The White House on February 22 announced it would put PPP within reach of more business owners, including people who:
Are self-employed: Sole proprietors, independent contractors, and others self-employed will benefit from a revised PPP loan calculation to access larger amounts from a $1 billion pool set aside for them.
Were arrested for or convicted of a non-fraud felony: Unless currently incarcerated, these owners now have access to PPP.
Have defaulted on a federal student loan: Business owners delinquent on federal student loan payments can now access PPP.
Are non-citizen lawful residents: Green card or visa holders and other legal residents are now able to apply for PPP.
Simplified PPP forgiveness, and more eligible business expenses
Businesses may choose a forgiveness period anywhere between eight and 24 weeks.
Simplified forgiveness: For PPP loans of $150,000 and less, the one-page form requires only the business's:
Number of employees retained thanks to the loan
Estimated amount spent on payroll
Total loan amount
The new law also expands eligibile expenses for all PPP loans to include:
Group insurance payments as part of PPP payroll costs (vision, dental, disability, life insurance)
Supplier costs on existing contracts and purchase orders
Perishable goods purchased at any time
Personal protective equipment (PPE)
technology expenses (such as cloud computing)
Even more flexibility for businesses most in need: Some small businesses already in bankruptcy may now be eligible for PPP loans.
PPP2: Some businesses can take a 'second draw' PPP
While the CAA should help direct relief to businesses that either missed or bypassed last year's first round of PPP, it also allows struggling businesses to apply through May 31, 2021, for a second loan. This effort is targeted at smaller businesses that have suffered the most economic hardship. To qualify, businesses must:
Have used all of any previous PPP loan
Have fewer than 300 employees (First-time PPP borrowers in this round still can have as many as 500 employees.)
Have suffered a drop of at least 25 percent in gross receipts in one quarter of 2020 compared to 2019
Have been in operation on or before February 15, 2020
More businesses are now eligible, including many nonprofit organizations and sole proprietors, independent contractors, and self-employed people. Business leagues, such as Chambers of Commerce and visitors' bureaus with 300 or fewer employees and whose business is no more than 15 percent lobbying also may apply.
How much could qualified businesses receive?
Formula: In general, the loan amount is 2.5 times average total monthly payroll (or 3.5 times for food and lodging businesses) over the last 12 months or in 2019--up to $2 million. (Any individual annual salary used in payroll calculation must be capped at $100,000.)
Those who file a Form 1040 Schedule C can now borrow even more than before because the loan amount may be based on gross, rather than net, income.
If you returned all or part of a PPP loan in 2020, you can reapply this year for the maximum amount.
Updates to Economic Injury Disaster Loans (EIDLs)
The CAA also updates key aspects of Economic Injury Disaster Loans (EIDLs). EIDLs are replenished, and the deadline is extended until December 31, 2021.
Businesses no longer must subtract EIDL advances from PPP loan forgiveness, but EIDL and PPP must cover different expenses.
A Targeted EIDL Advance (up to $10,000) may be available to businesses in low-income communities if they previously received an advance for less than $10,000 or applied but received no money due to lack of program funding.
The CCA also makes important changes to tax law. Here are some that businesses should review with their tax advisors:
Employee retention tax credit: This tax credit has been extended through December 31, 2021. Main parameters businesses should know include:
Educational (colleges, universities) and medical (hospitals, clinics) institutions are now eligible.
Starting January 1, 2021, the maximum credit for wages is $7,000 per employee per quarter. Qualifying businesses must have suffered a partial or full business shutdown because of a COVID-19 shutdown order, or at least a 20 percent reduction in business compared to the same quarter in 2019. Certain startup businesses that launched after February 15, 2020, may be allowed a credit of up to $50,000 per quarter.

For businesses with more than 500 employees, credits apply only to wages paid to employees not working.
For businesses with 500 or fewer employees, credit is available for all wages paid, regardless of whether employees are working.
Severely distressed business: An employer of any size with more than a 90% drop in gross receipts during the quarter can have all wages for that quarter covered by the credit.
PPP compatibility: PPP recipients are eligible if their PPP loan didn't pay the wages in question.
Meal deductions: The entire cost of a business meal provided by a restaurant is deductible in 2021 and 2022--doubling the current 50% write-off.
PPP loans: Not only are forgiven PPP loans themselves tax-free, but the eligible expenses they pay for also are deductible business expenses.
SBA loan subsidies, limits
U.S. Small Business Administration (SBA) loans were also affected by the CAA in a few key areas, including:
Limits: The maximum SBA express loan amount was boosted to $1 million from $350,000 until October 1, 2021. After that date, the maximum loan amount remains somewhat higher, at $500,000.
Subsidies: The CAA also extends the CARES Act provision that the SBA pays the principal, interest, and fees on a loan for six months, starting on the due date of the next payment (or even after the end of a deferral period on a loan).
Most business can expect to have these expenses covered for an additional three months (for a total of nine months), while some smaller and harder-hit businesses will receive an additional five months coverage (for a total of 11 months, capped at $9,000 per month).
'Save Our Stages,' education, broadband
The "Save Our Stages" portion of the CAA, the Shuttered Venue Operators Grant, makes available billions of dollars in grants to struggling performance venues, such as those that host live music and theater, as well as museums and zoos. The grants must be used for expenses similar to PPP -- but may be reduced by a previously received PPP loan.
Restaurant Revitalization Grant
The ARPA established a new grant to be administered by the SBA, specifically targeted to privately held restaurants, bars, caterers, and similar businesses with 20 or fewer physical locations. The grant amount covers pandemic-related revenue loss calculated by comparing 2020 versus 2019 annual revenues, up to $5 million per location (limited to $10 million). (The value of the grant is reduced by any amount received under the PPP program). Guidance is provided for businesses that did not operate the full year of 2019 or 2020.
The grant may be used to cover eligible expenses (similar to those covered by the PPP loan) incurred from February 15, 2020, through the end of 2021. The act prioritized smaller establishments with gross receipts in 2019 of less than $500,000 and small businesses owned by women, veterans, or socially and economically disadvantaged individuals in the initial three weeks of the program. This grant is available to establishments that elect to take the employee retention tax credit (as long as not used for the same expenses), but not to those that receive a Shuttered Venue Operators Grant.
The ARPA provides that this grant is not treated as federally income taxable, and the expenses paid with the funds continue to be deductible.
Relief for individual taxpayers
The new law also has a number of provisions that may help individual taxpayers, including:
Stimulus payments:
Taxpayers may receive direct payments based on status and adjusted gross income. Maximum payment amounts are:
$1,400: Single
$1,800: Married, filing jointly
$1,400: Per dependent
This tax-free stimulus phases out rapidly over these ranges of adjusted gross income:
$75,000 to $80,000: Single
$112,500 to $120,000: Head of household
$150,000 to $160,000: Married, filing jointly
Unemployment benefits: $300 more per week in unemployment (taxable) is extended to September 6, 2021 (longer in some cases). Up to $10,200 is received free of federal income tax for those with adjusted gross income of less than $150,000 (though states have their own rules about taxation of these benefits). And states can now forgive overpayment of benefits.
Retirement savings: Select workers in the building and construction industry can now begin phased withdrawal, also called "in-service distribution," of retirement savings as early as age 55. The CAA also allows victims of federally declared disaster areas that are not COVID-19-related to access more of their retirement savings, if the plan allows, and avoid the early 10 percent withdrawal penalty for those under age 59½, until June 26, 2021. They can also spread the taxes due on those distributions over three years or avoid income tax if it's repaid in three years.
COBRA continuation coverage credit
The ARPA provides a new 100 percent COBRA (Consolidated Omnibus Budget Reconciliation Act) subsidy for premiums paid by the business for coverage between April 1 and September 30, 2021, to employees who lost their jobs or had significantly reduced hours and are eligible for COBRA coverage. To offset this expense to businesses, the ARPA allows the business to take a quarterly tax credit (against the Medicare payroll tax) corresponding to the amount of the COBRA premiums the business would have received from eligible recipients. The business must provide numerous notifications to individuals eligible for assistance.
As businesses and individuals avail themselves of the many economic assistance programs these laws provide, it's important to stay informed about the latest guidance, tax implications, and other matters. Consult your financial or tax professional for details about how they may apply to your business or you.
What's next?
This communication is provided as education only with the understanding that Principal® is not rendering legal, accounting, investment advice, or tax advice. You should consult with appropriate counsel or other professionals on all matters pertaining to legal, tax, investment, or accounting obligations and requirements.
Insurance products and plan administrative services provided through Principal Life Insurance Co., a member of the Principal Financial Group®, Des Moines, IA 50392.
Apr 5, 2021