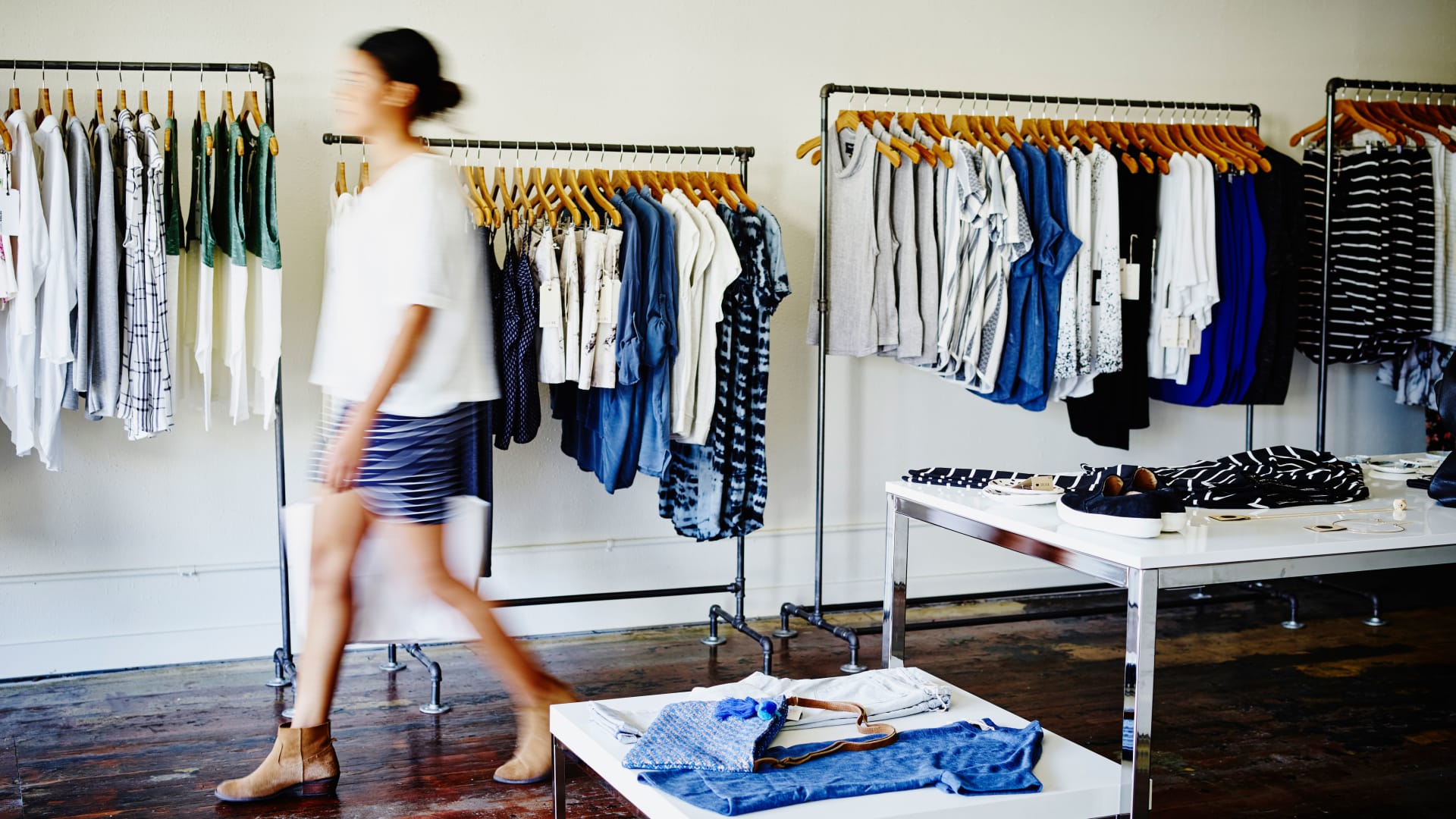 Since the start of the pandemic, retailers have had to adjust and amplify their sales pitch as conditions changed.
1. Take "window shopping" literally
In the pandemic's early days, Alexa Allamano, owner of the Langley, Washington jewelry brand Foamy Wader closed her brick-and-mortar store when her lease was up. She considered going virtual-only, until frequent customer pick-up requests led her to find a new, smaller (180 square foot, to be exact) home base in the fall of 2020. The large window display area of her new location gave her an idea. "I thought, 'What if I could make it so that customers could shop right from the windows?'" she says. She decided to display her jewelry with a visible QR code for each piece, which shoppers could scan to purchase directly on her website.
"With the QR code, you land right on the product page, so you're already three steps ahead of where you'd be if you just provided a website," she says. "It eliminates a lot of customer drop off." She found a website that allowed her to generate dynamic QR codes, which lets her track usage, so she could also gather data on how the codes helped sell her jewelry, as well as which pieces gathered the most attention. The difference the window shopping display has made is tangible, Allamano says: Since adding QR codes, Foamy Wader's average order value has increase by 10 percent for online purchases and 19 percent for in-store purchases. She also says that the location of her store, across the street from a popular restaurant, has given her an opportunity to get more customers, even when her shop isn't open: "I see traffic spikes after 5 p.m. when people are getting dinner."
2. Offer bundled deals
Yuvi Alpert, founder and CEO of the New York City-based fine jewelry brand Noémie, started offering customers bundle deals on products, and says that the strategy has helped his bootstrapped business to increase its lifetime customer value by nearly 20 percent. Essentially, the company targets existing customers via email, recommends two products that pair well with the one they've already purchased (usually rings), and offers a tiered gift card offer depending on order value, with a maximum discount of $250. Because Noémie does not have sales promotions throughout the year, Alpert says these bundle deals have proved attractive--they have a higher conversion rate than the brand's general conversion rate for returning customers who haven't been offered a bundle deal.
This customer response has helped Noémie get more cash to ramp up its marketing efforts, and have given the business insight on what customers actually want to purchase. Before starting the bundle deals, the brand rarely advertised rings paired together--now, its stylists are more likely to suggest stacking them.
3. Create community with affiliate networks
Affiliate links are common for businesses that do any kind of influencer marketing--but a standard affiliate link may not take into consideration the different ways customers might interact with your business. Kelly Breakstone Roth, CEO and co-founder of The Nopo, a fair trade, home decor marketplace that sources products from artisans worldwide, founded her business in 2020 and last month launched The Nopo Design Society, a free membership program for design professionals. By joining, interior designers, stylists, and other pros who might purchase products for clients can either get a 15 percent discount on their order or they can choose to receive a sales commission on any orders placed with their unique link.
Breakstone Roth says that members of The Nopo Design Society are pretty evenly split on using discount codes versus commissions, and ultimately, the difference lies in how the design professionals operate their businesses. An interior designer, for instance, might opt for the 15 percent discount if they're purchasing items for a client, but if they're sharing a list of suggested purchases for a client to choose, then they might be better served by an affiliate code. The Nopo has also rolled out an affiliate program for artisan partners to earn income whenever they share product links as well.
Breakstone Roth says that since launching The Nopo Design Society, both traffic and referral traffic to the site have increased, although she would reveal numbers. She also hopes that the affiliate programs can develop a sense of community around The Nopo and help to bolster more long-term growth. "We're always going to be dependent in some way on performance marketing, but it's also important to develop channels that are organic and community-driven," she says.
Mar 10, 2022