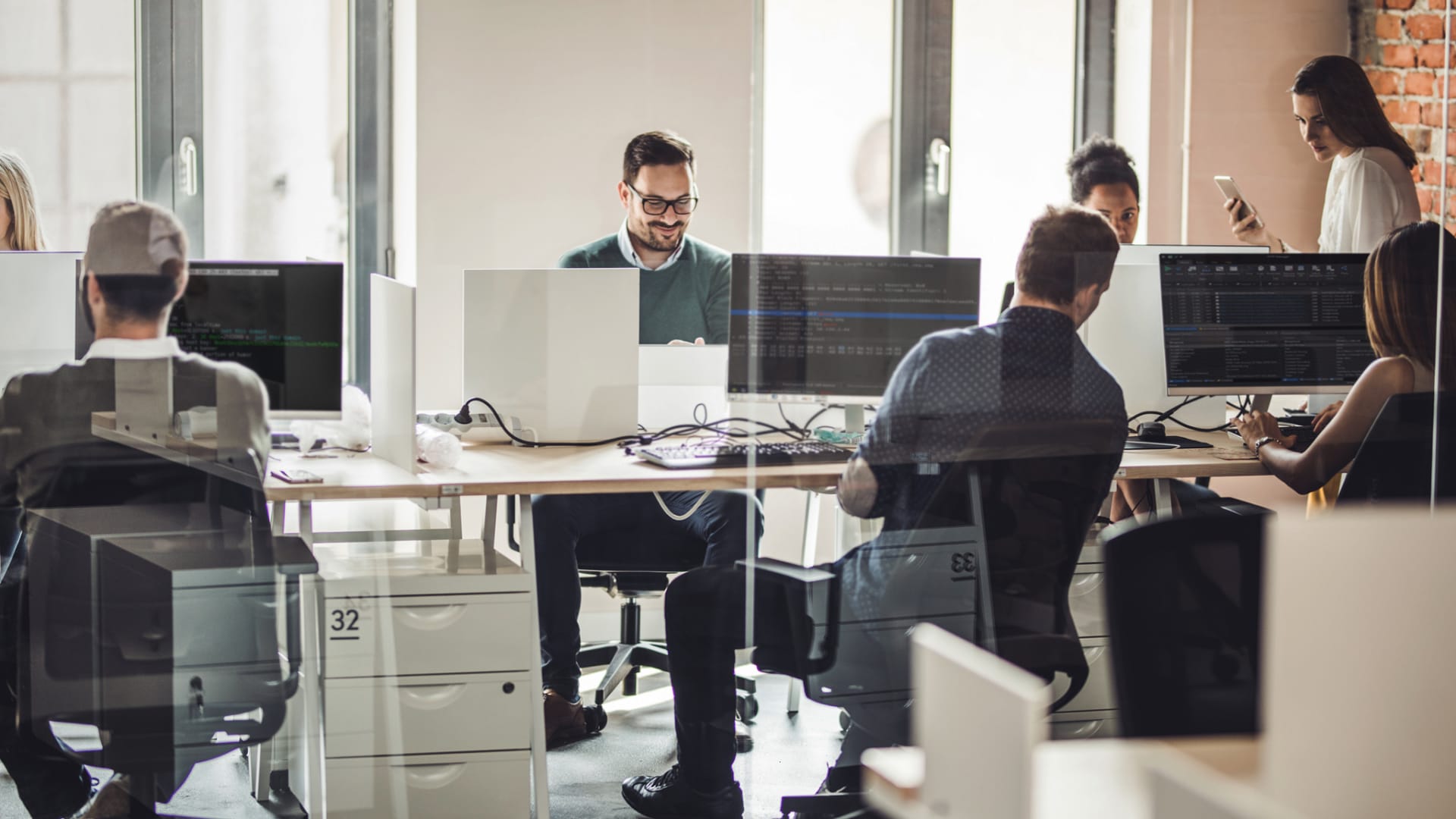 One of the best ways to retain your current employees: Give them the skills they need to succeed elsewhere.
The tech industry, after all, is especially prone to low employee retention: The average tenure for a software engineer at a large tech company falls between 14 to 18 months, says Jonathan Naymark, general manager of Codecademy for Business, a B2B technical training platform. By investing in worker training, companies can help employees progress in their careers or even make lateral moves--without necessarily losing those workers to the competition. "People stay at companies when they're still learning," Naymark says.
Here's how some businesses are helping their workers become constant learners.
Adopt existing-employee apprenticeships
Can't find workers who have the skills you're looking for? It's time to commit to on-the-job training. One way to do so is by establishing apprenticeships: paid, entry-level opportunities that have learning built in. While apprenticeships (like internships) have historically been used to recruit new talent to companies, Jennifer Carlson, executive director of the Seattle-based B2B training company Apprenti, says that over the past six to eight months, the number of companies she's seen using apprenticeships to re-skill existing employees has increased dramatically. About 20 percent of companies that partner with Apprenti to launch their own apprenticeships use the programs to re-skill employees, up from just 5 percent prior to the pandemic.
Recently, the Cincinnati-based logistics company TQL partnered with Apprenti to launch an apprenticeship program that will upskill non-I.T. employees and train them for software developer roles. Once fully trained, those employees may eventually leave the company for software developer roles elsewhere, but do take that risk in stride, says Carlson. Apprentices tend to stay at companies longer than direct hires, she adds.
Create education-fueled pathways to growth
Another way to ensure employees stay: Make investments in learning continually. That's the aim of Codecademy's recently released Teams+ platform, which allows companies to customize self-paced training courses for their employees. These kinds of learning pathways can lead to lateral moves or promotions, says Naymark, but employers shouldn't necessarily view training and education as a means to a specific end: "If you start to think about education as part of the employee journey from onboarding to upskilling to retention, you can create a longer-term relationship with your employees."
This is especially true for tech employees who may value learning different programming languages. Providing access to self-paced educational resources can help workers keep their skills sharp, while allowing you to meet your company's evolving needs. Another benefit: It can stave off boredom, as workers can deploy their newly formed skills in different roles. "It allows for greater fluidity of your workforce," says Naymark.
Don't make it feel like homework
Your workers likely want to advance their skills so they can progress in their careers, but it's important that upskilling opportunities don't feel like extra work. The promotion of education options is critical in this way, says Celia Dorr, chief people officer of Contentsquare, a digital experience analytics company. In the past year, Contentsquare has partnered with LinkedIn Learning, an education platform through which employees can access online training videos. Employees also receive a monthly newsletter highlighting a specific skill that they can choose to learn more about. Whatever platform you choose, leaders should ask employees to target their specific career goals and help them understand what kind of skill development can help them reach those goals. "It's also about creating this mindset that your personal professional development is actually beneficial for the entire organization," Dorr says, "So, I can say to my team, 'OK, let's all book an hour in our agenda during workdays where it's personal learning time.'"
The New York City creative agency Summer Friday, which was founded early in the pandemic, provides employees with MasterClass subscriptions that give them access to a streaming library of video classes in a wide array of topics. It also offers quarterly team-building workshops and regular seminars on a range of subjects from cryptocurrency to creative presentations. The company's 32 employees are also required to complete specific courses or trainings that pertain to their career focus, too. It's all in the effort of creating a "sustainable" company culture that doesn't have to invest in constant backfilling, says co-founder and president Rob Simone. "We quite literally view our team members as assets," he says. When "you invest in assets, they become more valuable. You want to hold onto them."
Dec 3, 2021