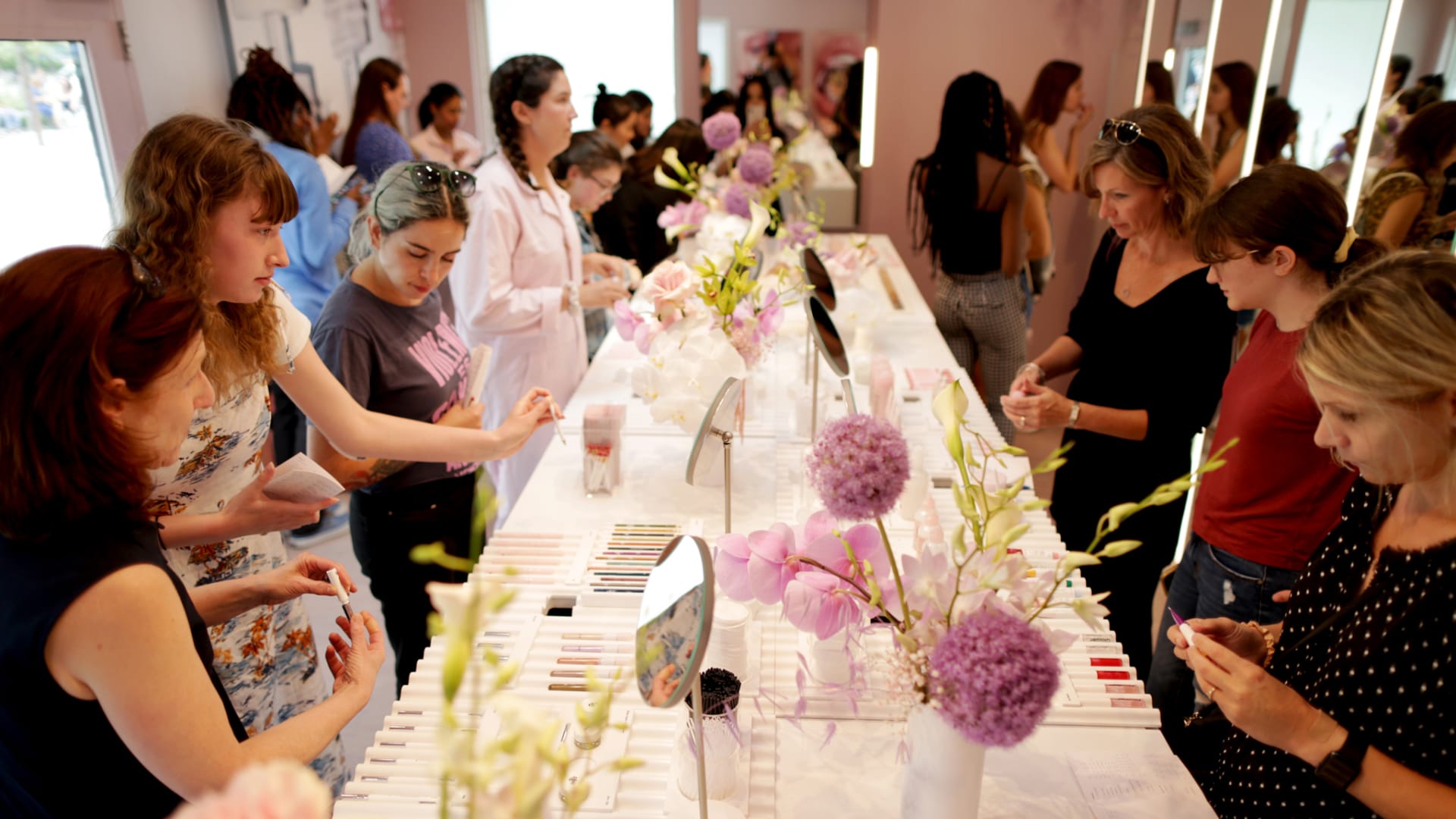 There is such a thing as too much growth.
Last week, beauty brand Glossier announced the layoff of more than 80 employees--about one-third of its corporate workforce, Modern Retail reported. In an email to employees, CEO Emily Weiss said that the brand is shifting its focus to scaling its beauty brand, noting that the company "got ahead of ourselves on hiring." The technology team was most affected by the layoffs, as Glossier is shifting its strategy to rely on strategic partnerships, instead of the in-house platform it previously maintained, the letter said.
Glossier faced challenges earlier in the pandemic, which required the New York City-based company to temporarily close its retail locations and lay off all retail staff. However, the nearly 10-year-old startup has also had considerable recent growth. In July, it raised $80 million in Series E funding led by Lone Pine Capital​. But still its workforce grew by too much, too quickly, according to Weiss.
It's not the only company that has fallen into this pit, and economic pressures add to the likelihood of layoffs at fast-growing businesses. Amid declining sales, Peloton reportedly has plans to cut 41 percent of its sales and marketing team, according to a leaked audio recording acquired by Insider. And, in September 2021, the mattress brand Casper laid off "dozens" of employees, after cutting more than 20 percent of its workforce in 2020, Tech Crunch reported.
For fast-growing companies in particular, hiring requires plenty of balance-sheet due diligence, and a willingness to go slowly at the potential cost of some profits--but some experts say it's worth it. Here's how to avoid getting caught up in the hiring rush when your company is rapidly growing.
Reassess hiring goals month by month
Your company may have a yearly head count goal--but as any number of factors shift throughout the year, that goal may actually overcompensate for your needs or what you can afford. "If you have 80 people to hire in 2022, don't try to hire them all in the next 30 days," says Avi Mally, CEO of the New York City-based recruiting company Three Pillars Recruiting. "A slow roll approach will impact your growth, but you'll benefit in the long run." He recommends assessing finances and labor needs quarterly, though Thanh Nguyen, CEO and co-founder of the compensation insight company OpenComp, recommends reviewing as frequently as every month: "It takes a lot of operational discipline," he says.
Consider outsourcing
Building major tools in-house is appealing, especially for quickly growing companies that have considerable amounts of capital, Nguyen says, as in-house teams typically have a better sense of the brand and the customer. But still, sometimes, outsourcing makes more financial sense, he adds: "There are some business decisions that force you to ask, 'Are we really equipped to deliver this, or do we just have better knowledge about our customer?'" Ultimately, he says, bringing on an outside vendor or partner typically costs less than building internal teams, which often involve a considerable investment in recruiting and training. Glossier's decision to bring on strategic partners in the wake of its layoffs aligns with this consideration.
Focus on individuals, not head counts
"When you've got all the money in the world, you kind of spin around like you're drunk," Nguyen says. For companies with major investments, the pressure to grow a team to match that financial growth can be powerful, but ultimately, the business might not be able to support such a considerable increase in personnel, he explains. Putting the breaks on hiring may result in slower overall growth, but it will be growth that's more sustainable. Consider each position carefully instead of simply hiring to meet a head count goal.
Not only does this reduce the risk of mass layoffs, it also helps to maintain employee morale. Too-quick hiring can lower the overall quality or fit of incoming talent, which can lead to low retention and the loss of existing workers, Mally says: "A-level candidates want to work alongside A-level colleagues, not B- and C-level colleagues." And if a company does reach the point of requiring mass layoffs, that does further damage to overall morale--and makes it harder to attract the right candidates in the future. "It's a multiplying issue," Nguyen says.
Feb 2, 2022