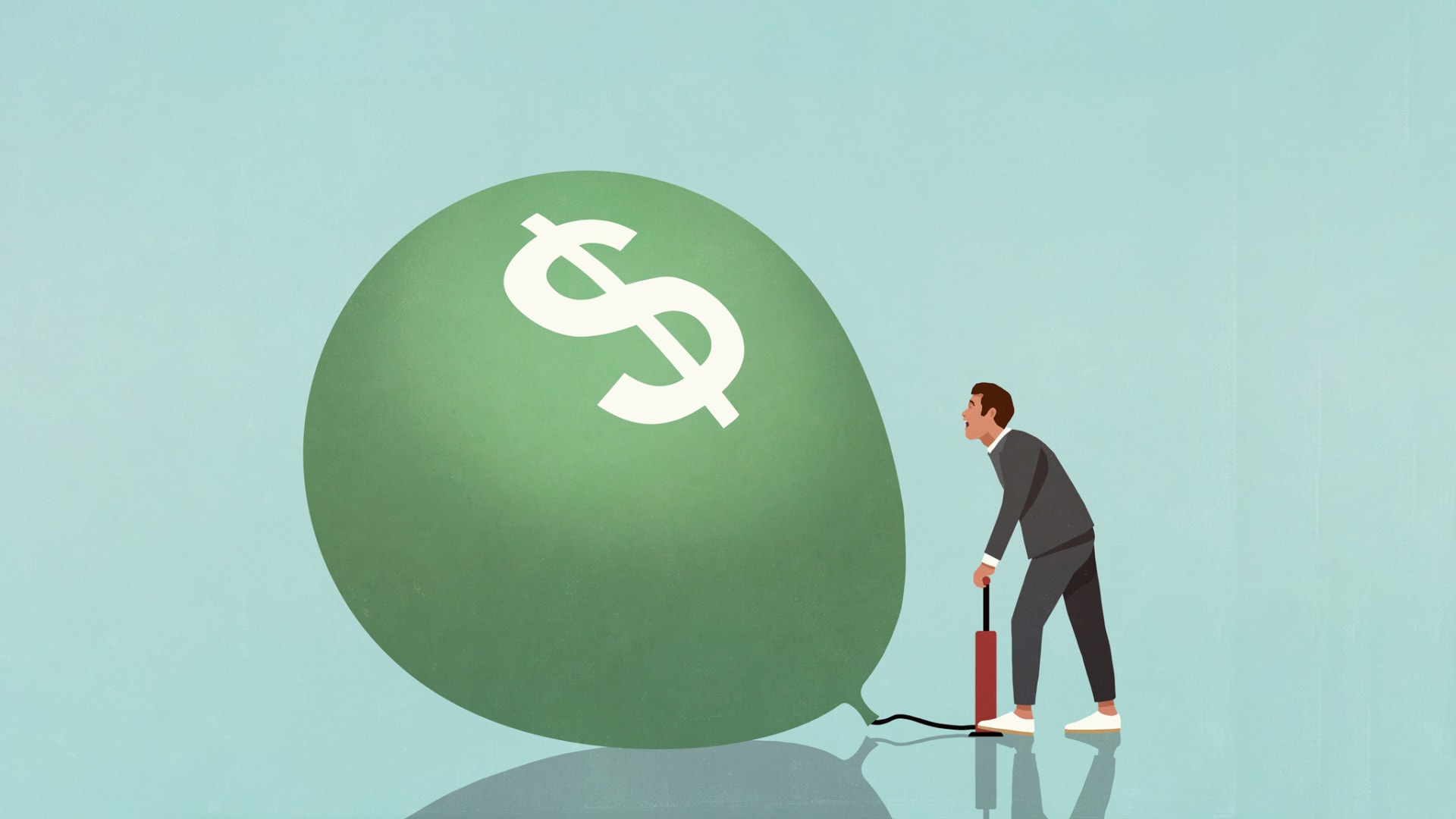 The plus side of supply chain woes? You won't need to resort to discounts anytime soon. You may even need to raise prices.
The speed of inflation gains, White explains, is pushing price increases at a rate of about 5 percent per year. While that might not sound like a lot, it's a considerable jump from the 2 percent annual increases the U.S. has seen over the past decade. White predicts that while the labor shortage will ease in months to come, he doesn't see inflation plateauing until supply chain problems are fully resolved -- which logistics experts estimate may happen as late as 2023.
To compensate for inflationary pressures, businesses have to make changes -- including raising prices, making budget cuts, and reprioritizing needs -- all while trying to keep customers happy. Here's how you can cope and keep losses to a minimum.
Institute dynamic or flexible price increases.
When she saw that even IHOP had increased its prices, Gina Luari, who owns the brunch restaurant The Place 2 Be, knew that it was time to do the same at her business. "Our bacon is three times the cost it used to be," says Luari, who has three locations in the Hartford, Connecticut area and another under construction in New Haven. "We've had to open up five different accounts with distributors to get enough chicken for our popular chicken and waffles dish." Luari held off on raising prices for fear of losing customers, but finally made increases in September to compensate for costs.
Craig Dunaway, president of Penn Station East Coast Subs, a restaurant chain with over 300 locations in 15 states, saw costs rise so rapidly that his business has increased prices not just once, but three times in the past year. Typically, the company raises prices annually -- if that. "This was really unprecedented for us," he says, noting that he felt comforted by the fact that grocery prices are also going up. Dunaway says that, in spite of price increases, customers haven't noticeably made complaints.
Throughout the pandemic, a number of other businesses have adopted dynamic pricing by way of QR codes. Basically, the codes allow businesses to change prices as shocks occur, without the extra step of, say, reprinting a menu.
Offset increased costs in novel ways.
John Carey, co-founder and vice president of appliance retailer Designer Appliances, which has two locations in Northern New Jersey, says appliance manufacturers started increasing prices since the start of the pandemic, which has dictated the prices that his company offers customers. Normally, a business like Designer Appliances might face competition from retailers who could offer the same products at lower prices -- but right now, Carey says that across the board, prices are generally universal. The reason: "Consumers are desperate to just find somebody who either has inventory, or has the promise of inventory in the near future," he says.
But not all expenses can easily be passed off to the consumer -- and that's what led Designer Appliances to also start charging a $99 flat rate for shipping. "Between labor and gas, it costs a lot to deliver a washer and dryer or a refrigerator," Carey says. "It also costs a lot to warehouse and maintain our inventory."
Push out investment timelines.
Price increases can help businesses weather the toll of inflation, but they may not compensate for all increased expenses. Luari planned to open her second and third restaurant locations pre-pandemic. When she opened the second in October, contractor and material costs were similar to what they had been pre-pandemic. By the time she started building out the third location, which opened in June, things had shifted. "The same back bar refrigerator was $3,000 more than it had been," she says. "We went so over budget -- it was so unexpected." Luari signed the lease for her fourth location before starting construction on the third -- and now has to deal with even higher startup costs in that build-out.
That means she's made cuts where possible, and not just to what's on her menu. Earlier in the pandemic, she made big investments in elevating the restaurant's takeout materials. Now, she's placed a hold on her goal of redesigning their takeout cups (which would have required a $10,000 investment). Ahead of winter, she plans to bulk-buy takeout materials to help offset some of the losses she expects to face from food prices. She's also put off a redesign of one location's patio area.
Pull back on marketing.
Carey says Designer Appliances cut its advertising budget by about 55 percent because of its increased logistics costs and its limited inventory. "Towards the beginning of the year, we did a lot of digital marketing -- you're paying for clicks for people who are looking for things that they need right now. But since we don't have the availability, there's no sense in us putting something out there that we can't fulfill on," he says.
Dunaway made a similar decision at Penn Station East Coast Subs. While price increases have allowed the chain to compensate for increased food costs, there's still the issue of the labor shortage. The business cut back on its advertising budget because it's short staffed. "A lot of our franchisees are handling the volume of customers they're receiving fine, but there is a level of stress," he says. "And when you're already short staffed, having to serve more customers on a daily basis can make it even worse."
But sometimes a budget increase is necessary. While Carey has seen little pushback from customers on price increases, the company did have to amp up its customer service efforts by adding three new employees to the existing customer service team of five. "We've had to pivot a bunch of times on how we communicate with customers because of how fluid the [supply chain] situation is. I think we're finally at the point where our communication is on point on that, but you know, if they're getting held up with their renovation from one product, people just start to lose patience, no matter what."
Nov 3, 2021