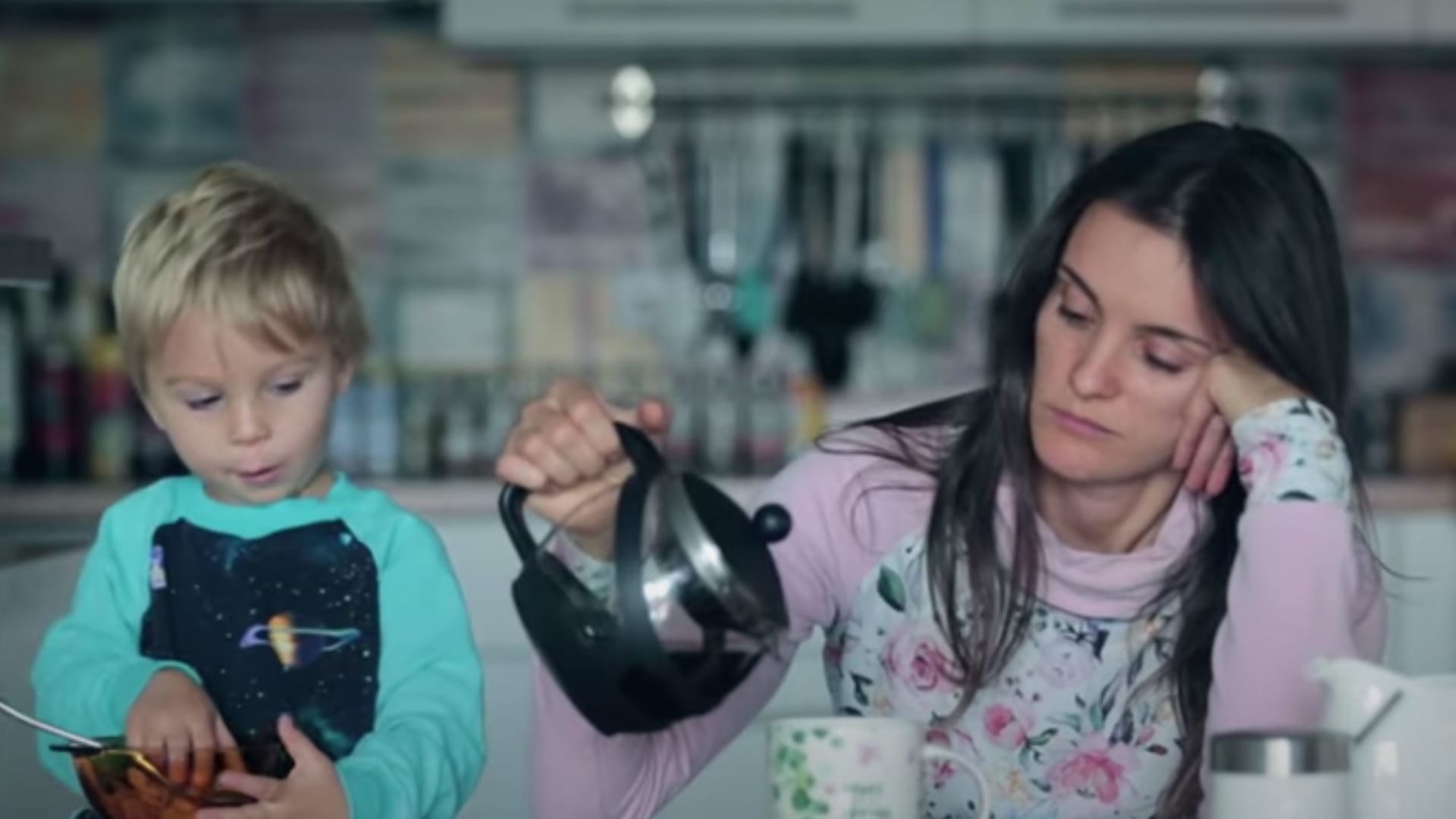 The founder of Marshall Plan for Moms and Girls Who Code and author of Pay Up sees it as a symptom of a larger ill: unforgiving workplace policies. Businesses, she says, can and should make their workplaces more amenable to working mothers, citing the current talent shortage as exhibit A. "At the Marshall Plan for Moms, we're on a mission to get every company in America to provide child care benefits to every single employee," says Saujani of the organization she founded in early 2021 to advocate for more equitable workplaces for families.
She and Marshall Plan for Moms released a new ad today in the style of a pharmaceutical commercial to hit that message home. After listing the symptoms of chronic mom guilt (feeling bad for going to work, or enjoying a night out, or even having alone time in the bathroom), the ad makes its pitch: Better work policies, like equal pay for moms and access to affordable child care, is the cure.
Saujani sees this moment as an opportunity to be realistic about the issues working mothers face--especially as this demographic has been disproportionally economically impacted by the pandemic and continues to face challenges with child care. "We have to ask ourselves, are women participating in the workforce a nice-to-have or a must-have?" she says. "And I think, in America, we've treated it as a nice-to-have."
Last year, during Mother's Day, Saujani noticed countless commercials for the holiday that compared moms to superheroes. "We have to change this caricature we have as a culture that mothers are martyrs. Those kinds of ads are triggering and gaslighting," she says. "What we want to show is that women don't need to learn another power pose or get a mentor. What they need is for someone to pay for child care and to stop pushing back on flexible work schedules."
Although Saujani expects to see more companies continuing to push the superhero narrative this Mother's Day, some are starting to offer solutions instead of mere praise: The jewelry company Kendra Scott recently announced that it would make Mother's Day a corporate holiday, giving employees the Monday after the holiday paid time off--so working mothers could get time to relax, and all others could have the opportunity to better recognize the working mothers in their lives.
May 2, 2022