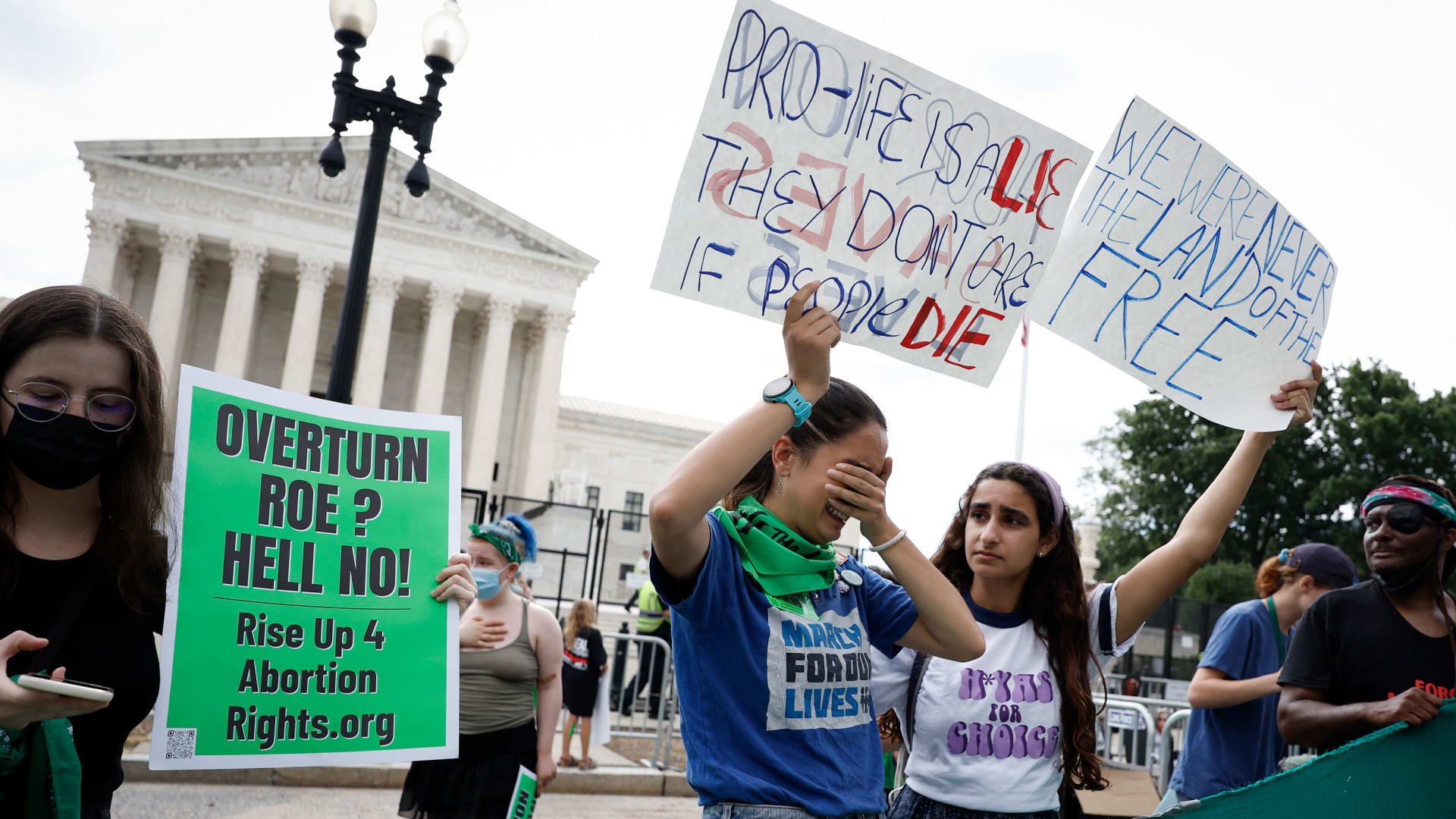 This decision marks the end of 49 years of legal precedent for abortion access, which began with the Roe v. Wade decision, passed in 1973. After the court released its response Friday morning--which has been anticipated for weeks--entrepreneurs responded by voicing their own dissent.
Some founders have shared how they will continue to support their employee's access to an abortion, in spite of SCOTUS's decision. "In light of today's devastating Supreme Court decision surrounding Roe v. Wade, it's clear that the responsibility to uphold women's reproductive rights in this country falls increasingly on the private sector," says Alina Vandenberghe, co-founder and co-CEO of the remote, New York City-headquartered software company, Chili Piper, which has employees worldwide. Chili Piper has instituted a policy that will pay for temporary relocation, as well as all healthcare costs for any employees needing access to reproductive care in states that refuse to provide it, Vandenberghe shared.
Some large companies including Yelp, Salesforce, Citigroup, and Bumble have instituted similar plans, though there are some legal restrictions that businesses should carefully navigate. In January, after legal decisions in Texas and Mississippi restricted abortion access in those states, the New York City-based financial services company Alloy released a new policy, in addition to its typical healthcare benefits, to provide financial support for employees facing reduced abortion access. Legal expenses related to anti-abortion laws covered up to 50 percent, and they will receive $1,500 toward travel expenses for procedures taking them out of state. The company also provides $1,500 to cover out-of-pocket medical costs, co-founder Laura Spiekerman shared in a statement.
Kiki Freedman, CEO and founder of the Los Angeles-based medical abortion provider Hey Jane released a statement condemning the court's decision: "While this is a devastating blow to people across the country, especially Black and Brown people, low-income people, and young people, as a telemedicine provider of safe and effective medication abortion, Hey Jane will continue treating patients and providing high-quality abortion access." Hey Jane currently operates in six states: California, Colorado, Illinois, New Mexico, New York, and Washington. For people outside of these states, Hey Jane recommends the non-profit Plan C, which helps people in states that don't allow telehealth abortion to access abortion pills through workarounds like online pharmacies and mail forwarding.
The Roe v. Wade decision has implications for fertility-focused companies, too, notes Halle Tecco, founder of the fertility and pregnancy supplement company Natalist, which was acquired by Everly Health in 2021. In a statement she shared on social media, Tecco explained how SCOTUS's ruling may impact fertility treatments like IVF: "personhood laws," which proposed to give rights to fertilized eggs, were unconstitutional under Roe. After this decision, states may enact those laws. If fertilized eggs are considered legal humans, anything that puts them at risk may be considered a criminal violation. As a result, the decision can have serious consequences for fertility doctors, embryologists, and families seeking fertility care, Tecco explained.
Other entrepreneurs have taken to social media to share resources and information in the wake of the decision. Reshma Saujani, founder of Girls Who Code and the Marshall Plan for Moms shared a statement on Instagram, and pointed her followers towards actions they can take, including donating to abortion funds, referring people in need of abortions to the abortion-access resource ineedana.com, and educating themselves on medical abortion pills.
More than 330 business leaders, including Rent the Runway's Jennifer Hyman, have also signed the Don't Ban Equality statement, which was first created in 2019 in response to increased restrictions on reproductive healthcare. The statement affirms that businesses believe abortion bans "go against their company values and negatively affect efforts to promote equality in the workplace, putting businesses, communities, and the economy at risk."
Hyman adds: "We believe that reproductive rights are healthcare and we support equal access to healthcare." Rent the Runway, the entrepreneur affirms, will offer employees consistent access to healthcare benefits regardless of where they live. The company also covers the cost of traveling for access to any approved medical procedure, should that procedure not be available in the employee's state of residence.
As business owners process the news, they will have to consider how they might also provide workarounds for employees, and what legal protections they must take if so. Even prior to SCOTUS's decision, some companies started reconsidered their hiring strategies; St. Louis Park, Minnesota-based inventory management system SoStocked, for one, has shifted its hiring to in-state, where abortion remains legal, while taking time to figure out coverage for out-of-state employees.
Jun 24, 2022