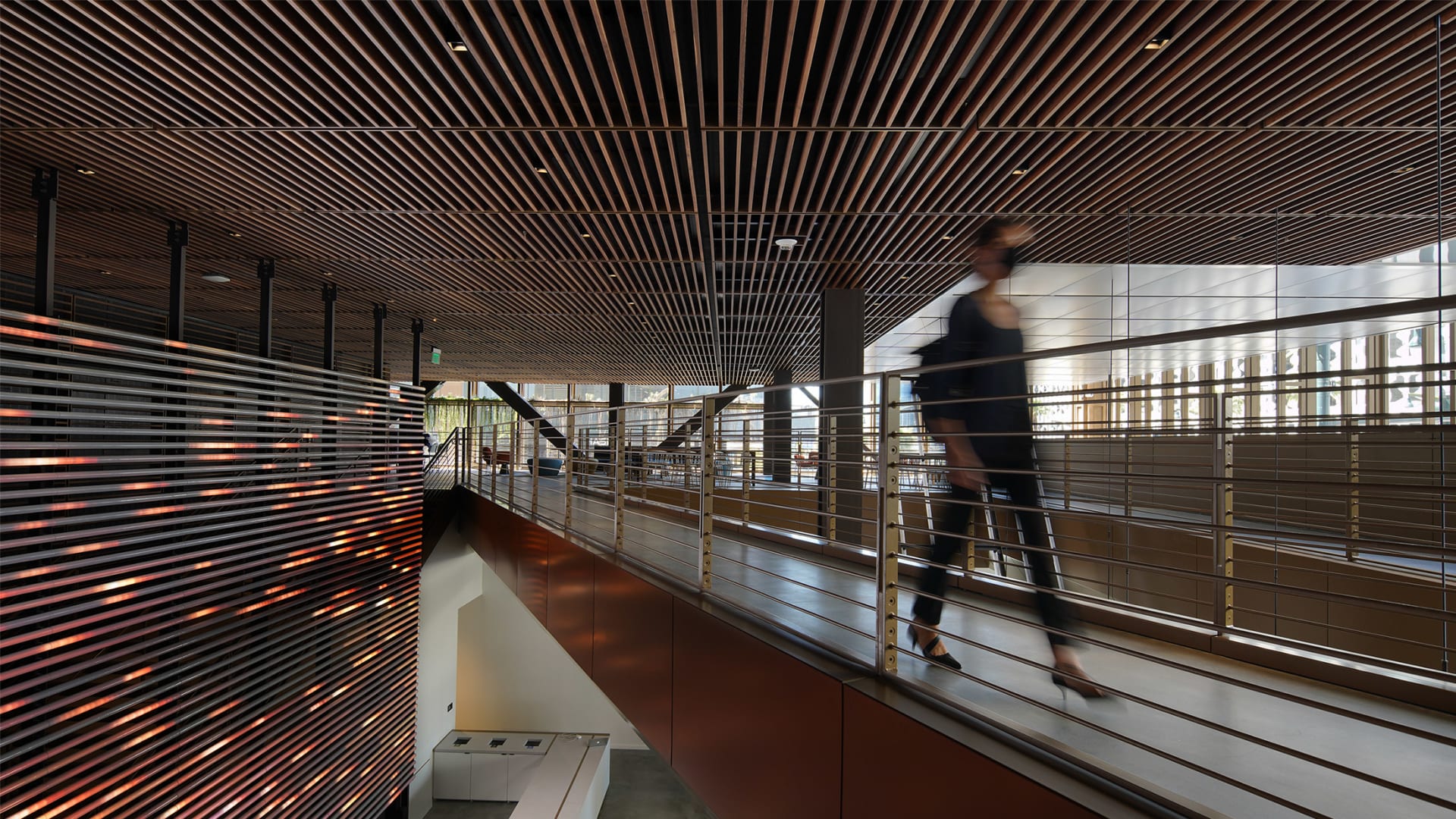 The new lobby at Uber's headquarters is going places.
When employees enter their San Francisco office, Uber hopes they'll get a reminder of its stated mission: "to ignite opportunity by setting the world in motion." At least that's the goal of its new two-story digital art installation that streams a steady flow of animated lights, text, videos, and images. The Stream, as it's appropriately named, stretches across the entire lobby and the ceiling of an adjacent hallway, featuring different modules for data visualization. You might see the names of Uber's operational cities or a story about a local driver, for example.
It's part of a larger campus renovation and strategy to inspire and unite workers--and mark a shift away from its once infamous culture.
The Stream is a permanent "experience" designed by the Brooklyn-based design firm Hush Studios, which began the project in 2018. Scaled-down versions of the installation are in the works for Uber's New York, Dallas, Chicago, and Amsterdam offices and may eventually appear in its Tokyo, Mexico City, and other locations.
When the art project started, the company was undergoing a cultural shift, says Tracie Kelly, Uber's director of workplace and corporate real estate. "We had a new CEO, a new head of marketing and brand, and there was a lot of energy around reshaping the way we express ourselves, not only internally to our employees but also externally," says Kelly.
The Stream, she says, symbolizes the company's core value of movement, "whether it's rides or goods and products, or just the movement of ideas and constant creation that we hope to achieve in the company."
While Uber and Hush declined to comment on the cost of the installation, Kelly says that the price tag for the artworks--including The Stream and other pieces by local Bay Area artists--represent 1 percent of the company's "pretty significant" budget for its HQ redesign.
"We hope that, with this installation, employees will want to be in the office and want to have in-person collaboration and really feel connected, not just to the work that they're doing, but to the overall mission statement of the company," says Kelly.
When CEO Dara Khosrowshahi joined Uber in 2017, he inherited a company culture rocked by scandal. He promised "new cultural norms" that would lead to a more respectful workplace. The renovation of the HQ suggests a new era at Uber.
Office design and high-tech art can make a difference to employees, says David Schwarz, co-founder of Hush Studios. The firm has carved out a niche in creating high-concept art, usually incorporating light, for corporations, including Facebook, Instagram, and Google. "I think employees will look at this and say, 'My company invested in my happiness and my inspiration,' " says Schwarz.
Nov 3, 2021