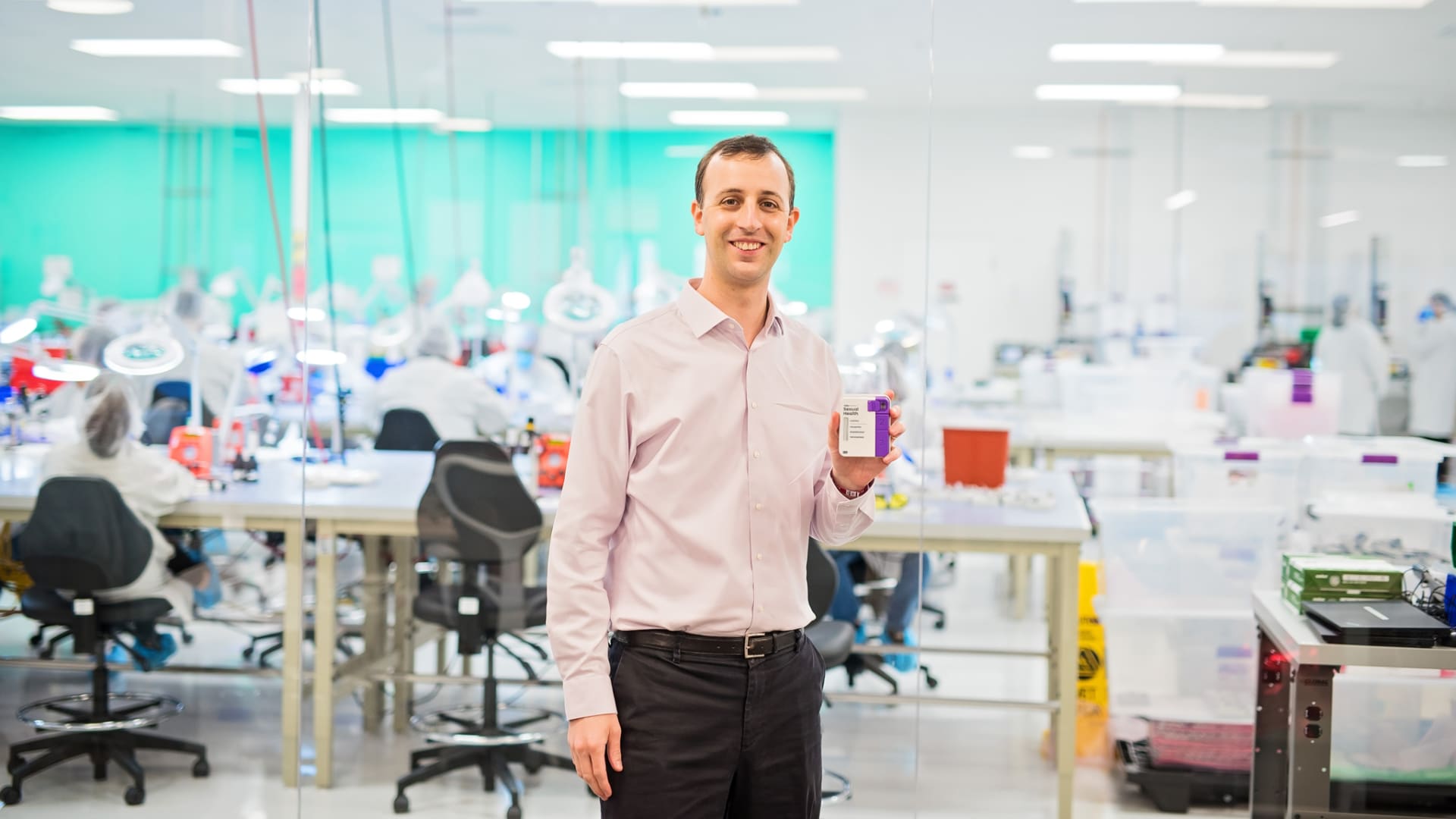 Timing is everything when it comes to Covid-19. And when it comes to Covid testing, place is right up there too.
Visby Medical, a San Jose, California, startup, is changing the game in Covid testing. It built the world's first portable PCR machine, a pocket-size handheld device that can diagnose the virus within 30 minutes. It's already being used to make live events safer amid highly infectious Covid-19 variants.
"Our underlying value is to remember that there's always a patient waiting," says Visby Medical founder and CEO Adam de la Zerda. That urgency has helped drive the company to scale up its operations and manufacturing, growing to 500 employees from 100 in 2020, supported by millions in government funding and grants.
Covid tests have been mostly inconvenient. They require a lab to process samples, and the lag time between testing and diagnosis can be considerable, especially when labs are inundated. That means people may walk around between the time of testing and diagnosis without realizing they're contagious. The process for its single-use PCR test is similar to that of a Covid rapid test, but with far more accuracy. All you have to do is input a nasal swap sample, press a few buttons, and wait 30 minutes to see your result.
According to the Centers for Disease Control and Prevention, Covid PCR testing is "the gold standard." Rapid antigen tests are far less sensitive, especially when patients are asymptomatic, so they may show false positives or negatives. Timing from delayed PCR testing is an issue in other infections, too, as doctors may not prescribe medication--or the correct medication--early enough for optimal treatment.
Visby Medical's Covid-19 PCR test, which received FDA emergency use authorization in September, has been used by large tech companies like Salesforce, the U.S. Olympics team, and even homeless shelters. In October, it was used by guests at the National Press Club's annual gala. With the rapid spread of the Omicron variant, the highly accurate device promises more security against spread than vaccine mandates alone at in-person events. But its potential for changing the way infections across the board are treated is even greater.
A Running Start
"The intent was not for me to start a company," says de la Zerda. "In academia, what we do is turn good ideas into papers we publish." But eventually he grew interested in taking the process one step further--bringing those ideas to fruition. While completing his electrical engineering PhD at Stanford University, de la Zerda became an entrepreneur-in-residence at Artiman Ventures to learn the ropes of company building. He felt strongly that the art of medicine "worked backwards" when it came to treating infections, and he was interested in working with companies that had a solution. After about two years, he realized he might have the solution himself. In 2012, he started his company, then called Click Diagnostics. The same year, he joined the faculty at Stanford University's School of Medicine as an associate professor in the department of structural biology and electrical engineering. At the time, de la Zerda, now 37, was the school's youngest faculty member.
After exploring the market, his company focused its initial efforts on diagnosing sexually transmitted infections in women. These infections present a particular challenge to medical professionals: Gonorrhea, chlamydia, and trichomoniasis have the same symptoms, but their treatment requires three very different antibiotics. The company developed the first PCR prototype by 2017 and began clinical trials--sponsored by the National Institutes of Health--in 2018. By early 2020, the data from those trials looked promising, and the company submitted the device to the U.S. Food and Drug Administration for approval. By March, the pandemic forced de la Zerda to expand his vision for his company--and fast.
Taking on a Pandemic
"It was very clear that we had a platform that wasn't just for STIs," de la Zerda says. The company's PCR device can be used to detect any kind of virus, just like a traditional PCR machine. It needs only to be coded to look for a different genetic sequence. Visby Medical's team had already spent years nailing the hardware. Within about six months, it programmed a version that could detect Covid-19.
Since March 2020, the company has received around $80 million from government programs to support its scaling up and manufacturing. It's also won a $19 million NIH award for developing new PCR technology that can identify the exact virus strain, which is critical in combating antibiotic-resistant variants. Not even traditional, "sofa-size" PCR machines have this ability, says de la Zerda, who adds that Visby Medical "patented the heck out of it."
It has faced challenges, too. For example, its PCR devices require a chip, and so have been affected by shortages. But it's had government support in this area, as well. After winning a grant from the NIH's Rapid Acceleration of Diagnostics (RADx) initiative, Visby Medical got help from government supply-chain experts. Their phone calls to large suppliers helped prioritize Visby Medical's orders for medical necessity.
Pushing Forward
Ever since the pandemic turbocharged Visby Medical's growth, the company has worked on projects in parallel. Some employees are focused fully on the Covid-19 PCR test, while others are continuing to oversee the STI PCR test. This division of labor, de la Zerda says, requires a strong company culture that keeps everyone focused on the big picture, even if they're working on different projects.
Only medical providers, such as doctor's offices and nursing homes, can currently buy the device, according to de la Zerda, who declined to reveal its price range. His vision is for Visby's portable PCR devices eventually to sell over the counter at pharmacies at low to no cost with insurance. He compares the pocket-size machines to pregnancy tests in terms of access and affordability.
While Visby Medical has raised millions, each new product--a PCR test for ear infections, a PCR test for additional respiratory infections, and others--is a "multimillion-dollar, multiyear endeavor," says de la Zerda. Clinical tests are extensive, expensive, and require lots of patience, he emphasizes: "You can't make them go faster by throwing more money at them."
Dec 23, 2021