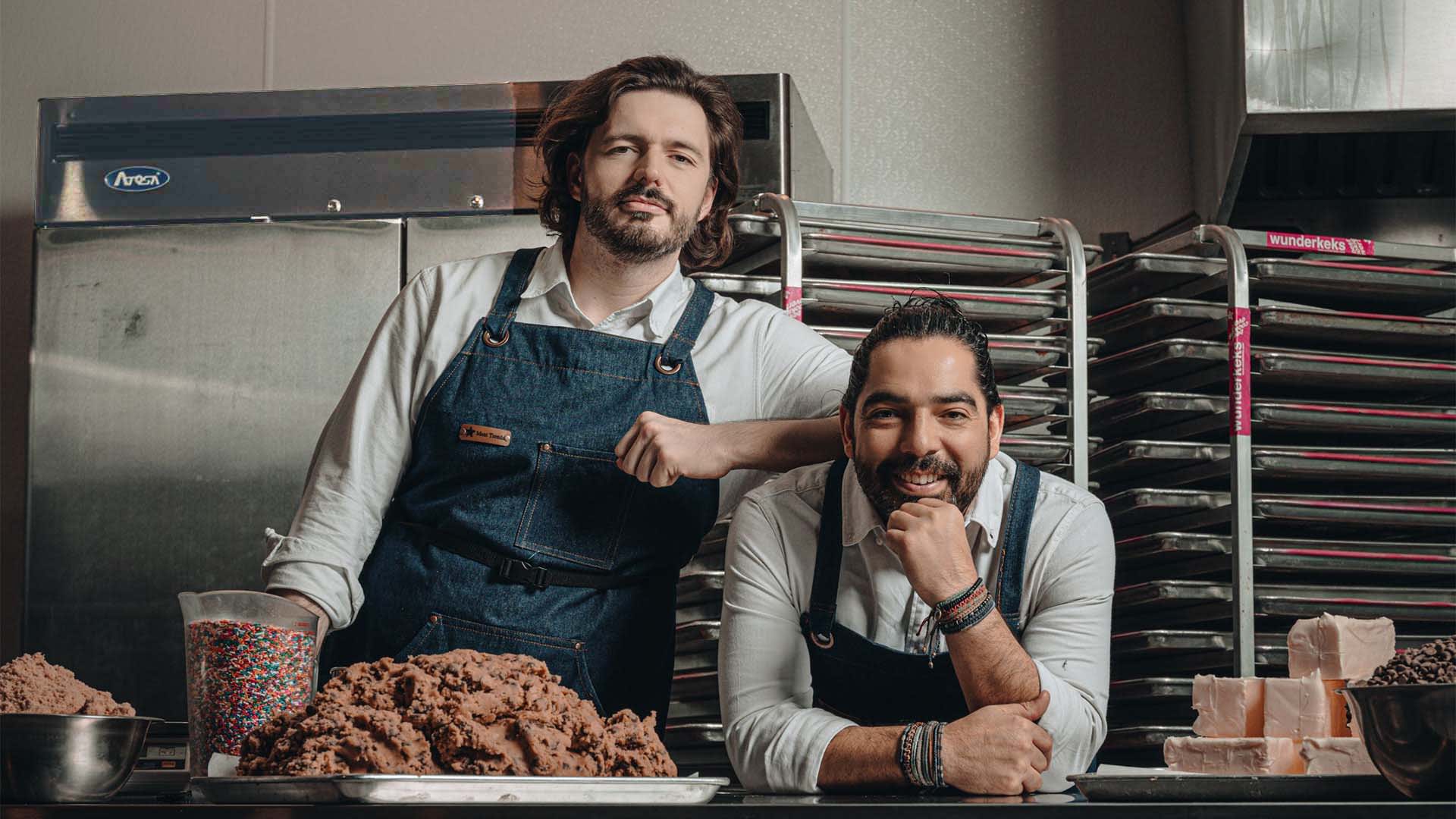 The Oscars gift bags are the stuff of legend--particularly if you're a small-business owner lucky enough to land your products in them. The cosmetics brand Oxygenetix hit it big in 2017 after its Oxygenating Foundation landed in the gift bags, which of course goes out to all of the nominees--Hollywood royalty included--at the awards show.
Entrepreneurs Hans Schrei, 35, and Luis Gramajo, 41, are hoping for a similar shot at stardom. They run the Austin-based baked goods company Wunderkeks. While the brand has built something of a cult following in recent years, the founders, who are also married, hope that their brand of authentically queer messaging--and delightful sweets--will resonate with Oscar bag giftees, as well as consumers at large.
"The purpose of our product is to bring joy and to make people feel like kids again," Schrei says. "This is implicitly baked into the DNA of the brand--no pun intended."
Unlike Wunderkeks's chocolatey Oscar brownie assortment, its path to this point has rarely been smooth, however.
Secret Ingredients
Like many entrepreneurs before him, Schrei landed on the idea for his business after a serious bout of corporate burnout.
After working in marketing for years, Schrei, who is from Guatemala City, decided to take a month-long vacation in December 2011, during which time he'd get reacquainted with a favorite tradition: baking cookies. Specifically, he aimed to make one type of cookie for each day of Advent--which added up to more than 1,000 cookies in total. Schrei gifted the majority of his baked goods to family and friends during the holiday season--many of whom suggested that he sell them. So, in 2012, with about $5,000 in savings, he launched the business.
It grew it into a small bakery--but floundered. He was almost ready to give up on his dream when in 2016 he met Gramajo on Tinder. About six months after the two began dating, Gramajo, who also has a background in marketing, started working with him on the business. Eventually, they got Wunderkeks brownies into several of Guatemala's Starbucks locations and in PriceSmart, a Latin American subsidiary of Costco. But the market didn't quite compare to the market in the United States. They were a big fish in a small pond, and more open waters looked appealing--and immigrating to the U.S. would offer them a chance live their lives more authentically.
In Guatemala, Schrei and Gramajo could not live openly as a couple. Early in March 2022, Guatemala's congress passed a bill that, if signed by the president, will formally ban gay marriage in the country. After getting engaged in 2018, Schrei and Gramajo took a trip to California that made them consider a move. "We drove from San Diego to San Francisco, and everywhere we stopped, we'd see gay couples and gay parents," Gramajo says. "No one else noticed them, but we were amazed."
First Big Success, First Big Disappointment
They applied for an entrepreneur visa, got it, and moved to Austin--where they saw a flourishing market for their business--in January 2019. They built their brand by selling products at farmers markets, and by 2020, landed their first big client: South by Southwest, an annual festival held in Austin that brings together professionals in the fields of tech and entrepreneurship, music, and film.
They hired help to prepare 25,000 cookies for the event, and with seven days to go before the event was slated to kick off, the conference organizers canceled it because of Covid precautions. A solution arrived quickly, though, when actress Busy Philipps retweeted Wunderkeks's call for people to support the business. "We had a very simple Squarespace website, and in about two hours we got 700 orders," Schrei says. "In about 48 hours, we had to get up another website that could handle more orders, put up new photos, and make an account with UPS to ship our products. We didn't know anything about e-commerce--we didn't even have a post office back in Guatemala."
It was trial by fire--but Schrei and Gramajo eventually got into the swing of things. In 2020, they brought in $1.54 million in revenue--considerably up from 2019's $100,000. And in 2021, they grew even more, generating $5.2 million. Last year, they also secured angel investment funding to help grow the business, though they declined to share the amount of money they've raised.
Incremental Growth, Exponential Potential
Wunderkeks has largely relied on paid advertising on social media channels like Facebook to obtain new customers, but Apple and Facebook's data-tracking dispute over the summer of 2021 made it harder for the business to keep growing. While Schrei and Gramajo's vision for their company involves retail--they'd love to be stocked in Whole Foods, for instance--right now, the best path to growth involves investing more in their brand experience. "We can no longer rely on cheap ads; we had to make a better experience for our customers," Schrei says. They elevated their box design to make orders more experiential and began incorporating whimsical cartoon characters into their branding. Over a few months, they increased average order value from $40 to $65, by offering incentives like free two-day shipping for orders of at least two boxes of cookies and giftable care packages that are filled with pompoms instead of packing peanuts or bubble wrap.
This effort also led Wunderkeks to make it to the Academy Awards. A few months ago, Gramajo brought a local Austin journalist into the Wunderkeks kitchen for a tour, and began talking to her about the state of the business. She offered to make some connections, and told him that her high school friend was involved in putting together the gift bags for the Oscars. Gramajo got in touch, and sent over some cookies. "After three days, the gift bag coordinator called me and said, 'Your unboxing experience is great, the product is out of this world, and I love your story,'" Gramajo says. '''We already have cookies in the bags, so what can we do?'" The answer: Wunderkeks brownies.
The appeal is much greater than perfected recipes and brightly colored boxes. The missing puzzle piece of the brand, Schrei and Gramajo realized once they moved to the U.S., was authenticity. Wunderkeks is explicitly a queer brand, Schrei and Gramajo say, and they believe that this identity and perspective brings real meaning to their products. There's also financial gain to be had: Younger generations are more willing to spend with companies they feel aligned with.
"We want Wunderkeks to be a lifestyle signifier, especially for queer communities," Gramajo says. "If you see someone wearing a Wunderkeks shirt or eating one of our cookies, you'll know that's a safe space for you. That's something I didn't have as a kid--and that's something powerful we can provide for society."
Mar 25, 2022