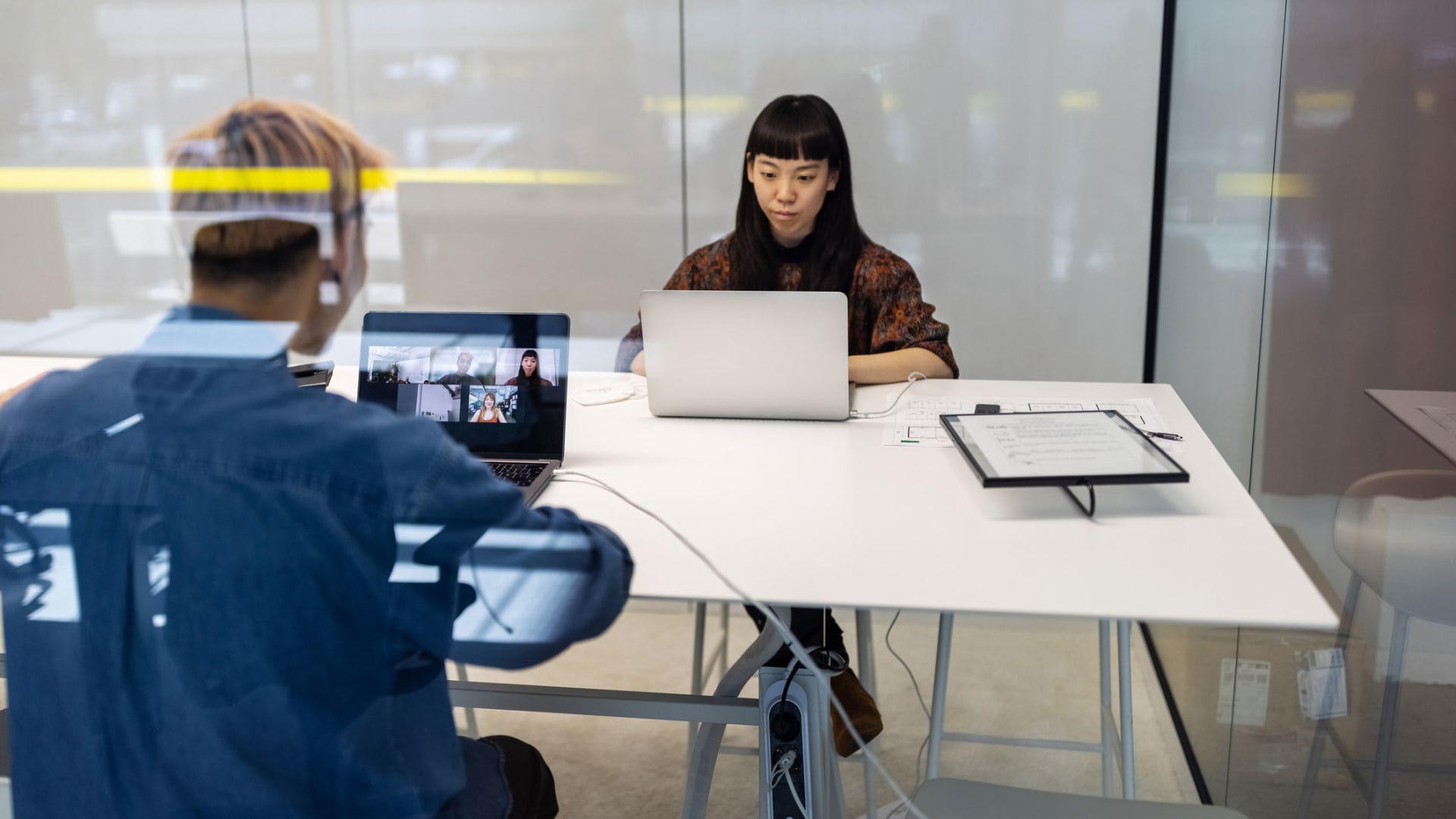 I've listened to hundreds of executives describe how they've designed their companies' remote work and hybrid work strategies. The range of responses has been alarming. Some have described basing their strategies on what their competitors are doing. Others have recounted how they've made decisions based on their own personal preferences--like not wanting to give up their cushy offices. Perhaps most concerning, some others have advertised their new "remote-first" strategies, while, at the same time, implementing invasive employee monitoring software.
Clearly, these are the wrong approaches. But what is the right approach?
Experimentation. Experts like Harvard professor Tsedal Neeley and Adam Grant say that companies should iterate and experiment when designing their remote and hybrid work environments. As Grant says, "Don't say, 'That will never work.' Run the experiment, test it."
Infusing design thinking into hybrid work.
But how do you decide what experiments to run? This is where design thinking comes in. Design thinking involves ideating, prototyping, and testing different solutions. At its core, it's a human-centered approach to experimentation.
Design thinking is at its best when it is applied to thorny problems--problems that are ill-defined, complex, and for which no blueprint exists. It's especially well-suited for multi-dimensional problems--problems like developing a hybrid work strategy that balances workers' need for flexibility with accountability, relationship building, and productivity at work. Design thinking can yield great results, even with minimal resources.
Stanford professor Melissa Valentine and I, along with our collaborators, Emily Hu and Michael Bernstein, have studied how organizations can effectively infuse design thinking as they develop hybrid work environments. In one of our studies, we helped an organization with more than 1,500 employees implement design thinking over the course of 18 months to guide its transition to hybrid work.
Valentine and I recently applied design thinking in collaboration with Asana Labs, a think tank at my company, Asana, that develops actionable research related to the future of work. Our goal was to apply design thinking to understand how hybrid work environments should be designed for Gen Z (born between 1997 and 2012)--the future of your workforce.
We led two data collection activities--one as part of a Stanford "future of work" class, and one at the Hasso Plattner Institute of Design at Stanford. We asked participants (mostly Gen-Zers) to reflect on their hybrid work experiences and apply design thinking to create more effective hybrid environments.
Our findings underscore the importance of embracing design thinking to better meet the needs of your future workforce.
For Gen Z, hybrid work is about building connection, especially with leaders.
When we asked our study participants to apply design thinking to hybrid work environments, they overwhelmingly focused on the problem of building connection in remote and hybrid environments. They wanted to design environments that would enable them to forge stronger connections--especially with leaders. They wanted leaders to connect with them more, communicate with them more, and be more accessible. One participant wondered what would happen if leaders were actually part of their team.
Participants also wanted leaders to engage in open and honest communication with them. One participant wondered what would happen if leaders shared life updates with them and connected with them on a more "human" level. This type of leadership that Gen Z is craving in a hybrid environment is especially important amid difficult times and potential layoff threats because there is even more of a spotlight placed on leaders, as Bob Sutton has described.
Designing better hybrid work technology is top-of-mind for Gen Z.
Participants also wanted to design better technology for hybrid work. They ideated potential solutions for simulating virtual office settings. One group proposed implementing a system "where people can work together in a virtual environment with or without camera/audio at all times."
For Gen Z, current hybrid work technology isn't going to cut it. One participant wondered about having a "cool A.I. algorithm that contacted my boss when I was struggling." Another reflected on the potential for more predictive technology, asking, "What if my workflow was better designed so that I could see my future tasks?" And another mentioned the work of Katherine Isbisterl, whose research focuses on "suprahuman" technology. In contrast to isolating or individualist technology, suprahuman technology is aimed at "bringing people together and honoring the human experience" through wearables and other technology.
Experimentation and the future of work.
Our participants embraced experimentation--and exemplified what it means to experiment in a hybrid work environment. One group wanted to test the idea of banning videoconferencing until team members had met in person. Other groups wanted to run experiments to test different hybrid work arrangements--in our research, we've found that there are more than a dozen different hybrid structures.
If you want to design your organization for Gen Z, try thinking about hybrid work as an exercise in design thinking. This can be one of the most efficient ways to design your hybrid work strategy with limited resources. As well, demonstrating a commitment to experimentation shows your employees--past, present, and, especially, future--that you're guiding your decisions by research, not by gut instinct, and not by a fear of change.
Jun 3, 2022