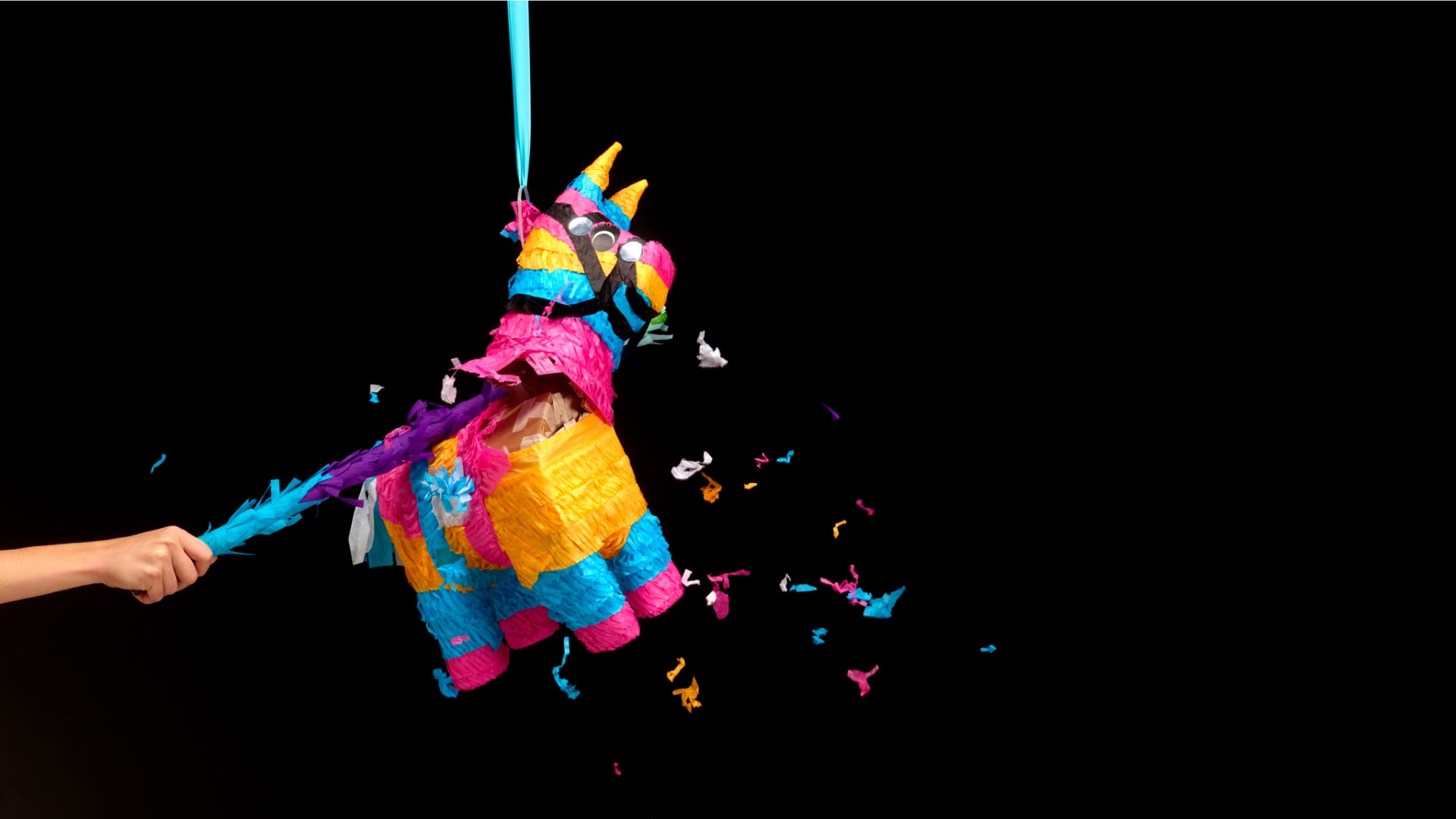 Some gifts are functional. Others are just plain fun. Anyone in your life, no matter their personality or style, can always do with the latter. When you're on the hunt for that silly something, one of the six possibilities we've rounded up just might fill the bill. They sure had us cracking a smile.
1. Spirit-filled pinata, from $69.99
A party favorite with an adult twist: Started by three best friends, Nipyata sells pinatas filled with 50 milliliter bottles of various spirits, plus popular candy such as Sour Patch Kids. The alcohol is mostly from premium brands such as Bacardi Rum and Jaja Tequila, and the pinatas come in various colorful designs.
2. Comedian-written card games, from $25
Fitz Games are hilarious card games in different themes that are written by comedians. There are more than 50 choices of decks, and each card has a question or fill in the blank sentence on one side and the answer on the other. The Chosen One, for example, celebrates Jewish humor and culture while the TV Shows deck is centered on comedy shows such as South Park. Get ready for hours of entertainment.
3. Personalized video message, from $1
Give the gift of someone's favorite actor, athlete, musician, or other notable person via video or live Zoom call through Cameo. This could simply be a "Happy Holiday" greeting, a shout-out, a word of encouragement, or a joke. Cameo features close to 40,000 talents including NFL Hall of Famer Emmitt Smith, real estate titan Barbara Corcoran, and hip hop group Wu-Tang Clan. Book by going to the celebrity's Cameo page and typing in the message you want delivered. Prices range from $1 to $2,500, but the average cost is $60.
4. Water or ?, $15.99
From the fast-growing beverage brand Liquid Death, this 12-pack of extra-tall cans may appear to be a sinister drink, but, in fact, it's nothing more than good old water--either still or sparkling. It's a cheeky take on health indeed.
5. Playful hand sanitizer, $17.99
Hand sanitizer is always a welcome gift these days, but Olika's version, with its birdlike shape, is a lighthearted take on the same old. It comes in a refillable spray bottle and is formulated with essential oil and aloe vera, which leave your hands hydrated instead of dry the way many sanitizers can. Available in six scents.
6. Custom socks, $24
Your giftee will have a hard time not smiling when they see a pair of socks from DivvyUp splashed with their face or another personal image, such as of their pet. Choose an accompanying backdrop from the more than 50 wacky designs: Santa hats, candy hearts, and beer and pizza symbols among the bunch. Pick up to three images and faces per pair.
Note: This article contains affiliate links that may earn Inc.com a small fee on purchases originating from them. They do not influence editorial decisions to include mention of any products or services in this article.
Nov 30, 2020