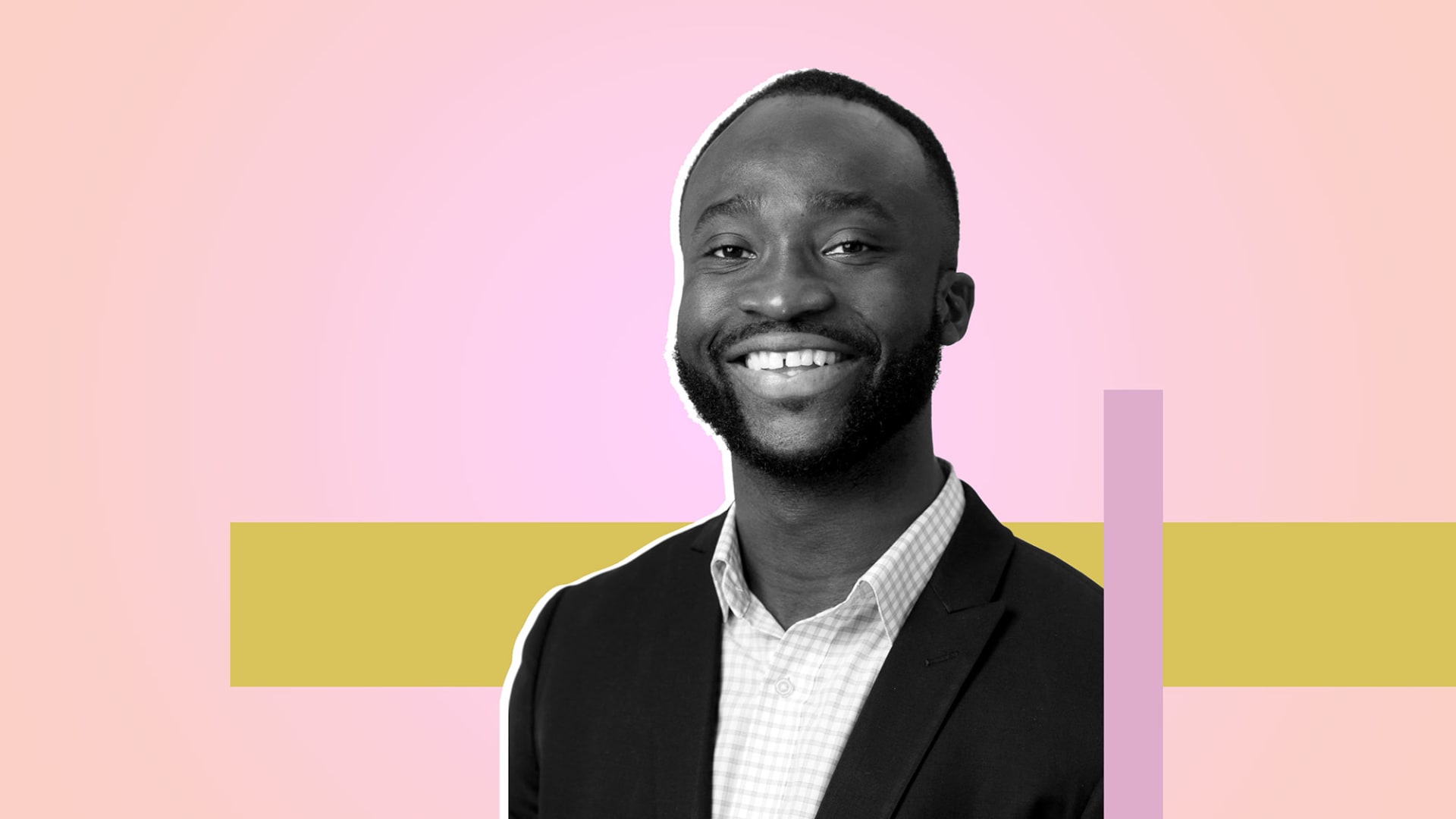 When Abbey Wemimo immigrated to Minneapolis as a 17-year-old from Lagos, Nigeria, he and his mother struggled to get a loan without a credit score. Years later, that experience inspired Wemimo and his co-founder, Samir Goel, also a child of immigrants, to start Esusu, a fintech company that helps low- to moderate-income renters form rotational savings clubs and use their rent payments to build credit. The company makes money through subscription fees on its savings platform and by charging landlords to use its rent reporting service. It also operates a rent relief fund. Esusu has raised more than $14 million, including a $10 million Series A round in July that included Serena Williams's investment firm. Here, Wemimo talks about the lessons of his upbringing, the challenges of raising money as a Black founder, and how the past year has made his company's mission feel even more urgent. --As told to Sophie Downes
My journey started in the slums of Lagos, Nigeria. I lost my father at the age of 2, and was raised by my mother and two feisty sisters. I grew up understanding that I wasn't going to get access to everything I needed in life. But my mother fundamentally believed in the importance of education, so she found the money for my school fees to one of the finest high schools in the land. Rubbing shoulders with the president's grandkids helped me realize that where I come from should not limit where I'm going in life. So when everyone was taking international exams to go to the United States or Europe, I did the same thing. One of my sisters was already in Minneapolis, so I applied, and got in, to the University of Minnesota, Crookston.
My mother and I immigrated when I was 17. We tried to borrow money for my tuition from one of the largest financial institutions in Minneapolis and were turned away, so we had to go borrow money at an over 400 percent interest rate, because we didn't have a credit score. My mother pawned my father's ring and a bunch of other jewelry, and that's how we got started in the United States.
The real impetus for starting Esusu was that transition phase and the experience of being marginalized by the financial system.
My co-founder, Samir Goel, and I met at the Clinton Global Initiative. He was running a food mobility business; I had founded a company providing affordable access to water and sanitation in developing countries. We went off to corporate America--him to LinkedIn, me to Goldman Sachs and then PwC--and stayed in touch. One day, we met at Max Brenner's in Union Square and said, "There's more to do in life than continue working in a corporate tower." We were wondering what we could do, leveraging our skills and passion, to make the world a more perfect place. We made a commitment to each other to quit one day, but we stuck around for two or three extra years to save up and invest in this company. By the end of 2018, we had a minimum viable product. I remember telling my mother I was leaving my corporate job, and her response was, "I thought we made it."
There are 45 million Americans who lack credit scores--people like me and my mother, who couldn't even get access to financing to get started. What we got was an infinitesimal amount--$4,000 or $5,000, at an exorbitant interest rate. The average debt for individuals with credit scores is $92,000. If you multiply that by 45 million, that's over $4.1 trillion. If those 45 million people who would otherwise go to payday lenders actually could get the average debt, we could unlock a lot of opportunities for people. What if they could get a mortgage and a car note, have a good credit history, and leverage it to get more things? It would not only be good for them, it would be good for the American economy, because they'd be paying property taxes. We can unlock more if we open up access to more people.
Having a Black and a Brown person trying to unlock over $4.1 trillion in capital is quite unheard of. There are a lot of ways that the color of our skin and what we look like might have hindered what we are trying to accomplish as founders--things like raising capital. I wouldn't say anything was seriously overt, but there were a lot of biased assumptions--about competence, about decision making, about the business in and of itself. Investors blatantly said they were not confident in the team on executing against the vision. Those things hurt you to your spine.
We spoke to over 300 investors to get our first round of financing, and the company almost went under because of the time it took. But there's still a glimmer of hope, because we've found that certain people who don't necessarily look like us are still willing to take a bet on us and invest. That's one out of 100 people we speak to, but things continue to get better.
The past 15 months have been incredibly hard, particularly when it comes to the racial reckoning in this country. At Esusu, we've been very forthright. Our vision is to leverage the power of data to bridge the racial wealth gap. For us, the past year was an opportunity to set expectations with our team members and remind them: This is what we stand for, this is what's going on in our society, and as you perform your duties, this is the challenge we have in front of us.
There are a lot of things that keep me hopeful in this grim time. No. 1 is my mother, who sacrificed everything to make sure I had a fighting chance. And people's stories, like one gentleman I'll never forget, who reached out to us after he'd been laid off and was on the brink of eviction. We helped him with three months of rent, and I was the first person he called when he got a new job. That's just special. I called my co-founder, and it was kind of an emotional moment. I'm also encouraged by the trends we're seeing. There's still a lot of work to do, and a lot of biases out there, but I think the good ones always outshine the few bad ones--and that's what this country really stands for.
Aug 3, 2021