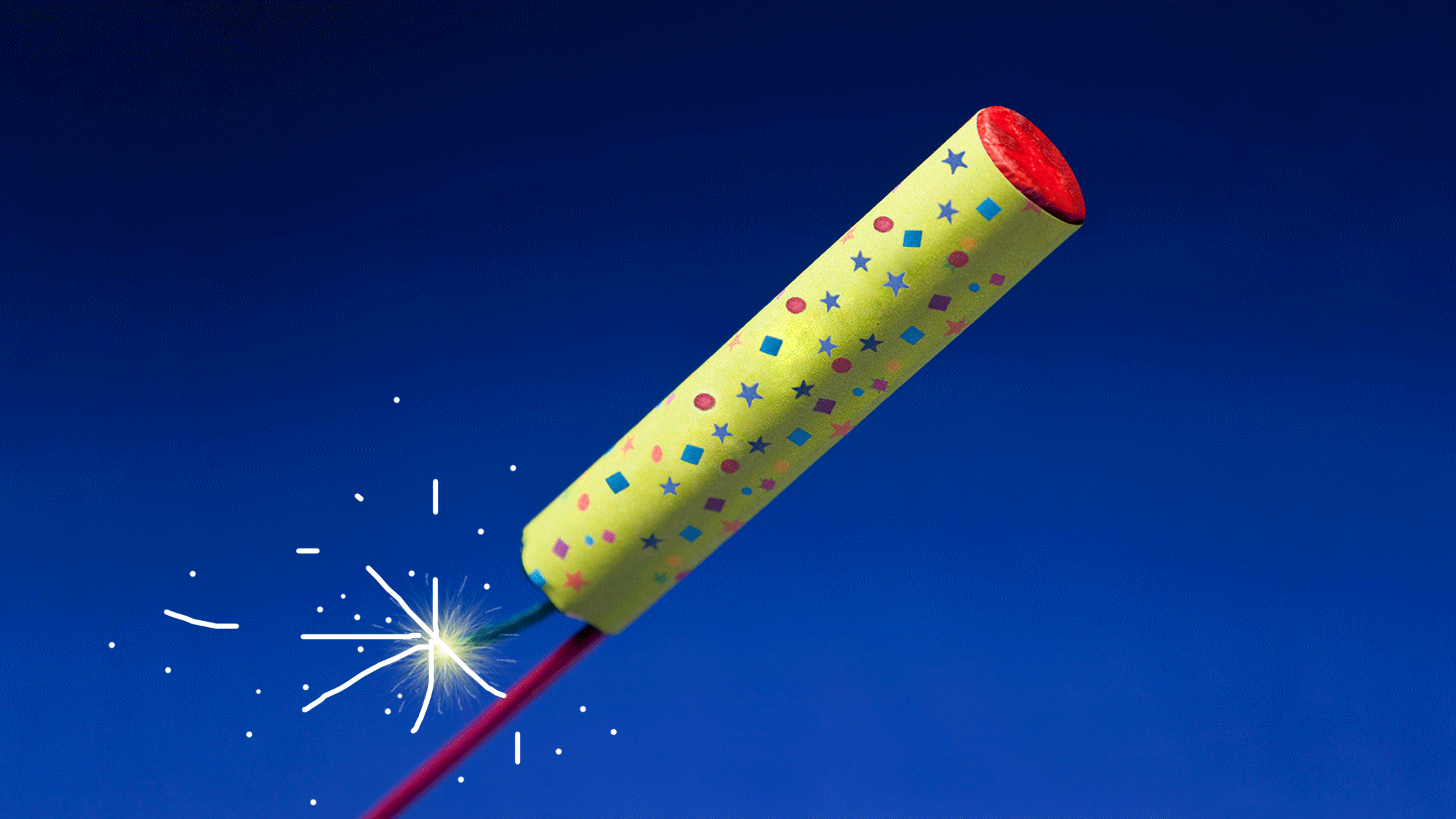 Getty Images
The American fireworks industry had expected 2020 to be a blast. With July 4 falling on a Saturday, many workers would have Friday off. The industry was set for a long, gloriously profitable weekend of backyard bottle rockets and sky-lighting celebrations across the country.
Then came the pandemic, and things got strange. With public pyrotechnic displays staged by professionals canceled or toned down, the amateurs have taken over. Bored, homebound Americans are buying retail fireworks like crazy, and many cities are complaining of mysterious barrages of late-night fireworks.
The fireworks business is really two industries facing diverging prospects. There are about 150 professional fireworks display businesses, which provide explosive entertainment at organized events from New York Harbor to the National Mall to the Las Vegas Strip. Most of them are family-run shops dating back to the turn of the last century or earlier. Their bottom line depends on big events with large crowds. So when dozens of cities called off their Memorial Day and Fourth of July extravaganzas to avoid spreading coronavirus, the summer season blew up in their faces.
With no way to use their inventory--which is expensive to store securely--some companies will see their revenue drop as much as 90 percent, says Julie L. Heckman, the executive director of the American Pyrotechnics Association. "No one is having a good year," Heckman says. In a typical year, there are 16,000 Independence Day fireworks shows nationwide, she says, adding that the APA usually publishes a list of the top 10 must-see displays across the country. "There will be no list this year."
American Fireworks in Hudson, Ohio, founded in 1902, sells fireworks wholesale and retail and puts on displays. This year has been "a tale of two cities," says Roberto Sorgi, one of the company's owners.
When much of the country shut down in March, display customers started canceling by the dozens almost daily. "We shoot about 600 public displays a summer in a non-Covid year," Sorgi says. The cancellations mean big losses: Municipal fireworks shows start at around $7,500 for smaller towns, with the cost for major cities running into six figures. The company suggested to customers that they postpone, not cancel, events, divide shows among several locations, or use higher-altitude fireworks so that audiences could more safely spread out. Still, he says, the company will be lucky if it hangs on to 20 or 25 percent of its normal display business for the year.
Retail sales are, yes, exploding. When Memorial Day weekend rolled around, the company's retail business was three times what he'd expected. And demand hasn't slowed. "After Memorial Day, usually there's a big lull because you've got a whole month till the Fourth of July," Sorgi says. But that Tuesday, he saw nearly 25 cars in the store's parking lot, instead of the usual six or seven. "Every single day has been this way," he says. "It's just been crazy."
Americans are buying fireworks in record numbers and earlier than ever. "It's looking like there will be an all-time high in backyard consumer fireworks sales and use this year," Heckman says. (Hand surgeons, please take note.) Even before the busy season, which ramps up at the very end of June and peaks in the first four days of July, retailers have reported double or triple the sales compared with the same time last year, she says.
Sorgi chalks it up to pandemic boredom. Many of his new customers have never purchased fireworks before. With public celebrations canceled, fireworks enthusiasts are eager to re-create the Fourth at home. And American Fireworks has shifted its marketing to match. "If you're in one of our states," says Sorgi, "and you see a billboard on the side of the road, it literally says, 'Community postponed display? Have your own show.'"
Heckman is seeing the same phenomenon. "People want something to do," she says, and fireworks are fun, easy to get and use, and inexpensive--especially with stores offering attractive discounts and online ordering. The average family spends $150 to $200 on a backyard display, Sorgi says, but a pack of bottle rockets can cost as little as $4.99.
Accordingly, illegal fireworks are booming. To be sure, every summer, opportunistic sellers haul van-loads of explosives from fireworks-legal states to those where they are illegal: Pennsylvania to New York/New Jersey and Indiana to Illinois. But this year is different. In New York City, residents called 911 to report illegal fireworks 13,315 times between January 1 and June 21, compared with 1,007 times in the same period last year, according to Gothamist. More than 12,000 calls were made in June alone. Chicago, Boston, Syracuse, and other cities and counties have seen similarly dramatic upticks. Sellers are reportedly spending hundreds and even thousands of dollars on this lucrative side hustle.
With the Fourth of July still a week away, and even as law enforcement agencies attempt to crack down on small-time suppliers--and sleep-deprived apartment dwellers take to social media to beg their neighbors to quiet down, already--the country is surely in for a long, loud summer.
Jun 26, 2020