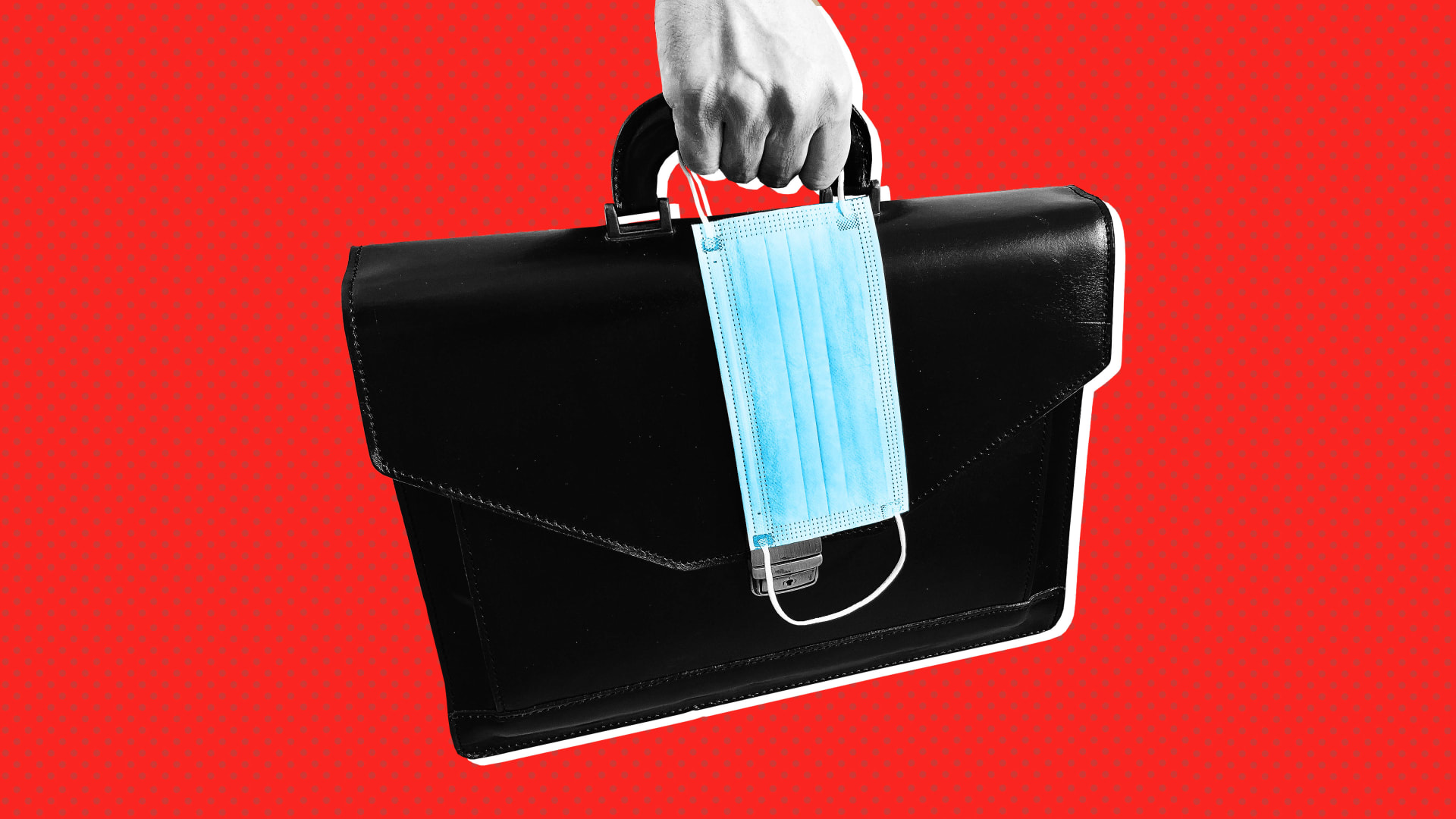 Many businesses plan to officially reopen their workplaces by the summer. And with so many colleagues meeting in person for the first time in over a year, things are bound to be a little awkward.
"Initially, it was kind of eerie; it was kind of weird," says Wilbur You, founder and CEO of marketing agency Youtech, a four-time Inc. 5000 honoree that reopened its Scottsdale, Arizona, office last summer and its Naperville, Illinois, headquarters this January. "We've never been in a situation like this before."
Inc. asked CEOs of fast-growing businesses and workplace experts for their thoughts on the best way to execute a safe and equitable return to the office. While each company's strategy looks different, business owners tend to agree that for now, leaders should listen to employees and stay flexible. Here's their advice.
Don't Rush Reentry
Don't expect that all employees will be eager to return to the office, even if they're vaccinated. Instead, get employee buy-in by validating individuals' concerns and asking what will make them feel safe. At Outdoor Living Brands, a group of franchise brands in Glen Allen, Virginia, that includes two-time Inc. 5000 honoree Conserva Irrigation Franchising, a "soft reopening" began last summer, and any employee who didn't feel comfortable returning was told to continue working from home. "We didn't take a hard line with anything," says chairman and CEO Chris Grandpre.
The company, which already had been planning to build a new headquarters and shift to a hybrid work model before the pandemic, outfitted the new space with technology to make it easier for in-office and remote colleagues to collaborate. Eventually, Grandpre says, businesses will have to be less understanding, and resume some degree of standardization in their policies. "I think that's going to challenge us as business owners," he says, "because it will create issues and resentments and jealousies if you're offering more flexibility to one employee versus another." But for now, he says, flexibility is the best strategy.
Workplace experts agree, urging bosses to bear in mind that employees may have experienced the pandemic in vastly different ways. "There is certainly a danger in asking individuals to do too much too soon, or things that are too far out of their comfort zone," says Rachel O'Neill, the director of clinical effectiveness at New York City-based online therapy provider Talkspace and a therapist who specializes in employee wellness. Some workers were at low risk and affected only indirectly, by having to change their lifestyles; others lost loved ones, got sick themselves, or had reason to fear for their safety on a daily basis; and some might still be dealing with long-term symptoms. She recommends that employers "find ways to support employee autonomy, and to recognize that various members of your workforce will be at different points of acceptance with regards to return to work."
If you do decide to set a date for employees to return to the office, avoid making it a requirement, says Kelly DuFord Williams, founder and managing partner of Slate Law Group, a San Diego-based firm that focuses on business and employment law. Besides potentially alienating employees, strict rules can open you up to lawsuits if workers perceive them as discriminatory, so she recommends keeping remote work as an option if you can. If you need to bring people back, make sure they know why--and whom they can contact if they have concerns. Work with your HR department or attorney to stay current on state and federal laws, and when in doubt, follow the strictest regulations regarding workplace safety, she says. Once you have a policy, make sure it's in writing, along with any exceptions, and is applied equitably to your entire staff to avoid discrimination claims.
Navigating Opening Day
Along with providing PPE in the office, many companies have temporarily altered their workplace layouts and schedules to help keep workers safe as they return. Outdoor Living Brands originally designed its headquarters so that its 50 employees could collaborate freely and work from a different spot every day if they chose, but for now, each person has an assigned workstation, and only 35 to 40 percent of employees work in the office on a given day. That way, there's ample room between people, Grandpre says, adding that the company also supplies cleaning wipes, hand sanitizer, and masks. (While the Centers for Disease Control and Prevention recently relaxed its guidance around surface cleaning and disinfecting, many companies still have stepped-up cleaning regimens in place to make employees feel safer.)
Background-check company Mind Your Business, a three-time Inc. 5000 honoree, instituted robust safety protocols--including symptom checks, plastic shields, social distancing and mask-wearing requirements, and enhanced cleaning routines and ventilation--in order to reopen its 39-person headquarters in Hendersonville, North Carolina, in October 2020. Still, only one of the company's five departments works in the office per day, and employees with documented health concerns are permitted to work from home, says founder and CEO Karen Caruso. Other companies are extending cubicle walls with plexiglass, spacing out desks, or having in-office workers join meetings virtually instead of gathering in conference rooms.
While safety restrictions are still preventing most reopened workplaces from feeling fully "normal," companies are doing their best to make employees comfortable. Small gestures can help lighten the mood, Caruso says. "We do things in our office to help raise the morale during these very stressful times," she says. "We have stand-up-and-stretch time, goofy time--anything to break up the monotony." The company also provides individually packaged lunches and snacks on certain days, and encourages employees to take walks in the park next to the building during breaks.
One thing most companies aren't doing when they reopen is celebrating. Many have yet to reschedule the events that they canceled last year. Caruso's company postponed its 25th anniversary celebration, which was meant to take place in June. And even when it's technically safe to do so, both O'Neill and DuFord Williams advise against requiring employees to show up to company parties--or even large meetings--while they're still getting reacclimated to office life. While many workers are eager to reunite with colleagues, and employers want to facilitate those connections, any celebrations you hold should be after work hours, outdoors, and optional, O'Neill says.
It's also worth reminding your team of any mental health resources your company offers, such as an employee assistance program, that can help ease the transition back into the workplace. "This is a great opportunity to beef up your response to mental health as an employer," says O'Neill, encouraging business leaders to have open conversations about the difficulty of shedding pandemic-era routines and to acknowledge that everyone on the team is going through the process together. "In the aftermath of the crisis is when we need time to process and time to reintegrate. And that's the moment we're coming upon right now."
To be sure, not every business is in a position to bring employees back to the office. In regions where Covid-19 infections are still surging, many companies still aren't sure when they'll be able to safely reopen their headquarters. "I have refreshed this plan a dozen times if I've done it once," says Matt Davis, vice president of finance at Goldfish Swim School Franchising, a children's swim school franchise and six-time Inc. 5000 honoree based in Troy, Michigan.
And for other companies, there will be no first day back in the office at all. Brad Hollister, co-founder and CEO of SwanLeap, a logistics software company in Madison, Wisconsin, that was No. 1 on the 2018 Inc. 5000 list, says he's doubling down on building a remote-first culture. "We're kind of going the exact opposite direction at full speed," Hollister says, "saying, 'OK, fine, forget it. Forget the office thing. We tried that.' "
Apr 28, 2021