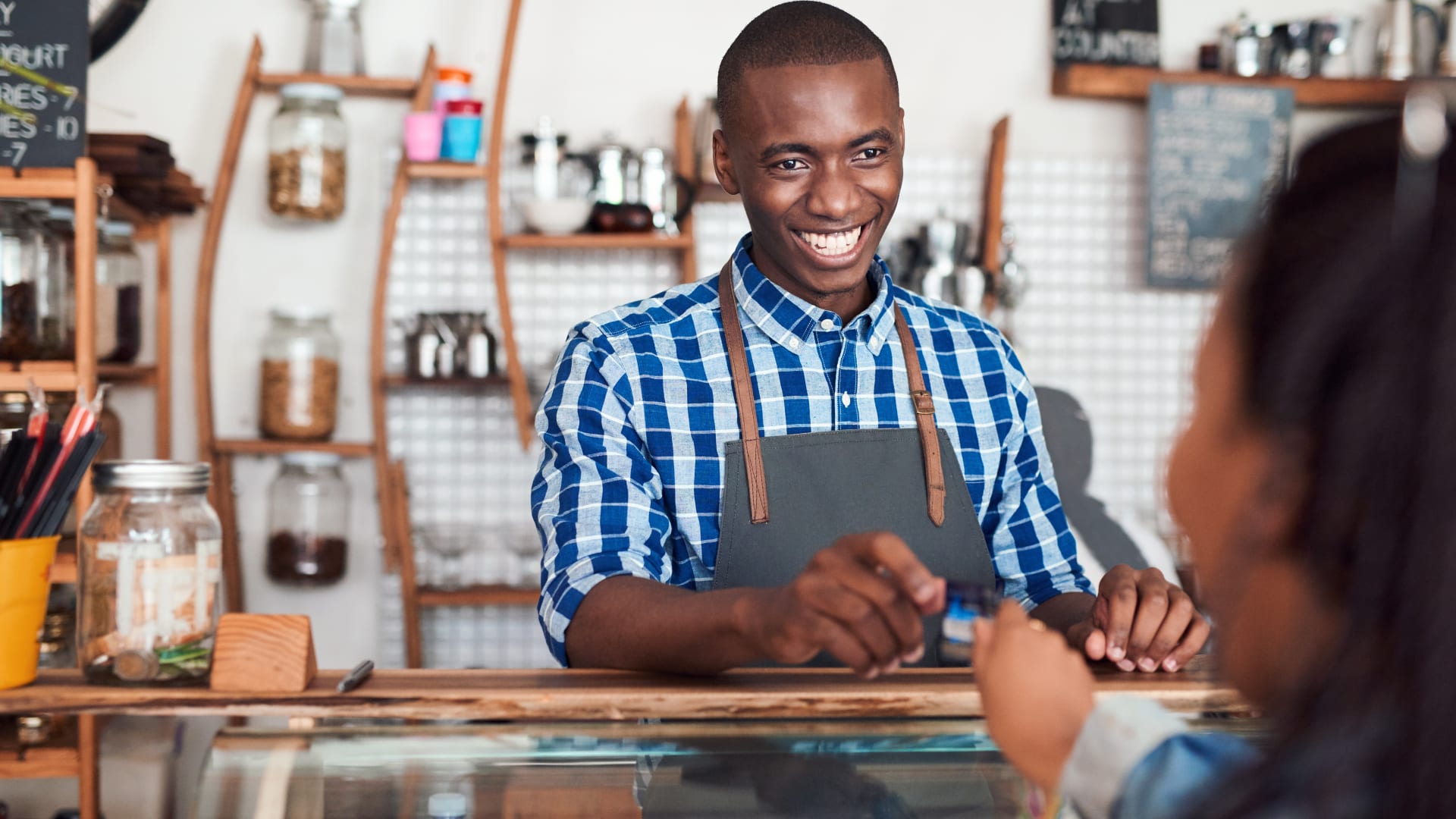 Today's consumers expect higher levels of service, convenience, and customization from the companies they do business with. They want to feel like the businesses they buy from know them. Customers want retailers to take steps to connect with them.
"The best thing about having a small business is really being able to connect with customers," says Jennifer Arvanitis, co-owner of curated gift shop Marley Mae Market & Paperie. "We make it a point to remember customers' names and things about their lives and treat them like friends when they come in."
Beyond spending time familiarizing themselves with customers and past purchases, savvy independent retailers build close-knit communities, says Cathy Donovan Wagner, founder of Retail Mavens. Doing their homework and remembering customers' preferences and purchases is expected. The effort also allows Arvanitis and her team to help them find products they'll love and give customers a heads-up when something new arrives that might interest them, she says.
Systematize to personalize
Small retailers are near experts at forming personal connections with customers, often because they have a smaller roster of customers. But these relationships are also forged out of necessity; smaller retailers often use service and personalized attention as a competitive advantage. For many, the missing piece has been systemization, or having a formal process for recording, tracking, and acting on valuable customer information, Wagner says. Technology can help automate the process of solidifying and strengthening customer connections.
Technology tools can support retailers in providing better customer service, by facilitating better internal information-sharing and targeted customer communication. Some of the most popular types of tools are used for:
Email marketing. When paired with tools like Square Marketing, versatile point-of-sale (POS) systems like Square, or other customer relationship management platforms, can be used to send out invitations, newsletters, and messages that are professional and on-brand.
Customer feedback. Using surveys, feedback buttons, or email follow-up, retailers can hear straight from customers how they felt after their last shopping experience.
Conversational commerce/messaging. POS systems like Square can help you share meaningful information with customers, alerting them to new products that may be of interest or that complement past purchases.
Livestreaming. In-store events can now happen from afar, with customers even being shipped party packages or activities, Wagner says.
Personalized service becomes a snap
Retailers with access to these insights can then provide a better customer experience with:
Updates on sales. Maybe a customer really wants a particular item but is hesitant to pay full price. Make a note to reach out when that item is marked down, and you may simultaneously make them happy and clear out older inventory, says Wagner.
Inventory alerts. Letting customers know when items arrive from their favorite brand via text or email, before telling the public, will earn you gratitude and sales, she says.
Announcements regarding special events. Invite past customers to demonstrations, discussions, or parties--in-person or online.
Thank-you messages. POS system data, such as in Square, can trigger reports on customers who have made recent purchases, so that retailers can send out notes or emails of appreciation.
Easy returns and exchanges. "Square makes it really efficient for employees to be able to swiftly and without stress, deal with customer refunds and exchanges, because all the information pops up to the omnichannel," says Ian Van Dam, co-founder of gift store and lifestyle brand Civil Alchemy. "So, if someone buys something online, but they want to return it in-store, that is easy to do."
Technology can help you deliver a better, more personalized customer experience, reaching customers wherever they are accessing content--through computers, tablets, phones, text, email, or social media.
"The definition of omnichannel marketing is making sure that your marketing journey follows your customers' purchasing journey," Wagner says. Personalization can and should be happening at each and every stage of the buying process.
Oct 7, 2021