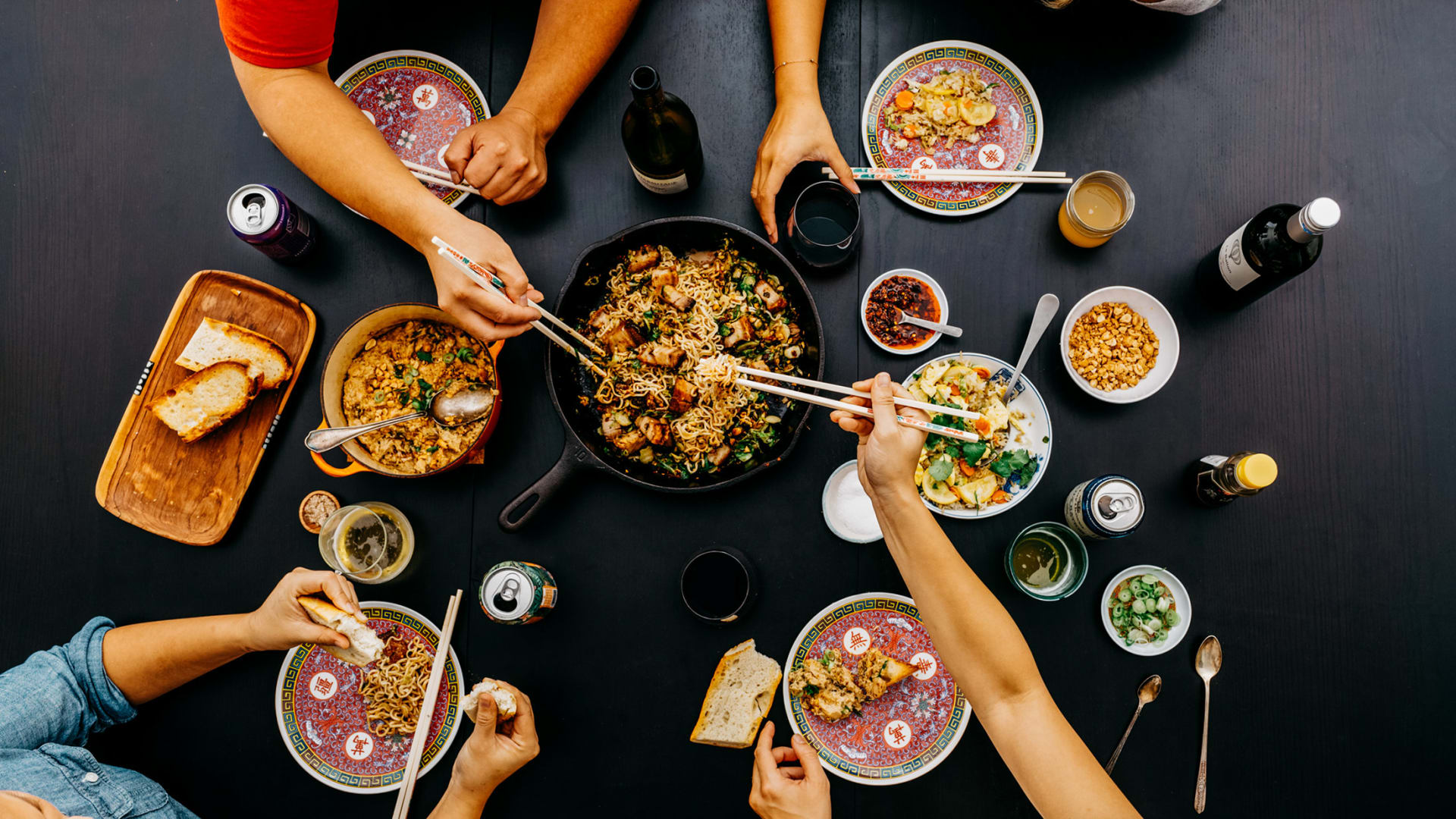 Irene Li had big plans in early 2020: Her novel takes on Chinese-American cuisine had taken her from a food truck launched with her siblings to her own restaurant, Mei Mei, in Boston, and as February 2020 rolled around, she was preparing to expand to two new locations. She signed a purchase and sale agreement on a plot of land for one of them, sure that burgeoning demand for her culinary innovations would mean packed houses for years to come.
As it did for all restaurants, Covid came to take Li's business plans away. Both her parents are doctors, which led her "to take really fast action, [and] close the restaurant prior to the order to do so," she explains. In a quick reorganization, she started offering delivery and online cooking classes, and moved as many of her team members to remote work as she could, which meant assigning "marketing work to people who were previously cooks and servers."
In those early months of the pandemic, Li was less focused on turning a profit and more on getting through what many hoped would be merely a few-months-long blip--and helping others get through it too. The restaurant immediately turned its resources to assisting where it could in the pandemic response, doing "emergency feeding work for frontline hospital workers" and "providing groceries to field workers," Li says. Seeing how so many were harmed by the upheaval of the early pandemic, she co-founded a nonprofit, Project Restore Us, "to leverage the industrial supply chain to provide culturally appropriate food" for those individuals in need. The nonprofit, so named, she says, because "the root in Latin for 'restaurant' is the same as 'restore,'" was "a big focus for us for a couple months."
By June, however, the pandemic hadn't lifted, and Li needed to switch gears from doing whatever was necessary to get her restaurant and community through a short-term emergency to a long-term focus that dealt with the new normal.
"I personally really struggled with the uncertainty and feeling like I wasn't able to take care of the people who depended on me," she explains. "We kept everyone as long as we could, and then when it became clear that reopening was not a possibility, we did lay off about half of our staff about midway through June."
Amid the crisis, though, two new kernels of a business model had emerged: "We had taught in-person [cooking] classes in the restaurant previously, [and we] translated that into an online setting," Li says. Offering classes for individuals and events, and for corporate team-building exercises, started to generate substantial revenue -- and substantial demand. People were asking if they could also just buy Mei Mei's dumplings, and Li started working on options for that, as well.
Selling food outside of a restaurant setting meant a change in mindset, and a change in the menu. In the restaurant, the best-selling items were scallion-pancake sandwiches, which don't do well when packed and shipped, or frozen. Mei Mei was also known for its novel takes on dumplings -- Li calls them "Chinese-ish," influenced by her family's Chinese heritage and the local flavors of other communities in New England -- and offering dumpling- and then noodle-making classes was the way it had started building a larger reputation online.
Actually selling dumplings directly is something Li considers to have "happened by accident." After achieving some success with dumpling-making classes, "a customer suggested we come to the farmers' market, and I said, 'No, farmers' markets are for startups,'" Li recalls. However, "my business partner said, 'We're a startup again,'" and that change in perspective led Li to agree. At their first farmers' market, they "sold out within an hour."
Before long, they were selling out as many dumplings as they could make, at several farmers' markets per week. And with a newly national brand, thanks to online classes, and local customers who'd moved elsewhere because of the pandemic, the entire focus of Mei Mei shifted. It needed to scale manufacturing.
With a community already behind it, Mei Mei was able to crowdfund more than $55,000 to purchase a dumpling-making machine from Taiwan. The machine "increased our capacity three-fold," says Li, and now the team can spend less time manufacturing, and more time working on the rest of the business.
Becoming a consumer packaged goods company meant learning new skills and adopting a different approach, and Li is frank when she admits that "it hasn't been completely smooth." Job descriptions have changed, and time is now spent primarily on "dealing with all of the admin and backend and learning how to use e-commerce, purchasing all of the supplies for shipping, [and arranging] storage space for all of that." Supply-chain logistics replaced table reservations, and "when you go to Mei Mei now," Li says, instead of the full-service restaurant that used to be there, "there are refrigerators of dumplings and then on top of the refrigerators, shipping supplies stacked to the ceiling."
It's a combination of online brand-building, with virtual classes, followed up by selling products that is putting the company on firm financial ground amid pandemic disruptions, even if it's not as the restaurant it had been before. And there's other good financial news: That plot of land Mei Mei had committed to purchase pre-pandemic to expand its restaurant business? It failed inspection, which led Li to "thank the septic gods," she says, and count "hundreds of thousands of dollars for the deposit we were planning," that now wouldn't be focused on expanding a business model that was failing.
Now, Mei Mei's focus is on a new space that in 2022 "is going to be centered on the dumpling manufacturing," Li says, but will still have "a small dining room" to keep feeding customers--the way she had always planned to.
Dec 9, 2021